Ralph Lauren Bedding and Rugs
Ralph Lauren bedding in perfectly coordinated collections with all the decorator details. Transform your master suite with confidence. You may also want: Ralph Lauren Bedding Collections, Lauren Ralph Lauren Bedding Collections, Blankets, Sheets and Bedding, Bedding Basics
| | | |
| --- | --- | --- |
| | | |
| Teagan Floral Collection | Remy Floral Collection | Modern Equestrian Bedding Collection |
| Comforter is made of floral-print cotton. Stitched-down flange. Organic Sateen Border Sheets. Ayer 54x72 Throw Blanket. Linen throw blanket, accented with needlework and fringe. Cortona Bed Blanket. Woven bed blanket with whip stitch finish on all four sides. A heavy ottoman file fabric. Cotton/linen. Pillows and shams | Floral comforter made of cotton. Ariel knit blanket made of cotton. Pillows and shams | Grid pattern duvet and shams made of cotton and cashmere. Quilted Sateen Argyle Sham, Quilt. Cotton sheets with contrast sateen border. Pillows |
| | | |
| --- | --- | --- |
| | | |
| Organic Sateen Border Bedding | Organic Handkerchief Embroidery Collection | Montgomery Collection |
| Cotton duvet with contrast sateen border. Quilted Sateen Argyle Quilt. Diamond quilted cotton sateen quilt. Sheets, pillows and shams | Embroidered duvet cover and shams made of cotton. Quilted Sateen Argyle Quilt. Diamond quilted cotton sateen quilt. Organic Sateen Border Sheets. Cotton sheets with contrast sateen border. | Comforter, sham, pillow made of cotton. Palmer Sham from Ralph Lauren's Signature Classics collection. Woven of extra-long-staple, crisp cotton percale. Organic Handkerchief Embroidery Sheets. Woven bed blanket with whip stitch finish on all four sides. A heavy ottoman file fabric. |
| | | |
| --- | --- | --- |
| | | |
| Rainey Collection | Preslie Collection | Estelle Collection |
| Light, airy, and superbly soft, the Rainey comforter's serene print unites urban-inspired style with the transformative beauty of open countrysides. Deep-indigo florals and touches of umber add richness to the inviting motif. Crafted from lightweight cotton voile, the Tait quilt is defined by a diamond pattern that is achieved through meticulous hand-guided embroidery, and finished with a delicate fill of cotton batting. Inspired by Icelandic textile patterns, the print that adorns the Montray sheeting has been reimagined in the vision of Ralph Lauren to complement a contemporary aesthetic. Pillows and shams | Comforter features a meandering block print paisley, reminiscent of the tropical foliage of the south, printed on soft cotton twill. Engineered border print on bottom end of comforter. Cortona woven bed blanket in heavy ottoman fabric features whipstitch finish on all four sides. Pillows and shams | Rustic chic feminine fresh faded floral printed on soft twill fabric offers spirited sophistication when combined with unexpected mix of collected patterns. Lucie woven faded madras plaid quilt with diamond quilting adding pattern and texture to your bed. Lillie soft chambray blue yarns woven space dyed to create this intricately designed sheet with super soft hand feel. Hithers engineered yarn dye woven stripe throw blanket with 3" self twisted fringe on top and bottom and selvage finish on both sides. Pillows and shams |
| | | |
| --- | --- | --- |
| | | |
| Maylen Collection | Palmer Collection | Atley Collection |
| Floral printed comforter of 200-thread count cotton percale. Highland engineered knit pattern with self cotton yarn 0.5" whipstitching on all sides. Atterbury yarn dyed linen throw, white ground with blue windowpane pattern. Pillows and shams | Palmer duvet cover from Ralph Lauren's Signature Classics collection. Made of extra-long-staple, crisp cotton percale. Accented with contrast piping. Tuxedo white cotton percale dust skirt. Pillows and shams | Comforter printed paisley face and back. Hutchings sheets in 300-thread count cotton sateen. Watterson soft woven cotton throw with shimmering Lurex® Metallic for added sparkle to this understated and neutral feminine collection. Pillows and shams |
| | | |
| --- | --- | --- |
| | | |
| Veronique Bedding Collection | Adelaide Floral Bedding Collection | Indigo Cottage Bedding Collection |
| Faded florals, soft chambray, graceful paisleys and lacy accents come together to create the fresh, rustic style of Ralph Lauren's Veronique collection. Accented with supple textures, including woven linen and airy eyelet, each piece contributes to a casual yet sophisticated boudoir wardrobe. | With a centerpiece of vintage-inspired florals from the 1930s, the Adelaide collection from Ralph Lauren offers delightful options for dressing your bed. Menswear stripes, linen shams and signature cabled knits all contribute to a luxuriously layered look of comfort and elegance. | The Indigo Cottage Bedding Collection by Ralph Lauren is finished in cool-blue hues to offset the beautiful blooms of the printed floral pattern. |
| | | |
| --- | --- | --- |
| | | |
| Organic Shirting Stripe Bedding Collection | Summer Hill Bedding Collection | Organic Tattersal Bedding Collection |
| Crafted from irresistibly soft organic cotton, reminiscent of the premium construction and comfort of a finely tailored men's dress shirt, this bedding collection features a timeless yarn-dyed stripe motif. 400-thread count | Ralph Lauren's Summer Hill collection features a vibrant plaid pattern that infuses your space with the brand's signature prep-inspired style. Crafted from yarn-dyed, 200-thread cotton to achieve rich saturation. | Made from naturally soft organic cotton, the Tattersall bedding collection features premium construction and the timeless style of a check motif. 400-thread count |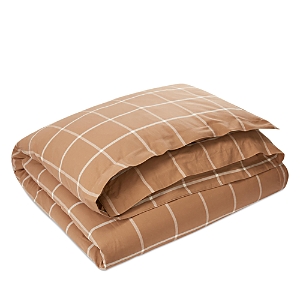 Modern Equestrian Bedding Collection
Add luxurious style to any room with the Modern Equestrian bedding collection from Ralph Lauren, featuring a variety of unique designs and patterns.
| | |
| --- | --- |
| | |
| Callen Bedding Collection | Isla Bedding Collection |
| Showcasing a stylized floral motif inspired by artisanal block-print textiles, the Callen collection is made with lustrous cotton sateen for a smooth hand and a silky drape. Accent pieces include matelassé blankets, basket-weave pillows, and airy fringed shams. Realized in shades of cornflower blue and cream, the soft color palette invites mixing and matching. | Island-inspired botanicals define the Isla collection, which features exuberantly reimagined batik prints and organic textured accents, including woven shams and macramé throw pillows. Crafted from pure cotton and linen yarn, the pieces come together in a relaxed, sun-bleached palette. |
| | | |
| --- | --- | --- |
| | | |
| Austin Bedding Collection | Carter Bedding Collection | Eden Bedding Collection |
| Drawing inspiration from the timeless style and inviting comfort of a perfectly lived-in chambray shirt, the Austin collection layers ikat-inspired prints, yarn-dyed shams, and plaid throw pillows to create a casual bed with laid-back appeal. The palette of muted grey and indigo blue invites mixing and matching and is designed to pair with both our Spencer and Graydon sheeting. | Lauren Ralph Lauren's Carter collection is a modern interpretation of quintessential New England style. With pieces crafted from silky sateen and woven cotton, this bedding is energized by an array of graphics, including scrolling Jacobean paisleys, refined foulard prints, and crisp windowpane patterns. Softness and texture is achieved with embroidered throw pillows and basket-weave blankets. | Inspired by a refreshing coastal garden in the summer, the Eden collection showcases romantic floral bouquets printed across silky cotton sateen. Subtle dimension is gained through soft, textured accents, including woven piqué shams with scalloped edges and throw pillows with delicate embroidery, tailored pleating, and classic appliqué trim. |
| | | |
| --- | --- | --- |
| | | |
| Julianne Toile Comforter Sets | Maddie Bedding Collection | Estella Bedding Collection |
| The Julianne collection combines romantic prints with menswear-inspired shirting stripes and windowpane checks. The serene palette of sage green and peacock blue is punctuated with creamy neutrals and layered with soft, textured accents. | Americana-inspired style defines Lauren Ralph Lauren's Maddie collection, which combines country florals, yarn-dyed ticking stripes, and hand-embroidered accents to create an inviting bed with homespun appeal. Crafted from natural materials including cotton and linen, the weathered blue-and-red palette adds rustic warmth to the whimsical designs. Intended for easy mixing and matching, this collection easily pairs with our Spencer sateen sheeting | Presented in a soft palette inspired by warm-weather lifestyles, Lauren Ralph Lauren's sophisticated interpretation of the classic paisley print is combined with thoughtfully detailed accessories to create the Estella collection. Silky sateen sheeting is layered with woven cotton blankets and throw pillows that boast hand-embroidery and crewelwork, affording delicate texture to this refined bed. |
| | | |
| --- | --- | --- |
| | | |
| Evan Bedding Collection | Spencer Cotton Sateen Border Duvet Cover, Shams | Lucie Bedding Collection |
| The Evan collection offers a modern interpretation of nautical style by uniting classic sailing stripes, sun-bleached florals, and preppy madras. A blue-and-white palette and island-inspired details such as embroidered anchors and coconut buttons make this an essential warm-weather bedding collection. | Get a good night's rest thanks to the help of this Lauren Ralph Lauren Spencer duvet cover's cotton sateen, which is smooth to the touch and supremely soft. Framed by a contrasting border, it brings a polished finish to the bedroom. | Romantic floral imagery is framed by deep borders in the Lucie floral comforter. Traditional Indian block printing inspires this inviting bedroom look. |
| | | |
| --- | --- | --- |
| | | |
| Graydon Bold Stripe Bedding Collection | Joanna Bedding Collection | Allie Bedding Collection |
| These cotton sheets from Lauren Ralph Lauren have been expertly yarn-dyed, producing textural highlights and lowlights that achieve a perfectly broken-in look. They'll get softer and more comfortable with each wash, just like your favorite chambray shirt. | A modern palette of sky blue and crisp white defines the classically contemporary style of the Joanna collection. A fresh update to Jacobean-inspired florals is presented on tailored cotton percale and layered with striped sateen sheeting and supple linen throw pillows. | Beginning with a creamy tonal palette, the Allie collection artfully layers modern, colorful prints with soft textural accents. Block-printed paisley, woven linen stripes, and delicate cotton embroidery come together to create a sophisticated master bed with signature Lauren style. |
| | | |
| --- | --- | --- |
| | | |
| Luke Bedding Collection | Casey Collection | Corrine Bedding Collection |
| Inspired by the modern style of urban loft living, the Luke collection is crafted with a warm gray palette and pairs medallion prints with geometric patterns and variegated stripes. Casual yet contemporary, the soft texture of these tonal pieces creates rich dimension in the bedroom. | Inspired by geometric yachting stripes, the Casey stripe comforter features broad navy-and-cream stripes on its face with a narrower pinstripe pattern lending a textural look. The reverse side adds a more subtle look with pinstripes on a pure cream background. | The Corrine collection combines contemporary graphics with a neutral palette, allowing for effortless mixing and matching. Silky sateen and soft cotton are layered together and enhanced by thoughtful details, such as tailored pintucks and tonal embroidery. |
| | | |
| --- | --- | --- |
| | | |
| Alix Bedding Collection | Claudia Bedding Collection | Gavin Bedding Collection |
| A crisp white floral print and a vibrant wash of deep-blue hues give the Alix collection its painterly botanical motif. Made from soft cotton percale to ensure a light and airy hand, it's constructed to achieve rich, saturated color and lasting durability. | The reimagined floral paisley brought to life by the Claudia collection recalls an elegantly modern master bedroom. In hues of soft rose, lavender, green, and blue, the romantic print is enhanced by delicate stripes, feminine embroideries, and plush velvets. | "This casual sheeting is defined by its small-scale diamond motif rendered in soft, faded blues. Crafted from pure cotton percale, the vintage-inspired pattern is designed with a timeworn appearance for a perfectly lived-in style. |
| | | |
| --- | --- | --- |
| | | |
| Willa Bedding Collection | Eva Bedding Collection | Mason Bedding Collection |
| Made from soft slub cotton fabric, the Willa duvet features an understated floral print that reverses to a stripe pattern, making it easy to match with any bedding. | A rich botanical print of tonal slate blues and moody indigos is complemented by pops of optic white for this casually sophisticated bedding collection. The oversize floral motif is paired with small-scale prints and finished with textural accents like frayed edges and basket-weaving. | Inspired by the landscape of the American Southwest, the Mason collection's tonal palette allows for effortless layering of geometric patterns, dhurrie motifs, and blanket stripes. The textured weaves and denim accents create a minimalist bed with a masculine touch. |
| | | |
| --- | --- | --- |
| | | |
| Ralph Lauren Organic Tuxedo Pleat Sheets | 464 Thread Count Percale Sheets | Prescot Stripe Sheets |
| Like a classic Ralph Lauren tuxedo shirt, this refined collection embodies exquisite construction, clean lines and timeless appeal. Skillfully crafted from naturally soft, organic cotton, each luxurious piece is accented with delicate tuxedo pleating--a nod to its iconic namesake. | Sheets from Ralph Lauren's Signature Classics collection. 464-thread-count Egyptian-cotton percale with a tight, uniform weave that results in a smooth, crisp feel and matte look. | Soft yarn dyed sheets. RL standard construction. |
| | | |
| --- | --- | --- |
| | | |
| Spencer Sheet Set Collection | Ralph Lauren Montray Sheets | Graydon SoftWeave 144, Sheet Set |
| This essential sheeting is made from silky 475-thread-count cotton sateen for a smooth hand and a subtle sheen. The OEKO-TEX Standard 100® certification ensures it has been tested for harmful substances and produced sustainably. | Inspired by Icelandic textile patterns, the print that adorns the Montray sheets has been reimagined in the vision of Ralph Lauren to complement a contemporary aesthetic. Crafted from a 150-thread count soft cotton weave, it's constructed with specially dyed yarn to achieve exquisite highs and lows within the rich indigo hue. | These cotton sheets from Lauren Ralph Lauren have been expertly yarn-dyed, producing textural highlights and lowlights that achieve a perfectly broken-in look. They'll get softer and more comfortable with each wash, just like your favorite chambray shirt. |
| | |
| --- | --- |
| | |
| Classic 100% Cotton Blanket | Oakfield Bedding Collection |
| Sumptuously soft with a classic appeal, this Lauren Ralph Lauren blanket makes a cozy addition to your bed. Featuring a basketweave design in pure cotton. Choose from five soothing hues. | Ralph Lauren's Oakfield collection presents a quilted coverlet and sham inspired by a vintage Ralph Lauren jacket. The geometric stitching lends refined texture to layered beds and pairs beautifully with the brand's organic oxford-stripe sheeting, signature cable-knit blankets, and soft knit throw pillows. |
| | | |
| --- | --- | --- |
| | | |
| Lightweight Down Alternative Comforter, Lite Loft Polyester Fill, 100% Cotton Cover | Monogram Gel Fibre Sateen Pillow Collection | Feather Core Down Surround Chamber Pillow - Firm |
| Sweet dreams. Cozy up with this luxuriant comforter from Lauren Ralph Lauren, featuring plush fill and a 233-thread count cotton cover. With the embroidered Lauren Ralph Lauren logo. | Experience exceptional comfort and support with the Lauren Ralph Lauren monogram gel fibre sateen pillow. Featuring cotton and hypoallergenic resilient polyester fibrefill, this pillow has a gusseted design, provides medium support. | Experience the ultimate in down & feather with the Lauren Ralph Lauren Down Surround® Firm Density Pillow. The unique Trilogy® construction offers a resilient feather core surrounded with all-natural soft down with an added gusset for a combination of comfort & support. Featuring a 300 Thread Count, 100% cotton dobby stripe cover, this is a firm pillow and ideal for back sleepers. |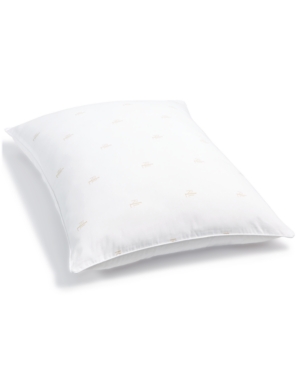 Logo Pillows, Down Alternative
Rest easy with these Logo pillows from Lauren Ralph Lauren. Crafted of soft cotton and filled with cozy polyester fiber fill, these pillows feature the Ralph Lauren logo and your choice of three densities for different sleep types.
Go to:
Add American-Luxury to your favorites