Outdoor Pillows, Rugs and Door Mats
Outdoor rugs define your space and add colorful style. Door mats greet your guests with seasonal flair. Go to: Outdoor Rugs, Door Mats, Outdoor Pillows and Throws, Beach Towels
Holiday
| | |
| --- | --- |
| | |
| 49" Indoor/Outdoor Standing Reindeer Decoration | Special Delivery Entrance Mat |
| Standing reindeer decoration. Indoor/outdoor use. Polyester/plastic/other. Approx. 49"T. | The special delivery entrance mat says welcome home with style. Featuring a printed image of a sleigh topped with holiday packages, bordered with checks, it offers a warm greeting before guests even step inside. Entrance mat made of natural coir fibers, a renewable source. Approx. 36"L x 24"W x 1"T |
| | | |
| --- | --- | --- |
| | | |
| Patience Brewster Scaredy Cat Entrance Mat | Lemon Vines Doormat | Nevermore Entrance Mat |
| 100% natural coir fibers, a renewable source Pieces may vary due to the handmade nature of each product. Approx. 24"L x 36"W x 1"T | Crafted from natural coconut fiber, this doormat provides a durable spot to wipe off debris and moisture from outside, as well as a finishing touch for your entryway. | Handcrafted entrance mat is made of coir and PVC. Approx. 36"L x 24"W x 1"T |
| | | |
| --- | --- | --- |
| | | |
| Graphic Border Doormat | Vertical Stripe Jute Doormat | Jute Herringbone Doormat |
| Hand-woven from natural coir, this rugged mat removes dirt and absorbs moisture while resisting mildew and offering long-lasting durability. | Hand-woven and developed especially by terrain, this natural jute doormat is dressed up by two bands of black stripes. | A herringbone weave dresses up this rugged jute mat for the doorstep, each one hand-woven especially for Terrain. |
| | | |
| --- | --- | --- |
| | | |
| Over The Rainbow Doormat | Oh My Gourd Doormat | Parks Project Smiling Sun Doormat |
| Crafted from natural coconut fiber, this doormat provides a durable spot to wipe off debris and moisture from outside, as well as a finishing touch for your entryway. | Coconut fibers | Mindful, smiling doormat by Parks Project, made from textural coconut fiber bristles with a sunny print reminding you to leave nature as you found her. Backed in vinyl for durable use underfoot. |
| | | |
| --- | --- | --- |
| | | |
| Natural Coconut Doormat | Trellis Embossed Doormat | Knot Weave Doormat, Black |
| Hand-woven from natural coconut fiber, this tufted doormat removes dirt and absorbs moisture while resisting mildew and offering long-lasting durability. | Hand-woven from natural coir, this rugged mat removes dirt and absorbs moisture while resisting mildew and offering long-lasting durability. Embossed with a trellis weave pattern and finished with a non-skid backing. | A practical addition to mudrooms, patios, and porches, this woven mat is made from rugged, coir fiber that catches dirt before it enters the house. |
| | | |
| --- | --- | --- |
| | | |
| Harbor Stripe Indoor/Outdoor Pillow Collection | Delineation Papaya Sunbrella Pillow Group | Inca Tile Sunbrella Pillow |
| Decorative pillows made from 100% solution-dyed Sunbrella® acrylic fabric. Usable throughout the home, indoors and out, all are stain, fade and water resistant. Proudly made in the USA, Elaine Smith pillows are constructed with superior attention to detail using only the finest U.S. materials. | Handcrafted, decorative pillow made from solution-dyed Sunbrella® acrylic fabric. Machine wash cold, air dry. | Handcrafted, decorative pillow made from solution-dyed Sunbrella® acrylic fabric. Machine wash cold, air dry. |
| | | |
| --- | --- | --- |
| | | |
| Blue Tape Pillow Group | Awning Monochrome Pillow Group | Sabal Fringe Lumbar Pillow Group |
| Handcrafted decorative weather-resistant pillow with mitered border trim accent. Solution dyed acrylic. Solid white reverse. Zip closure. Quick-drying polyester fill. Non-woven waterproof cover. Mold-resistant. | Handcrafted decorative outdoor pillow showcasing mitered stripe design and tassel in each corner. UV treated to resist fading and mildew. Solid black reverse. Zip closure. Quick-drying polyester fill. Non-woven waterproof cover. Mold-resistant. Sunbrella® acrylic. | Handcrafted boudoir pillow with decorative fringe and gimp accent and small welt around the edge. Solid green reverse. Zip closure. Quick-drying polyester fill. Non-woven waterproof cover. Mold-resistant. Solution dyed acrylic. |
| | | |
| --- | --- | --- |
| | | |
| Floral Vine Sunbrella Pillow, Indigo Group | Hand Painted Leaf Pillow Group | Colorblock Sunbrella Pillow Group |
| Handcrafted, decorative pillow made from solution-dyed Sunbrella® acrylic fabric. Stain, fade and water resistant. Hidden zip closure. Indoor/outdoor use. Sealed insert of weather-resistant, faux down fiber (polyester). Machine wash cold, air dry. | Handcrafted decorative weather-resistant pillow with hand painted leaf design. Solid white reverse. Zip closure. Quick-drying polyester fill. Non-woven waterproof cover. Mold-resistant. Solution dyed acrylic; acrylic paint. | Handcrafted, decorative pillow made from solution-dyed Sunbrella® acrylic fabric. Stain, fade and water resistant. Hidden zip closure. Indoor/outdoor use. Sealed insert of weather-resistant, faux down fiber (polyester). |
| | | |
| --- | --- | --- |
| | | |
| Check Sunbrella Pillow Group, Cobalt | Basketweave Lumbar Sunbrella Pillow Group, Navy | Dash Sunbrella Pillow Group |
| Handcrafted, decorative pillow made from solution-dyed Sunbrella® acrylic fabric. Stain, fade and water resistant. Hidden zip closure. Indoor/outdoor use. Sealed insert of weather-resistant, faux down fiber (polyester). Machine wash cold, air dry. | Handcrafted decorative pillow made from solution-dyed Sunbrella® acrylic fabric. Stain, fade and water resistant. Sealed insert of weather-resistant, faux down fiber. Machine wash cold, air dry. | Handcrafted decorative pillow made from solution-dyed Sunbrella® acrylic fabric. Stain, fade and water resistant. Sealed insert of weather-resistant, faux down fiber. Indoor/outdoor use. Machine wash cold, air dry. |
| | | |
| --- | --- | --- |
| | | |
| Celerie Kemble Wicking Cloud Pillow with Ball Trim Group | Celerie Kemble Wicking Cloud Pillow Group | Dressage Chestnut Indoor/Outdoor Pillow Group |
| Pillow with ball tassel trim. Outdoor polyester insert. Sunbrella solution dyed acrylic. UV treated to resist fading and mildew. | Pillow with hanging ball tassels. Outdoor polyester insert. Sunbrella solution dyed acrylic. UV treated to resist fading and mildew. | Designed using Sunbrella® materials that resist rain, sun and stains, Elaine Smith indoor/outdoor pillows offer an elegant, textured touch to any room. Her runway-inspired designs are elegantly chic, and are all handcrafted in the USA. Soft and luxurious, these performance pillows are designed to endure everyday life. Handcrafted pillow made of weather-resistant Sunbrella® acrylic |
| | | |
| --- | --- | --- |
| | | |
| Toucan Outdoor Accent Pillow | Textured Ronan Indoor/Outdoor Pillow | Sailboat Outdoor Accent Pillow |
| Accent pillow featuring toucan design and pompom corners. This outdoor pillow is made of quality stain-resistant olefin fabric with robust performance characteristics on the resistance to fading and degradation from sunlight. | No living space is complete without a throw pillow - or three. This cozy offering makes a perfect addition to a sofa, daybed, or outdoor chaise. | Accent pillow is made of polypropylene. Water-resistant finish. Hidden zip closure to polyfill insert. For outdoor use. Pieces may vary due to the handmade nature of each product. Approx. 16"Sq. |
| | | |
| --- | --- | --- |
| | | |
| Villa Garden Outdoor Accent Pillow | indigo villa outdoor accent | Geo Flower Outdoor Accent Pillow, Navy |
| Handcrafted outdoor floral accent pillow. Pieces may vary due to the handmade nature of each product. Polyethylene terephthalate (PET) yarn. | Handcrafted pillow with fringe border. Check motif reverses to floral print. Antimicrobial Sunbrella® fabric cover. Siliconized polyester fiber fill. | Accent pillow is made of polypropylene. Water-resistant finish. Hidden zip closure to polyfill insert. For outdoor use. Pieces may vary due to the handmade nature of each product. Approx. 20"Sq. |
| | | |
| --- | --- | --- |
| | | |
| Kanga Lumbar Sunbrella Pillow | Longhena Espresso Throw | Bryson Indoor/Outdoor Pillow |
| Handcrafted, decorative pillow made from solution-dyed Sunbrella® acrylic fabric. Machine wash cold, air dry. Fill, polyester. 12"L x 6"W x 20"T. | A grid of neutral yarns creates a contemporary cross linear effect with depth, texture and warmth. Featuring shades of gray, white, chocolate and stone, this fine merino wool and cotton blend throw is finished with a fringe. Cotton/acrylic/merino wool. Approx. 51" x 71". | Crafted from outdoor-friendly materials, this textured pillow is a cozy addition to any living space - indoor or out. |
Courtyard Indoor/Outdoor Rug - 8' x 10' - Royal
Courtyard Indoor/Outdoor Rug - 5' x 8' - Royal
Courtyard Indoor/Outdoor Rug - 2' x 3' -Royal
Breezy Poppy Outdoor Rug, 5' x 8'
Zanzibar Indoor/Outdoor Rug, 8' x 10'
Why trade durability for fashion? The 2'6" x 8' Royal Courtyard Indoor/Outdoor Runner offers both. Crafted of polyester, it features a mosaic center of royal blue and cream, outlined with a braided border. Water-resistant, it can be used indoors or outdoors in a shaded or covered area with limited direct exposure to sunlight. It's the perfect complement to our collection of Indigo Villa outdoor furniture. Indoor/outdoor rug is made of polyester.
Rug features bright stripes and signature Courtly Check. Made of water-resistant woven vinyl. For indoor or outdoor use.
Handcrafted transitional rug. Polyethylene terephthalate (PET). Pieces may vary due to the handmade nature of each product. Use in a protected area. Hose off with water to clean and lightly scrub with mild soap. Avoid direct exposure to sunlight for an extended period of time. We recommend using an anti-slip pad under the rug, and rotating the rug once a month.
| | | |
| --- | --- | --- |
| | | |
| Diego Indoor/Outdoor Mat | Courtyard Zanzibar Indoor/Outdoor Rug, 3' x 5' | Hand-woven Novah Indoor/Outdoor Rug |
| Bring geometric pattern and rich, saturated hues to your patio or living space with this indoor/outdoor mat. Eco-friendly rug made from woven strands of recycled polyesters, plastics and rubbers, resistant to stains is perfect for adding modern-boho vibes to outdoor hangs on your patio and giving high-traffic areas a standout look. Made from a durable weave with bordered edges, you can hose it off to clean after your picnic. Teal | Traditional rug made of hooked wool. Pieces may vary due to the handmade nature of each product. | Versatile and durable, this floor covering anchors any sun room, shady veranda, or outdoor oasis. |
| | | |
| --- | --- | --- |
| | | |
| Hand-woven Malibu Rug | Riley Indoor/Outdoor Rug | Dylan Indoor/Outdoor Mat |
| An ideal complement to any casual interior, this rug features a soothing pastel palette rendered in a durable flatweave for your interior. | High-contrast, geo-patterned rug, made from a durable weave that suits any space, whether displayed in your living room or out on your patio! With a diamond pattern allover and fringed trim along edges. Hose off to clean. Black | Bring geometric pattern and complementary hues to your patio or living space with this indoor/outdoor mat. Eco-friendly rug made from woven strands of recycled polyesters, plastics and rubbers, resistant to stains is perfect for adding modern-boho vibes to outdoor hangs on your patio and giving high-traffic areas a standout look. Made from a durable weave with bordered edges, you can hose it off to clean after your picnic. Turquoise |
| | | |
| --- | --- | --- |
| | | |
| Cozumel Indoor/Outdoor Rug | Luz Reversible Indoor/Outdoor Rug | Luz Reversible Indoor/Outdoor Rug |
| A versatile way to bring a hit of color to your space - inside or out - this multicolor striped rug is made from recycled premium plastic in a construction resistant to mold, mildew, and UV damage for durability and vibrant hues. GoodWeave certified. Blue | Woven rug with a vintage-look pattern in a highly durable weave that fits every indoor/outdoor need with a weather-resistant construction. Eco-friendly, stain-resistant rug made reversible with two takes on a bold pattern. Perfect for adding a pop of color with bohemian style to outdoor hangs on your patio, and giving high-traffic areas a standout look with a textured, geometric motif. Orange | Woven rug with a vintage-look pattern in a highly durable weave that fits every indoor/outdoor need with a weather-resistant construction. Eco-friendly, stain-resistant rug made reversible with two takes on a bold pattern. Perfect for adding a pop of color with bohemian style to outdoor hangs on your patio, and giving high-traffic areas a standout look with a textured, geometric motif. Blue |
| | | |
| --- | --- | --- |
| | | |
| Suri Reversible Indoor/Outdoor Rug | Cozumel Indoor/Outdoor Rug | Tillie Reversible Indoor/Outdoor Rug |
| Bring a Deco look to your patio or entryway space with this reversible chevron-patterned rug made from durable recycled plastic, perfect for high-traffic areas. Resistant to mildew, mold and UV rays. Gold | A versatile way to bring a hit of color to your space - inside or out - this multicolor striped rug is made from recycled premium plastic in a construction resistant to mold, mildew, and UV damage for durability and vibrant hues. GoodWeave certified. Orange | Bring a bold, graphic look to your patio or entryway space with this reversible geo striped rug made from durable recycled plastic, perfect for high-traffic areas. Resistant to mildew, mold and UV rays. Orange |
| | | |
| --- | --- | --- |
| | | |
| Coyuchi Tomales Organic Beach Towel | Slowtide Be Here Now Beach Towel | Jackie Beach Towel |
| Inspired by the striped sarape blankets of Mexico, this yarn-dyed organic cotton beach towel mimics the line of the horizon with an ombré pattern that transitions from bright color on top to more subdued neutrals along the bottom. Flat weave surface with an undyed mini-loop terry back that's soft, highly absorbent, and quick to dry. Edges are detailed with a yarn-dyed stripe. | 100% cotton. Oeko-Tex certified, this item is made using eco-friendly production methods and is free from over 300 harmful chemicals, toxins, and irritants | Featuring a classic stripe and tasseled trim, this towel is a chic essential for beach day lounging. |
| | | |
| --- | --- | --- |
| | | |
| Business & Pleasure Co. Beach Blanket | Rainbow Stripe Dye Beach Towel | Rainbow Cabana Beach Towel |
| Founded by two Australian friends inspired by a classic Californian aesthetic, Business & Pleasure Co. creates luxury beach and lifestyle goods using eco-minded materials and nostalgic, summery designs. | Bring vivid retro style to sunny days with this cotton terry cloth beach towel topped with rainbow stripe dye tech detailing. Dyed by hand, the towel you receive will be totally unique and will showcase special variation in color and pattern from what's pictured here. | Featuring modern, rainbow-hued stripes, this towel is a chic essential for beach day lounging. |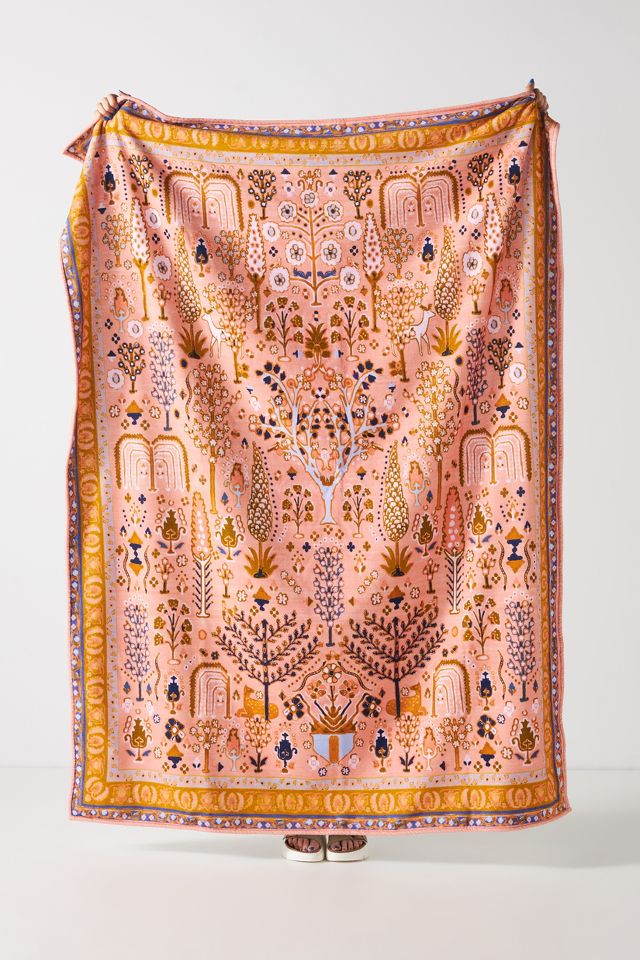 Camille Velour Beach Blanket
Cotton velour. Oeko-Tex certified, this item is made using eco-friendly production methods and is free from over 300 harmful chemicals, toxins, and irritants
Go to:
Add American-Luxury to your favorites