Gifts for Her

Bedazzled Bee Wine Charms, Set of 6
These dazzling critters are a wonderful addition to any party.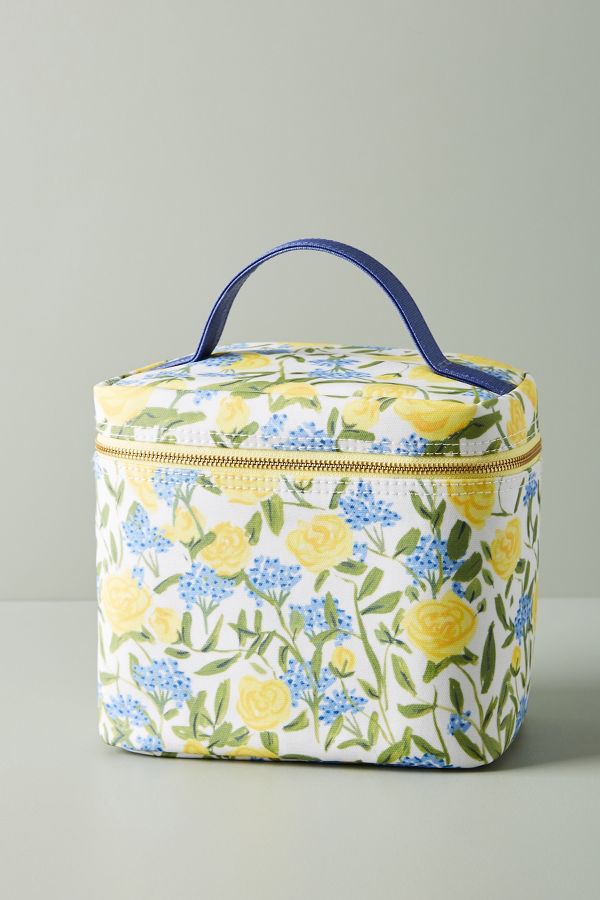 Jackie Diedam Willa Lunch Box
Designed in collaboration with Jackie Diedam for Anthropologie, this floral-printed lunch box infuses every midday break with color and charm.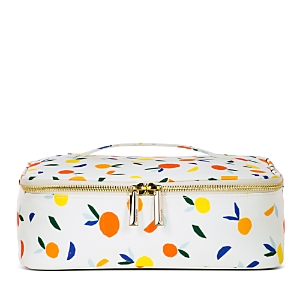 kate spade new york Citrus Twist Insulated Lunch Carrier
Insulated lunch carrier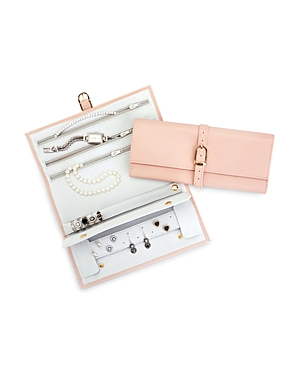 Royce New York Leather Travel Jewelry Roll
Elegant travel storage for rings, earrings, bracelets, necklaces and watches

Lovestruck 16-Piece Chocolate Gift Box
Lovestruck box of hand-painted chocolates.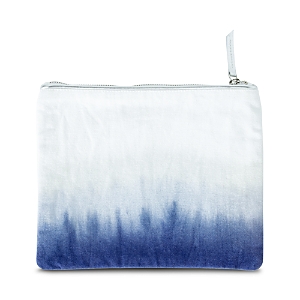 Michael Aram Ombré Pouch
100% cotton canvas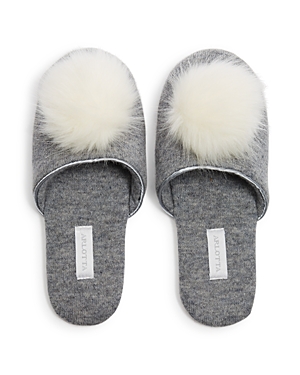 Arlotta Pom Pom Slide
Cashmere; sole: suede; faux fur: polyester/acrylic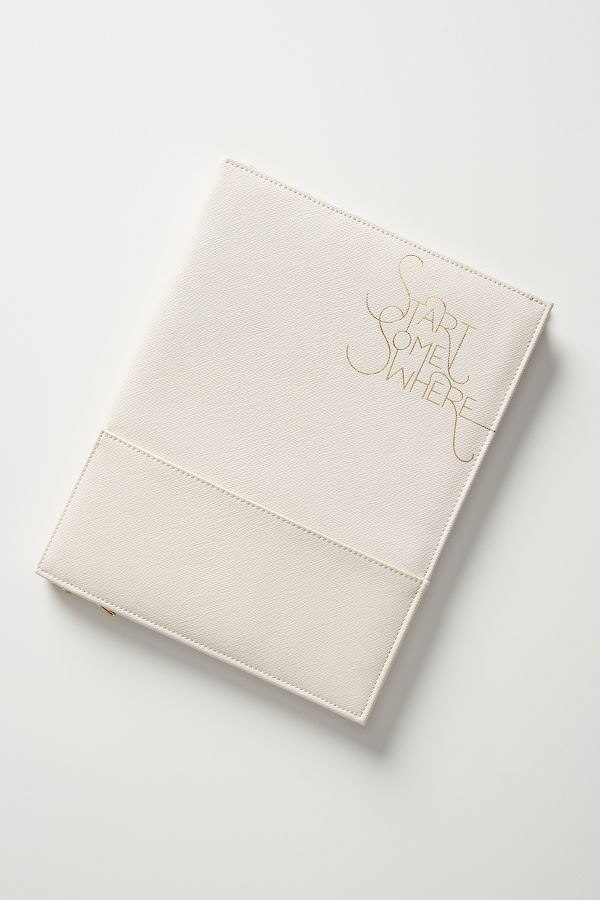 Start Somewhere Padfolio
With a gentle reminder that all great projects start somewhere, this well-designed padfolio is made with exterior and interior pockets to hold additional notes - and is complete with a built-in pen so you're always ready to jot down notes

Packed Party Birthday Beb Gift Package
"Birthday Beb" tote gift package. Heavyweight vinyl confetti filled bag with soft vegan leather handles. Bag includes: bottle of cupcake lotion, custom flavored birthday confetti candy, birthday cake lip scrub, confetti donut bath bomb, "Make A Wish" trinket tray, and a tube of multicolored confetti, and of course our signature letterpress card stating what the party is, why it's being sent, and we sign it with your name to make it that much more personal.

Bari Lynn Yum Rainbow Acrylic Lunch Box
Bari Lynn lunch box in double-sided glittered acrylic. Solid "Yum!" text over rainbow pattern.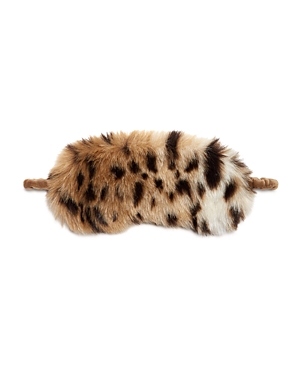 Hudson Park Faux Fur Eye Mask
Covered elastic band. Microfiber reverse

Graphic Image Personalized Wire-O-Notebook
This leather notebook includes a spiral insert with 144 lined perforated pages on gold-gilded premium paper. Personalize with initials in style shown. Genuine leather cover.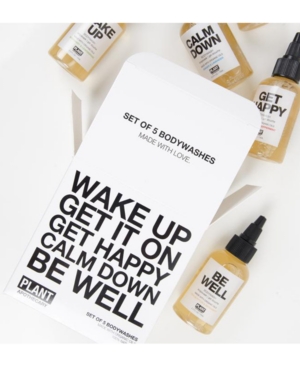 Plant Apothecary 5-Pc. Travel Size Organic Body Washes Set
In response to customer demand, PLANT Apothecary's Organic Body Washes are now available in a travel size! Get this set of all five and keep them handy for whenever you need a little aromatherapy.

kate spade new york floral lunch tote
Goodbye brown bag, hello kate spade new york floral lunch tote. featuring a coated-linen cover, an insulated interior and an easy-carry handle

Maggie Louise Hello Gorgeous Chocolate Gift Box
Some of the sweetest things come in small packages. Wow the glam guru in your life with this gift box of luxe white chocolate lipsticks and passion red lips.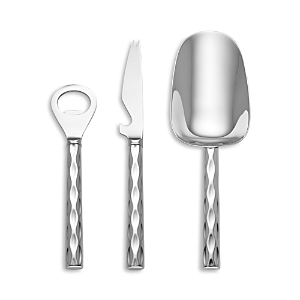 Michael Wainwright Truro Bar Tools, Set of 3
18/10 stainless steel

Kevyn Aucoin The Expert Brush Collection
A curated selection of our favorite brushes customized for travel. Legendary makeup artist to the stars, Kevyn Aucoin, created his own line of products to capture every woman's true beauty.

Parker Thatch Sleeping Sweetheart Eye Mask
Eye mask made of cotton canvas. Personalization. USA

Parker Thatch Travel Jewelry Case
Travel jewelry cases sold individually. Cotton canvas. Zip-around closure. Personalization. USA

Personalized Folded Notes Boxed Sets
Folded notes in bold patterns with distinctive personalization turn correspondence into a fashionable event.

KELLY KAY 25 Butterfly Folded Notes
A brilliant, hand-drawn butterfly illustration floats gently across these luxurious folded notes. Encased in rich purple Euro-flap envelopes, these notes will awe anyone who "catches" them.

Graphic Image Travel Notebook, Personalized
Handcrafted travel notebook. Leather cover. Summary pages for detailing your adventures; full-color maps. Editorial information includes toll-free numbers, world weather, distances, and international dialing codes. Cream-white, acid-free paper with gilt edges; double-faced cream satin ribbon marker. Personalization is one to three initials in style and color shown.

Graphic Image Inc Personalized Golf Yardage Book Cover
This yardage book cover easily holds your yardage book with pencil. It fits in and look great in your back pocket.
Gifts for Him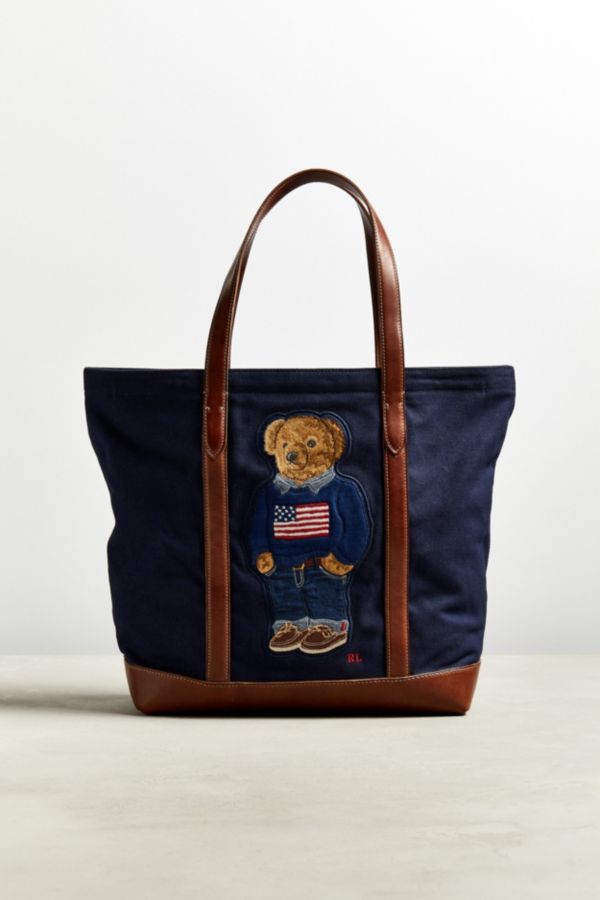 Polo Ralph Lauren American Flag Sweater Tote Bag
Cotton tote bag from Polo Ralph Lauren with embroidered brand hallmarks on either side. Large tote bag offers zipped top, internal slip pocket and leather straps for a sturdy carry.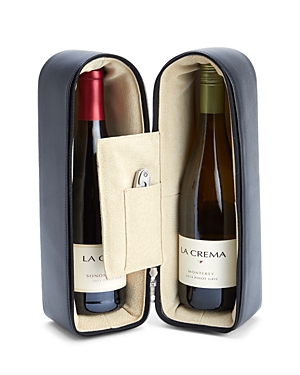 Royce New York Leather Double Wine Carrying Case
Fits two standard wine bottles. Zip closure. Includes stainless steel corkscrew/bottle opener. Padded for safe carrying

Pastry Party Chocolate Gift Box
Pastry Party box of hand-painted chocolates.

Valet Tray, Personalized
Makes a great travel companion - pack it flat for the journey and then snap together when you arrive to form a rich travel valet. Plus use on the dresser as an inbox to keep coins, car keys, jewelry and accessories. Our Valet Tray will keep your articles organized and easily accessible.

Jonathan Adler Canaan Tic-Tac-Toe Set
Raise Your Game. Graphic, glamorous, and go-anywhere, our Canaan Collection takes the classic combo of black and white to new heights. The pared down and polished mix of high-contrast marble is the ideal complement to minimalist or maximalist décor. Is it modern art or a luxe pastime? Let your guests decide.

Jonathan Adler Brass Pill Box
A Dose of Style. Cast in solid brass, hinged pill box is the perfect touch on your bedside table.

Rescued Human Glasses
Because we know that when you adopt a dog, the dog actually rescues you—this novelty glassware toasts our canine heroes. Each glass is hand etched with the phrase "Rescued Human" and a sweet paw print. Set of four. Glass. Dishwasher safe. Made in USA.

Two-Piece Plaid Pajama Gift Set
Neiman Marcus two-piece pajama set includes a solid T-shirt and plaid pants. Crew neckline. Semi-fitted. Pullover style. Pants, drawstring band at waist. Relaxed fit. Pull-on style. Presented in a gift box.

L'Objet Dominos Set
An NM favorite chosen by the editors of ELLE DECOR. Dominos set made of mahogany and brass-plated wood. Inlaid brass details.

M Clip Stainless Brushed Polished Money Clip
M-Clip: The World's Finest Money Clip®—for men who expect nothing less than the best. Designed to hold an adequate amount of content, including credit cards and cash, and crafted in quality materials to stand the test of time. USA

M Clip Black-Plated Aluminum-Inset Money Clip
M-Clip: The World's Finest Money Clip®—for men who expect nothing less than the best. Designed to hold an adequate amount of content, including credit cards and cash, and crafted in quality materials to stand the test of time


Pure Cotton Wrinkle-Free Pinpoint Oxford Long-Sleeved Shirt
You'll retire your iron the first time you wear our men's wrinkle-free dress shirt. Our lightweight, pure cotton pinpoint shirt is perfectly low maintenance, yet doesn't feel stiff or synthetic the way lesser wrinkle-free fabrics can. Our men's no iron dress shirts feature button-down collar, adjustable cuffs. Box pleat. Single button-through pocket. Men's no iron dress shirts are made of pure cotton. Washable. Personalize pocket with embroidery, up to 3 letters.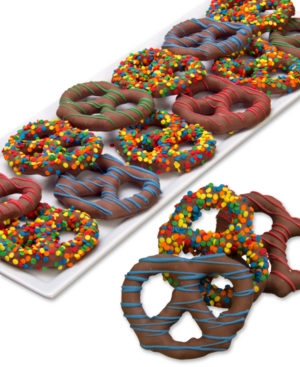 Chocolate Covered Company® Chocolate-Covered Pretzel Collection
Simultaneously satisfy the sweet and salty craving with an assortment of chocolate-covered pretzels from Chocolate Covered Company®, gorgeous collections of hand-dipped and decorated confections that create a memorable gift for any occasion.

Frye Logan Men's Leather Overnight Bag, Dark Brown
Get noticed when you travel with this rugged overnight bag by Frye.

Battenkill Bottle Holder
A perfect gift for the traveling scotch aficionado, the Battenkill Bottle Holder is constructed of durable canvas and leather, and features a padded interior, carrying handle, and brass zippers. Built to fit most wine and high-end liquor bottles, it's a safe and unique way to transport spirits. USA

Alphabet Soup Knit Blanket
Art Walk soft-knit blanket, featuring Alphabet Soup intarsia. Cotton. Made in Peru.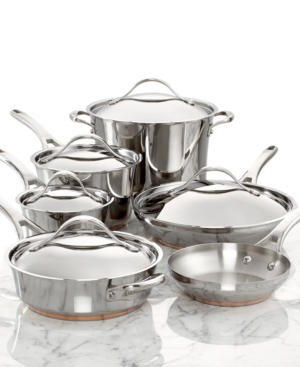 Anolon Nouvelle Copper Stainless Steel 11 Piece Cookware Set

Grow your busy kitchen with the most-popular and most-used pieces. Delivering expert-grade results with layer upon layer of premium cooking material, each piece in this polished set features ultra-reactive copper encapsulated by aluminum & magnetized stainless steel & finished with an impact-bonded double full cap for unrivaled heat distribution and incredible cooking control

MacKenzie-Childs Courtly Check Serving Utensils
Add these charming Courtly Check® serving utensils to your MacKenzie-Childs® collection. Each is stainless steel with a black and white porcelain handle with golden detailing

Michael Aram Olive Branch Gold Pizza Cutter
Pizza cutter made of natural and oxidized brass and stainless steel.
Gifts for Them

Godiva Chocolatier Easter Enchanted Gift Basket
Give the ultimate Easter basket! This Enchanted Easter Gift Basket from Godiva has it all—a treasure of Easter candy plus an adorable plush Easter bunny. The Easter basket features seven different chocolate gifts, starting with the seven foil-wrapped chocolate Easter eggs held by the soft and cuddly bunny.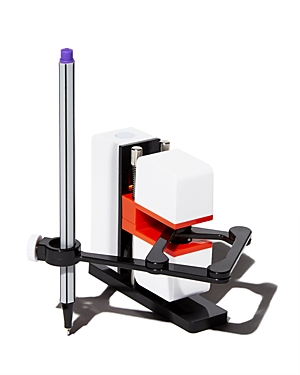 Line-us Portable Drawing Robot
A WiFi-connected robot arm that uses a pen, pencil or paintbrush to recreate on paper whatever you've sketched on the screen of your device

Gem Cocktail Picks, Set of 6
These stunning picks are being used everywhere for everything!

Shavel Micro Flannel® Solid Sheet Sets
This micro flannel® solid sheet set keeps you warm and cozy for an extra comfortable feel. Luxuriously soft, micro flannel® combines the best comfort features of high quality European cotton flannel with the easy care of fleece--without the bulk!

Love is Love Chocolate Gift Box
Love is Love box of hand-painted chocolates.

MacKenzie-Childs Thistle & Bee Bountiful Bowl
Handcrafted porcelain bowl. Hand-applied transfer decoration and gold luster band.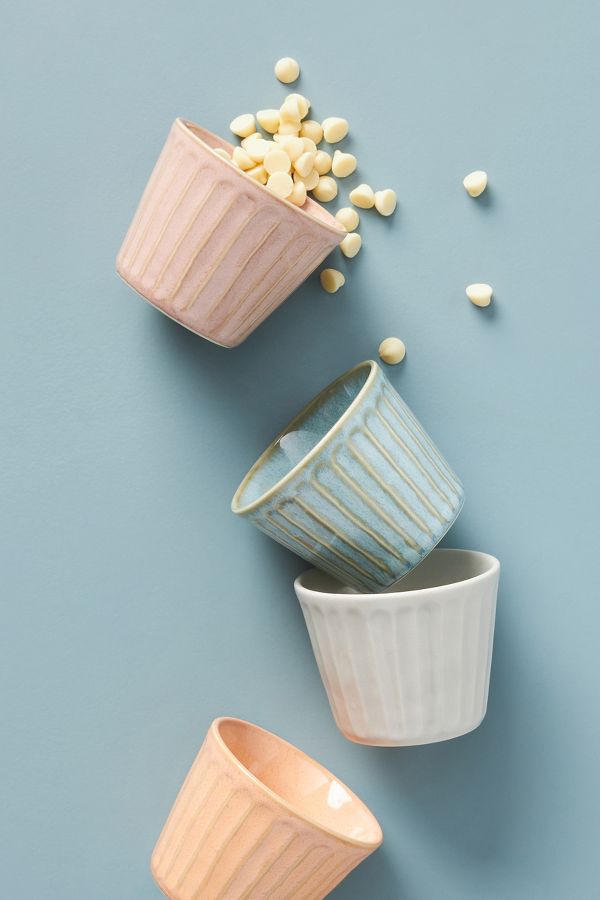 Giro Nut Bowl
Glazed porcelain. Dishwasher and microwave safe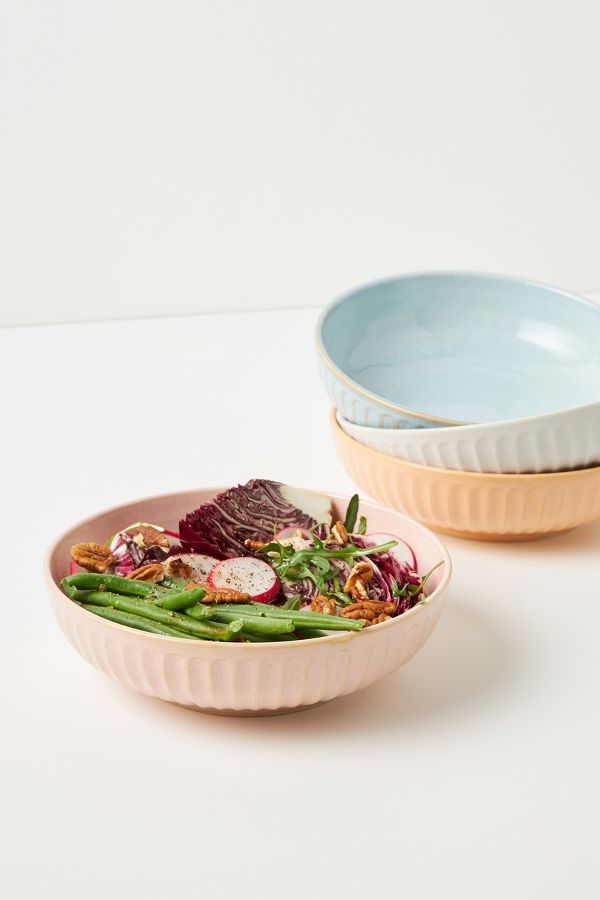 Giro Grain Bowl
Crafted in a wide and shallow silhouette, this vessel is well-suited for hearty grain bowls and colorful, vegetable-forward dishes.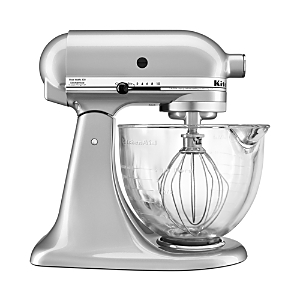 KitchenAid 5-Quart Tilt Head Stand Mixer with Glass Bowl & Flex Edge Beater
Includes tilt-head stand mixer, a flex edge beater, 6-wire whip, metal dough hook and 5-quart glass mixing bowl. The power hub turns your stand mixer into a culinary center with more than 15 optional attachments available (sold separately).

Packed Party Thanks X Million Gift Package
"Thanks (x Million)" tote gift package. Heavyweight vinyl confetti filled bag with soft vegan leather handles. Bag includes: a custom embroidered dish towel that says "grateful heart", a jot-it-down journal from may designs, kettle corn, a luxury soy candle from illume, coconut milk hand lotion, and of course our signature letterpress card stating what the party is, why it's being sent, and we sign it with your name to make it that much more personal.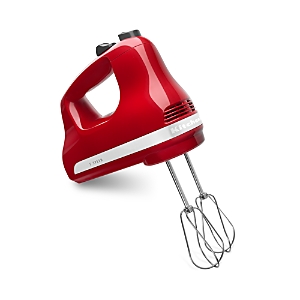 KitchenAid 5-Speed Ultra Power Hand Mixer
KitchenAid's hand mixer is designed with a powerful yet lightweight motor for seamless blending.

Godinger Liquid Lunch For 2 Bar Tools Set
Liquid Lunch For 2™ bar tools set. Includes cocktail shaker, two glasses, two stirrers/picks, and cocktail recipes in a case.

Lauren Ralph Lauren Wilshire Dinnerware, Gold
This fine porcelain plate is hand-painted with matte and polished bands of 24-karat gold, and will effortlessly complement our timeless dinnerware patterns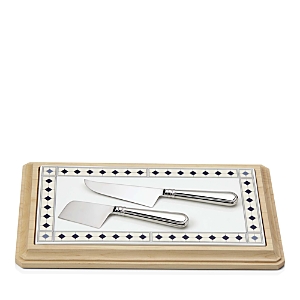 Thomas O'Brien for Reed & Barton Cheese Board with Knife Set
Includes two knives for hard and soft cheese. Porcelain. Dishwasher and microwave safe


Jonathan Adler Op Art Lacquer Tray
Perfect size for a vanity, console, or cocktail table, our Op Art Lacquer Tray corrals your possessions without crowding your space. Glam and glossy, high-contrast lacquer. Mind-bending, hand-finished patterns. Bold black and white. Make a modernist mark with our go-with-everything Pop Art pieces.

Classic Leather Travel Accessories
Handcrafted in the USA of imported goatskin. Select color when ordering. For personalization, specify three initials. Personalization will be in First, Middle, Last order. From Abas.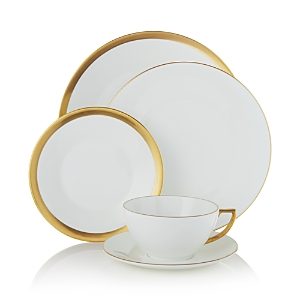 Jasper Conran Wedgwood Gold 5-Piece Place Setting

Gleaming bands of 22K gold bring special occasion-worthy refinement to white bone china dinnerware by designer Jasper Conran for Wedgwood.

Jonathan Adler Eyes Cocktail Napkins, Set of 4
Set of four embroidered cocktail napkins. Each, 6"Sq. Cotton/linen with satin-stitch embroidery.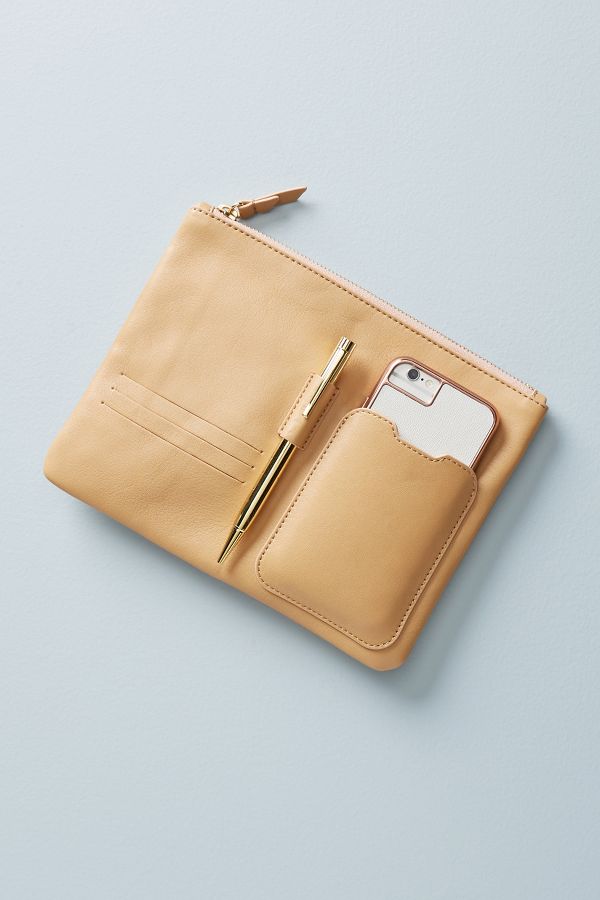 Ready For Anything Pouch
Pen included. Leather; cotton lining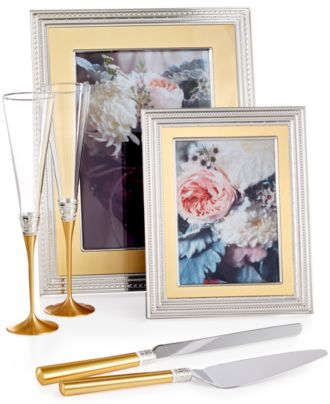 Vera Wang Wedgwood With Love Gold Gifts
Elegance is defined by Vera Wang's Wedgwood With Love Gold Gifts. Stunning silver and gold plate finishes punctuate a look that's as timeless as your memories

Avanti Bath Towels, Mr. & Mrs. Bath Towel Collection

A great gift idea for any couple, especially newlyweds! This elegant bath towel features Mr. or Mrs. embroidery in a lovely pewter hue with coordinating decorative trim

Aerial Hometown Jigsaw Puzzle
Put your house in the middle of a 400-piece custom jigsaw puzzle! Created using aerial-image mapping, a high-resolution aerial photo creates a precise and detailed image of your hometown—covering a bird's-eye view of an area 1½ miles east-to-west and 1 miles north-to-south—with your house right in the center. To make getting started a little easier, the center puzzle piece is shaped like a house. This completely unique puzzle makes a great gift and is a fun and challenging activity for the whole family.