Relaxed Dresses, Tops and Skirts
Relaxed dresses and skirts for your busy lifestyle. Go to: Tracy Reese Eva Franco, Tina & Jo, Donna Morgan, dRA, Tylho, Hutch, Black Halo, Corey Lynn Calter
Nicole Miller
Over the past decades, Nicole Miller's classically refined designs have made a profound impression on the fashion industry. Educated at RISD and one of Paris's top fashion design schools, Miller has produced groundbreaking patterns and silhouettes each and every season, while maintaining a unique wearability that's at once effortless and elegant.
Laurel Berman's iconic line showcases the modern woman's inherent femininity and strength. Using classic designs that flatter every curve, Black Halo constructs flawless, event-ready silhouettes for every season.
| | | |
| --- | --- | --- |
| | | |
| Canna Dress | Sirenna Dress | Avonna Dress |
| An enchanting print and a flattering v-neck elevate this fitted silhouette to suit a most-anticipated occasion. | This event-worthy stunner is fitted at the waist and finished with a subtly flounced hanky hem for an enchanting LBD. | This geo-printed fit-and-flare flatters at the waist for a vibrant, party-worthy silhouette. |
| | | |
| --- | --- | --- |
| | | |
| Carys Column Dress | Ellaria Column Dress | Lyda Sweetheart Dress |
| This slim column dress is an elegant, event-worthy silhouette. | This feminine stunner drapes slightly off-the-shoulder for a flattering silhouette. | This fitted dress enchants with a sweetheart neckline for a delicate, contemporary silhouette. |
| | | |
| --- | --- | --- |
| | | |
| Edesia Sheath Dress | Ursa Velvet Wrap Dress | Calypso Wide-Leg Jumpsuit |
| This classic black dress features a sweetheart neckline and a slimming silhouette for an event-ready stunner. | This ethereal dress is crafted from elegant velvet in a flattering wrap silhouette | This elegant jumpsuit is trimmed with delicate ruffles for of-the-moment occasion dressing. |
| | | |
| --- | --- | --- |
| | | |
| Zula Halter Jumpsuit | Juno Ruffled Jumpsuit | Strapless Cutout Jumpsuit |
| Fitted at the waist, this elegant jumpsuit features a deep v-neck for a contemporary way to outfit an anticipated occasion. | This classic jumpsuit is elevated with ruffled detailing for a feminine touch. | Of-the-moment cutout detailing gives this simple strapless jumpsuit a contemporary edge. |
| | | |
| --- | --- | --- |
| | | |
| Joaquin Wide-Leg Jumpsuit | Madeline Ruffled Dress | Milana Mini Dress |
| Elegant in its simplicity, this wide-leg jumpsuit is the perfect alternative to your go-to LBD. | A shoulder of ruffles adds a touch of feminine elegance to this slimming silhouette. From Black Halo. | A blend of abstract and feminine design, this contemporary silhouette flatters at the waist. |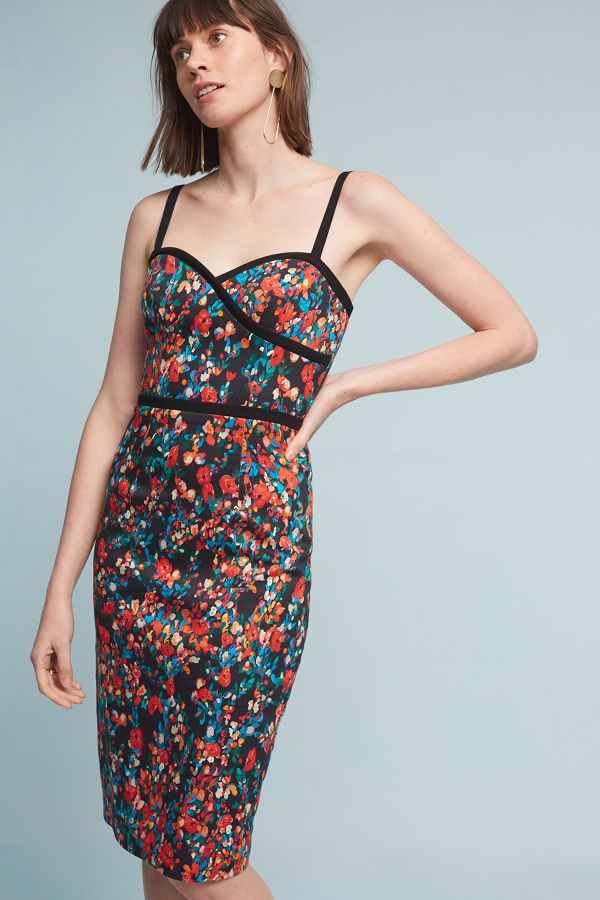 Tivoli Corseted Dress
A corseted bodice flatters for a colorful, event-ready stunner. Made in the USA for Black Halo.
Effortlessly chic, Tina + Jo is an embodiment of the timeless elements of the California lifestyle. Locally sourced and produced, each silhouette reflects the throw-on-and-go sensibility of the West Coast while maintaining a contemporary sophistication.
Committed to crafting flattering, imaginative garments, Donna Morgan reflects the individuality of the modern woman. From the classic a-line dress o more contemporary, of-the-moment silhouettes, each Donna Morgan piece is sophisticated, yet versatile and easy to wear.
At once youthful and mature, dRA blends the artful rebellion of cutting-edge design with the tailored elements of time-tested fashion for a line of versatile and feminine silhouettes. Founded by Diana Ra, the independent line offers a curated everyday collection. Los Angeles
With sixteen years of industry experience under his belt, designer Tylor Ho set out to create his own line of unique prints, textures and silhouettes. The result? Tylho - an eclectic collection of washed silks, printed cottons and colorful motifs that embody the casual street style of the brand's LA home.
With experience gained in opera houses, Broadway shows and New York's punk scene, Corey Lynn Calter's eponymous line is defined by original prints, flattering cuts and punchy hues that are inspired by her vast and varied background.
Inspired by her world travels and flea market finds, Los Angeles-based designer Eva Franco is known for her combination of whimsical details and timeless silhouettes. Her exceptionally ladylike — and petite friendly — dresses and skirts are right up our alley.
Go to:
Add American-Luxury to your favorites