Relaxed Dresses, Tops and Skirts
Relaxed dresses and skirts for your busy lifestyle. Go to: Maria Korovilas, Eva Franco, Tina & Jo, Donna Morgan, dRA, Black Halo, Corey Lynn Calter, Byron Lars
Nicole Miller
Over the past decades, Nicole Miller's classically refined designs have made a profound impression on the fashion industry. Educated at RISD and one of Paris's top fashion design schools, Miller has produced groundbreaking patterns and silhouettes each and every season, while maintaining a unique wearability that's at once effortless and elegant.
Disillusioned by the trend-driven, disposable nature of mass-produced clothing, Maria Korovilas founded an eponymous line of design-focused womenswear. Inspired by influences ranging from the Mediterranean Sea to the art nouveau movement, the label understands the importance of craftsmanship and often uses Maria's own drawings as prints. Korovilas represents the values of the intelligent, well-traveled woman - and inspires her to dream
Laurel Berman's iconic line showcases the modern woman's inherent femininity and strength. Using classic designs that flatter every curve, Black Halo constructs flawless, event-ready silhouettes for every season.
| | | |
| --- | --- | --- |
| | | |
| Rory Asymmetrical Dress | Annaliese Column Dress | Carter Jumpsuit |
| An asymmetrical hem and a round neck add contemporary elegance to this classic, event-worthy silhouette. | Lovely florals adorn this flattering silhouette, complete with a feminine sweetheart neckline we love. | This classically elegant jumpsuit is a contemporary alternative to event dressing that's sure to make a statement. |
| | | |
| --- | --- | --- |
| | | |
| Colorblock Sheath Dress | Cate Column Dress | Tove One-Shoulder Dress |
| Contemporary colorblocking offers a stylishly modern touch to this classic sheath. | A ruffled neckline offers a feminine touch to a flattering column dress that's ready for any occasion. | This elegant, one-shoulder silhouette fits slimly through the waist for a must-have stunner. |
| | | |
| --- | --- | --- |
| | | |
| Ellie Off-The-Shoulder Jumpsuit | Proserpina Wrap Dress | Elora Lace Column Dress |
| An off-the-shoulder, wide-leg jumpsuit is an elegant alternative to your go-to LBD | This glamorous wrap dress flatters with a ruched waist and a v-neck - it's a sophisticated look for an anticipated event. | Intricate lacework and subtle shine add glamour and sophistication to this lace column dress. |
| | | |
| --- | --- | --- |
| | | |
| Ellie Dress | Lilianne V-Neck Dress | Arlene Dress |
| A layered skirt elevates this feminine dress to a contemporary, occasion-ready silhouette. | A deep v-neck and a slimming waist offer a flattering take on an elegant classic. | This classically elegant fit-and-flare is elevated with long sleeves and a feminine tie-neck. |
| | | |
| --- | --- | --- |
| | | |
| Sirenna Dress | Carys Column Dress | Ellaria Column Dress |
| This event-worthy stunner is fitted at the waist and finished with a subtly flounced hanky hem for an enchanting LBD. | This slim column dress is an elegant, event-worthy silhouette. | This feminine stunner drapes slightly off-the-shoulder for a flattering silhouette. |
A San Francisco native who earned insta-praise and was lauded as Women's Wear Daily's Rookie of the Year for his first collection, Byron Lars specializes in expertly structured, sensuously cut silhouettes.
| | | |
| --- | --- | --- |
| | | |
| Nobility Dress | Floral Jacquard Joggers | Lillian Column Dress |
| Elevated with touches of texture and finished with a subtle metallic shine, this flattering column dress is an event-ready stunner. | Polyester, elastic | Textured jacquard and vibrant florals give this enchanting column dress an eclectic charm that suits any occasion. |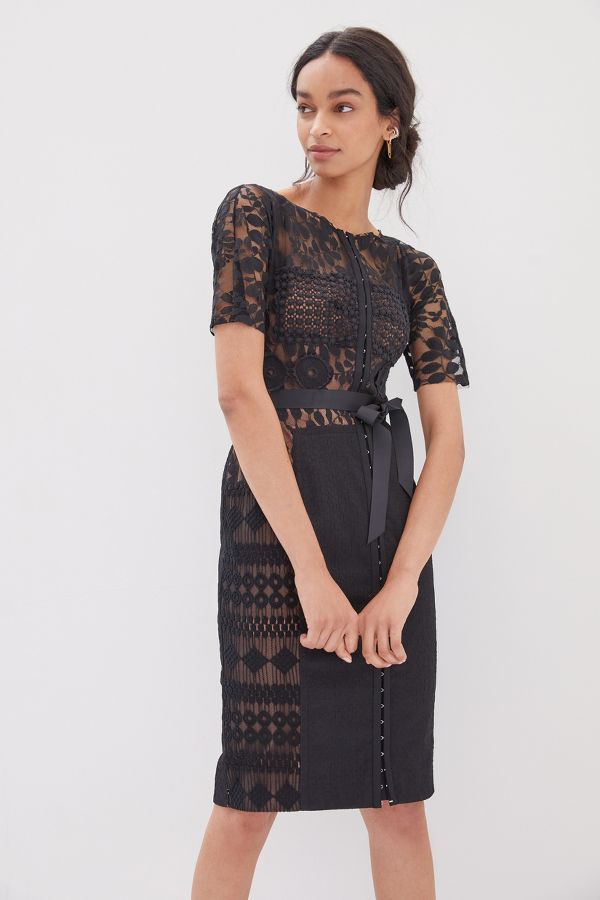 Carissima Sheath
We're so smitten with this pencil dress from his Beguile line; the lace and appliquéd flowers make it a perfect piece for every occasion. Add strappy, sparkly sandals for an event-ready look.
Effortlessly chic, Tina + Jo is an embodiment of the timeless elements of the California lifestyle. Locally sourced and produced, each silhouette reflects the throw-on-and-go sensibility of the West Coast while maintaining a contemporary sophistication.
Committed to crafting flattering, imaginative garments, Donna Morgan reflects the individuality of the modern woman. From the classic a-line dress o more contemporary, of-the-moment silhouettes, each Donna Morgan piece is sophisticated, yet versatile and easy to wear.
At once youthful and mature, dRA blends the artful rebellion of cutting-edge design with the tailored elements of time-tested fashion for a line of versatile and feminine silhouettes. Founded by Diana Ra, the independent line offers a curated everyday collection. Los Angeles
With experience gained in opera houses, Broadway shows and New York's punk scene, Corey Lynn Calter's eponymous line is defined by original prints, flattering cuts and punchy hues that are inspired by her vast and varied background.
Inspired by her world travels and flea market finds, Los Angeles-based designer Eva Franco is known for her combination of whimsical details and timeless silhouettes. Her exceptionally ladylike — and petite friendly — dresses and skirts are right up our alley.
Go to:
Add American-Luxury to your favorites