American Separates
Fashion with American style. Distinctive clothes for women. Easy separates for the way you live now. Choose a complete look or add pieces that fit easily into your wardrobe for a quick and stylish update. Go to: Hope For Flowers by Tracy Reese, Shoshanna, BLANKNYC, Greylin, Burning Torch, Rebecca Taylor, Eva Franco, MOTHER
Tracy Reese's new capsule collection fuses high-quality, ethically-sourced materials with one-of-a-kind patterns and prints for designs that make you look - and feel - fabulous when you walk out the door. Featuring signature silhouettes along with collaborations with artists from Reese's native Detroit, Hope For Flowers is as distinctive and fashion-forward as it is gentle on the earth.
| | | |
| --- | --- | --- |
| | | |
| Emelie Ruffle-Sleeved Blouse | Ginevra Balloon-Sleeved Blouse | Poppy Pencil Skirt |
| Tiered, ruffled sleeves offer this Victorian-inspired blouse a memorably feminine finish. | Featuring dramatic balloon sleeves, this striped blouse pairs perfectly with your favorite fitted denim. | With its timeless pencil silhouette, this vibrant poppy skirt pairs beautifully with peasant tops and slouchy knits. |
| | | |
| --- | --- | --- |
| | | |
| Monaco Midi Dress | Hyacinth Midi Skirt | Evelia Babydoll Blouse |
| Eye-catching stripes make a vibrant statement on this midi dress, offering seasonal style in its brightest, most feminine form. | Crafted from organic cotton, this midi skirt lends any ensemble a spectacular floral finish. | With dramatic balloon sleeves, this blouse lends any ensemble a spectacular floral finish. |
| | | |
| --- | --- | --- |
| | | |
| Colma Denim Midi Dress | Evangeline Tie-Neck Midi Dress | Maria Midi Dress |
| Here, a classic midi silhouette elevates everyday denim into a feminine essential. | A vibrant floral motif adorns this flouncy midi dress, while a tie at the neck lends a sophisticated finishing touch. | Back bow-tie details lend a polished finish to this feminine mini dress. |
| | | |
| --- | --- | --- |
| | | |
| Hermosa Midi Dress | Tanzine Maxi Dress | Edita Flounced Midi Skirt |
| Crafted from organic cotton, this midi dress brings a dash of feminine charm to any occasion. | A vibrant floral motif adorns the skirt of this easy-to-style maxi dress. | Featuring a romantic floral print, this flounced midi skirt is perfect for all-season styling. |
After immigrating to the United States, Hungarian designer Eva Franco embraced fashion as the bridge to understanding her American peers. Having studied in New York and Paris, Franco moved to Los Angeles, where she began designing her own clothes and selling them at a local flea market. Today, Eva Franco is still based in LA, where each of her exquisite silhouettes is meticulously crafted to celebrate contemporary femininity.
| | | |
| --- | --- | --- |
| | | |
| Paola Flounced Midi Skirt | Dalia Ruffled Top | Alexis Ruffled Gingham Top |
| Featuring a romantic floral print, this flounced midi skirt is perfect for all-season styling. | Balance the delicate ruffles on this blouse with distressed denim or a utilitarian skirt. | Sweetly feminine, this top styles effortlessly with tailored trousers and midi skirts alike. |
| | | |
| --- | --- | --- |
| | | |
| Victorine Pleated Midi Skirt | Lucia Jacquard Midi Skirt | Lukjana Tiered Tulle Maxi Skirt |
| Polished pleats and an eye-catching motif make this skirt an au courant essential - pair it with a slouchy sweater and low heels for a chic, soiree-ready ensemble. | Adorned with a dreamy botanical motif, this jacquard midi skirt is a sweetly feminine complement to your favorite kitten heels and camis. | This romantic skirt features tiers of tulle for stunning, soiree-ready style. |
| | | |
| --- | --- | --- |
| | | |
| Maybelle Tiered Coat | Sutton Embroidered Velvet Top | Soleil Jacquard Maxi Skirt |
| With a tiered silhouette, this polka dot coat is a statement-making layer you'll cherish. | Intricate embroidery and a luxe velvet finish make this peplum top a must-have for fabulously festive styling. | In a sweeping, ballroom-ready silhouette, this jacquard skirt is the sartorial embodiment of elegance - style it with a simple knit top or cami to let its gold-hued finish shine. |
| | | |
| --- | --- | --- |
| | | |
| Cosette Peplum Velvet Top | Mitzi Tulle Top | Serena Puff-Sleeved Top |
| Featuring a luxe velvet finish and a timeless peplum silhouette, this elegant top is a soiree-ready essential. | Perfect for seasonal soirees, this top features layers of sheer tulle for a refined feminine touch. | Featuring puffed sleeves and a dainty polka dot print, this blouse pairs perfectly with your favorite fitted denim. |
| | | |
| --- | --- | --- |
| | | |
| Audrey Dotted Top | Edita Halter Jumpsuit | Mica Clip Dot Shimmer Top |
| This shimmery top features a bow-tie detail at the waist, offering a head-turning touch to any event-ready ensemble. | With dazzling metallic accents and a wide-leg silhouette, this jumpsuit is a must-have for seasonal occasions. | Puffed sleeves and metallic polka dots allow this top to shine above the rest. |
| | | |
| --- | --- | --- |
| | | |
| Emilie Embroidered Top | Serpentine Pleated Maxi Skirt | Piper Flounced Plaid Top |
| Rayon, nylon, spandex, polyester. Semi-sheer embroidered sleeves | We love snake print for its quintessential rock 'n' roll feel and its ability to make a serious statement while remaining decidedly neutral. From classic brown to exotic greens and yellows, the serpentine pattern looks best when paired with a contrasting texture - think faux fur or denim. | Polyester |
Born from Manhattan's edgy, effortless street style, BLANKNYC's attention to detail, fit, and fabric is unsurpassed. Since 2007, they've offered endless iterations of cool-girl classics - think distressed denim and timeless moto jackets - that make everyday outfits iconic.
| | | |
| --- | --- | --- |
| | | |
| Chelsea Tapered Faux Leather Pants | Victor Twill Utility Jumpsuit | Bellamy Sweater |
| Rendered in a contemporary silhouette, these faux leather trousers lend a modern touch to tucked-in buttondowns, flowy tunic sweaters, and graphic tees alike. | A utility jumpsuit is the perfect blend of form and function - it combines all the comforts of your favorite casual wear with a flattering, ultra-modern fit. | Make a bold statement by styling this vibrant, oh-so-cozy sweater with a pair of printed trousers or denim. |
Even at a young age, Dora Lim felt at home in the world of design. After her parents started a manufacturing business, Lim quickly became fascinated by the art of making clothes and spent hours on the production floor observing the designers and seamstresses at work. Years later, she graduated from the Fashion Institute of Design and Merchandising in Los Angeles and launched her own line, Greylin. Each tailored, timeless garment showcases Lim's lifelong passion for clothing and design.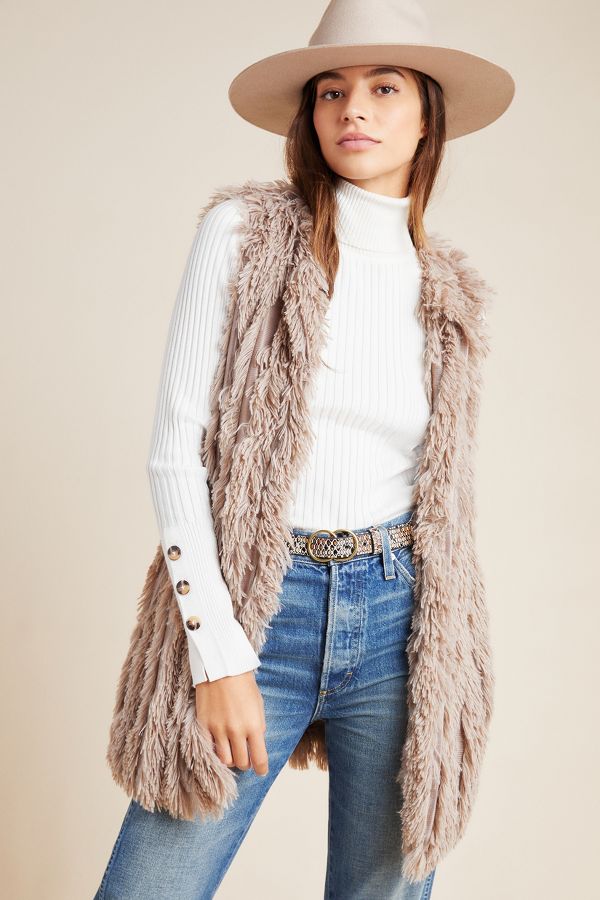 Tonia Faux Fur Vest
This faux fur vest is an essential layering piece for cooler days and evenings.
Los Angeles native Karyn Craven launched Burning Torch in 1999 as an ongoing homage to all eras of vintage. Craven designs with the belief that "the energy of time and history is in each and every garment."
| | | |
| --- | --- | --- |
| | | |
| Clemence Faux Fur Coat | Venice Linen Embroidered Tee | Yosemite Graphic Tee |
| Rendered in contemporary and oh-so-cozy faux fur, this leopard-spotted coat offers the fiercest in cold-weather style. | Crafted from lightweight linen, this embroidered tee is a quintessential layering option for any closet. Tuck it into a skirt, wear it under a blazer, or even throw a corset belt on top - it looks effortlessly cool no matter how you style it. | Designed with travel lovers in mind, this graphic tee makes an ideal base layer for year-round styling. |
Compassion Graphic Tee
Inspired by the words of the Dalai Lama, this graphic tee is a quintessential layering option for any closet.
With an emphasis on dimensional texture and modern nostalgia, Rebecca Taylor blends a look of romantic fragility with a sophisticated air. Once known for its refined silks, detailed beadwork, and vibrant Bloomsbury-inspired prints, the label has since expanded to include more casual, everyday pieces. Replete with ruffled frocks, premium denim jackets, and cozy pullovers, each beautiful piece elevates the art of dressing.
| | | |
| --- | --- | --- |
| | | |
| Rebecca Taylor Faux Fur-Trimmed Denim Jacket | Donegal Mock Neck Sweater | Rebecca Taylor Cable-Knit Sweater |
| Plush panels of fluffy faux fur lend this classic trucker silhouette a luxurious, au courant twist. | Featuring a Fair Isle-inspired knit, this turtleneck sweater can be styled with anything from a go-to mini skirt to polished denim and cords. | With an iconic knit motif that epitomizes cozy, cold-weather style, the cable-knit sweater was first worn by fishermen in the 19th century, who prized its durability and warmth. According to Nordic folklore, its knit patterns bring good luck and prosperity to the wearer - perhaps that's why men, women, and children around the globe have held it as a cherished winter-wardrobe staple ever since. |
| | | |
| --- | --- | --- |
| | | |
| Rebecca Taylor Zebra Sweater | Rebecca Taylor Snake-Printed Silk Blouse | Rebecca Taylor Twill Jumpsuit |
| Take a walk on the wild side with this zebra-striped sweater - its slouchy fit pairs perfectly with your favorite skinny jeans and flats. | Rendered in rich silk, this snake-print blouse features ruched sleeves and a mock neck for a timeless feminine touch. | Creating a striking look that goes beyond a simple dress or two-piece combo, this all-in-one wonder can be dressed up with heels and a clutch or, for a more casual take, styled with sneakers. |
A born-and-bred Manhattanite, Shoshanna Gruss studied art history before pursuing her passion for design full-time. Her dedication to flattering silhouettes and a penchant for whimsical details have made her a mainstay in the industry since the debut of her first dress collection in 1998.
The denim mavens at indie label MOTHER are known for an innovative approach to super-soft fabrics that offers wear-all-day comfort. Crafted in LA in a range of modern fits meant for all types of women, their irreverently named silhouettes - The Dropout, The Runaway, and The Looker, to name just a few - gained them a cult following and a reputation as cheeky industry darlings.
| | | |
| --- | --- | --- |
| | | |
| MOTHER The Weekender High-Rise Flare Jeans | MOTHER The Tripper Weekender Ultra High-Rise Flare Jeans | MOTHER The Dazzler High-Rise Straight Jeans |
| This flared pair sits high on the waist to elongate your silhouette. | Characterized by a slim fit that gradually widens below the knee, flared jeans were first used in the 19th century by American sailors for pragmatic purposes - the larger hem made it easier to grab men overboard and undress when soaked. However, in the mid-60s Sonny and Cher inspired the everyday use among the public. Commonly referred to as "bell-bottoms," flared jeans remain a sartorial symbol of the freedom and forward-thinking that revolutionized the 1970s, and a favorite for its retro roots. | Rendered in classic white, this high-rise pair has a structured, straight leg that is cropped just above the ankle. |
| | | |
| --- | --- | --- |
| | | |
| MOTHER The Pocket Hustler Overalls | MOTHER Springy High-Rise Seamed Straight Jeans | MOTHER The Weekender High-Rise Flare Jeans |
| This utility-inspired silhouette features a soft, velvet-like finish for a feminine touch. | Seamed details and a relaxed fit make this '90s-inspired pair a styling essential. | Characterized by a slim fit that gradually widens below the knee, flared jeans were first used in the 19th century by American sailors for pragmatic purposes - the larger hem made it easier to grab men overboard and undress when soaked. However, in the mid-60s Sonny and Cher inspired the everyday use among the public. Commonly referred to as "bell-bottoms," flared jeans remain a sartorial symbol of the freedom and forward-thinking that revolutionized the 1970s, and a favorite for its retro roots. |
| | | |
| --- | --- | --- |
| | | |
| MOTHER The Slant Drama High-Rise Seamed Flare Jeans | MOTHER The Weekender Mid-Rise Bootcut Jeans | MOTHER The Looker Mid-Rise Skinny Jeans |
| Characterized by a slim fit that gradually widens below the knee, flared jeans were first used in the 19th century by American sailors for pragmatic purposes - the larger hem made it easier to grab men overboard and undress when soaked. However, in the mid-60s Sonny and Cher inspired the everyday use among the public. Commonly referred to as "bell-bottoms," flared jeans remain a sartorial symbol of the freedom and forward-thinking that revolutionized the 1970s, and a favorite for its retro roots. | Roomy enough to style with your ankle boots, but not as dramatic as the flare, these bootcut jeans feel sensibly wearable - and eternally chic. | From hip to ankle, this classic silhouette has an all-over, contour-hugging fit. |
Go to:
Add American-Luxury to your favorites