American Separates
Fashion with American style. Distinctive clothes for women. Easy separates for the way you live now. Choose a complete look or add pieces that fit easily into your wardrobe for a quick and stylish update. Go to: BLANKNYC, Eva Franco, Pankaj & Nidhi, Hope For Flowers by Tracy Reese, Moglea, MOTHER, Diane von Furstenberg
Rebecca Taylor
With an emphasis on dimensional texture and modern nostalgia, Rebecca Taylor blends a look of romantic fragility with a sophisticated air. Once known for its refined silks, detailed beadwork, and vibrant Bloomsbury-inspired prints, the label has since expanded to include more casual, everyday pieces. Replete with ruffled frocks, premium denim jackets, and cozy pullovers, each beautiful piece elevates the art of dressing.
| | | |
| --- | --- | --- |
| | | |
| Larkspur Ruffled Blouse | Pascale Voile Blouse | Pascale Ruffled Blouse |
| Embrace warmer days in this darling floral top, where ruffled sleeves lend a dainty touch to high-rise denim, joggers, and pencil skirts alike. | This airy voile top features romantic florals and a silky finish, infusing everyday ensembles with elegance and poise. | Balance this blouse's delicate ruffles with distressed denim or a utilitarian skirt. |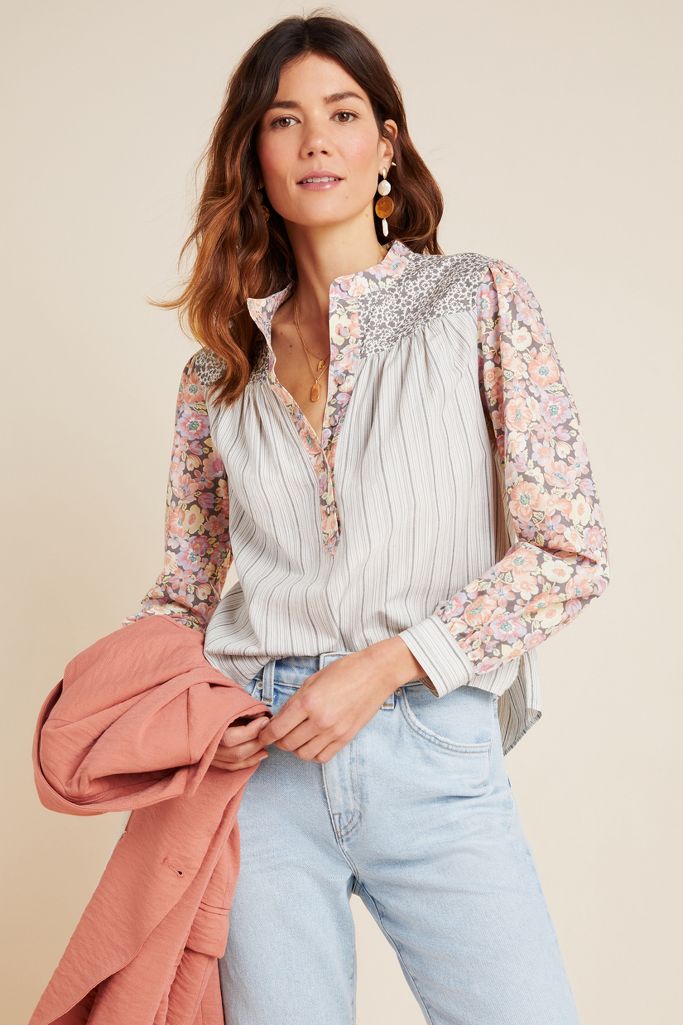 Nadia Blouse
A trio of prints bring a sense of easygoing elegance to this blouse - we love styling it with light-wash jeans and flats for a casual yet poised ensemble.
Husband and wife Pankaj and Nidhi have been designing for their eponymous label for over a decade. While teaching at the National Institute of Fashion, the two discovered a shared vision for a line which celebrated authenticity and storytelling through fashion. The result was the award-winning Pankaj & Nidhi, a curated collection that approaches apparel from an imaginative, evolving perspective, yielding one-of-a-kind statement-makers every season.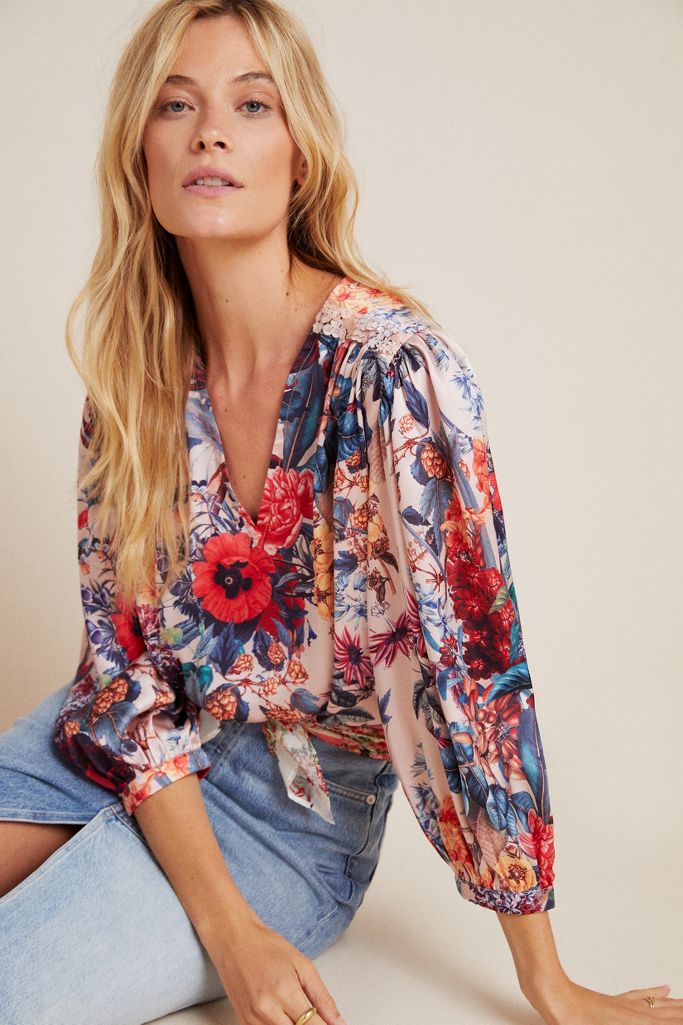 Giverny Blouse
Dramatic balloon sleeves lend this dreamy blouse an air of breezy elegance - just add high-waisted trousers or denim.
After immigrating to the United States, Hungarian designer Eva Franco embraced fashion as the bridge to understanding her American peers. Having studied in New York and Paris, Franco moved to Los Angeles, where she began designing her own clothes and selling them at a local flea market. Today, Eva Franco is still based in LA, where each of her exquisite silhouettes is meticulously crafted to celebrate contemporary femininity.
| | | |
| --- | --- | --- |
| | | |
| Fabrizia Sweatshirt Tee | Fernanda Sequined Joggers | Belaflore Sequined Top |
| A modern twist on an oh-so-comfy classic, this sweatshirt tee is a staple for movie marathons and more. | Whether dressed up with a silk cami and strappy heels, or dressed down with a soft sweater and sandals, these shimmery pants are sure to put a pep in your step and brighten your day. | This eye-catching top brings glimmer and cheer to springtime ensembles - just add your go-to trousers and slides. |
Tracy Reese's new capsule collection fuses high-quality, ethically-sourced materials with one-of-a-kind patterns and prints for designs that make you look - and feel - fabulous when you walk out the door. Featuring signature silhouettes along with collaborations with artists from Reese's native Detroit, Hope For Flowers is as distinctive and fashion-forward as it is gentle on the earth.
| | | |
| --- | --- | --- |
| | | |
| Devin Flounced Mini Dress | Elysia Tiered Maxi Dress | Giulietta Tiered Midi Skirt |
| Charming and sweet, this flouncy frock is an ideal pick for afternoons at home and dinners al fresco. | With bold, eye-catching stripes and a breezy silhouette, this maxi dress is a piece you'll reach time and again. | We love styling this boho-inspired midi skirt with a knit tank and sandals for a memorably feminine finish. |
| | |
| --- | --- |
| | |
| Mireille Tie-Front Blouse | Lupita Tiered Midi Skirt |
| We love styling this breezy blouse with polished denim or a flouncy mini skirt. | This cheery midi skirt brings color and cheer to all your warm-weather ensembles - just add a knit tank and crisp white sneakers for a look of effortless polish. |
Launched in 2012 by Meg and Chad Gleason, Moglea is an Iowa-based letterpress studio specializing in thoughtful and artistic paper goods. Their color-flecked creations adorn notebooks and accessories, clothing, and beyond - with artisanal techniques ensuring each luxe piece is bespoke and unique.
| | | |
| --- | --- | --- |
| | | |
| Moglea Delinear iPhone Case | Moglea Abstract iPhone Case | Moglea Aria Mosaic Skirt Set |
| Plastic. Impact-resistant plastic shell protects from scratches, dust and drop-induced damage. USA | Plastic. Impact-resistant plastic shell protects from scratches, dust and drop-induced damage. USA | Designed by Moglea in collaboration with Anthropologie, this mosaic-inspired skirt set promises endless opportunities for style. |
| | | |
| --- | --- | --- |
| | | |
| Moglea Dappled Maxi Skirt | Moglea Mini Linen Notepad | Moglea Joy Meal Planner |
| Designed by Moglea in collaboration with Anthropologie, this vibrant maxi skirt pairs effortlessly with graphic tees and silky camis. | Designed by Moglea in collaboration with Anthropologie, this notepad features a one-of-a-kind hand-painted cover that's entirely unique. Small enough to fit into your purse or backpack, it's the perfect choice for your on-the-go lifestyle. | Designed by Moglea in collaboration with Anthropologie, this meal planner features a one-of-a-kind, hand-painted cover. With sections for organizing meals of the week and grocery lists, it's a must-have for home chefs and culinary aficionados alike. |
| | | |
| --- | --- | --- |
| | | |
| Moglea Danae Poplin Babydoll Blouse | Moglea Abstract Sketchbook | Moglea Linen Spiral Notebook |
| Designed by Moglea in collaboration with Anthropologie, this crisp poplin blouse features a dreamy floral motif in a timelessly feminine silhouette. | Designed by Moglea in collaboration with Anthropologie, this sketchbook features a one-of-a-kind hand-painted cover. With a spiral bound and unlined pages, it's a perfect place to collect your creativity - from sketches to important ideas. | Designed by Moglea in collaboration with Anthropologie, this notebook features a one-of-a-kind hand-painted cover and 50 lined pages for note-taking, journaling, and other forms of creative expression. |
Born from Manhattan's edgy, effortless street style, BLANKNYC's attention to detail, fit, and fabric is unsurpassed. Since 2007, they've offered endless iterations of cool-girl classics - think distressed denim and timeless moto jackets - that make everyday outfits iconic.
| | | |
| --- | --- | --- |
| | | |
| Kiley Textured Kimono Jacket | Annika Belted Suede Moto Jacket | Kieran Denim Romper |
| With a touch of texture, this layer lends breezy, bohemian elegance to your everyday looks. | Rendered in irresistibly luxe suede, this jacket is an edgy yet oh-so-elegant layer for all your adventures to come. | Designed for versatility and function, this denim romper is a laidback essential with style to spare. |
| | | |
| --- | --- | --- |
| | | |
| Gardenia Denim Trucker Jacket | Tomasa Tie-Dyed Jacket | Roxanne Tie-Dyed Faux Leather Moto Jacket |
| Rendered in crisp denim with a chic floral finish, this trucker jacket is a must-have layering piece for breezy days and evenings. | With an eye-catching tie-dyed finish, this jacket is sure to be a favorite all season long. | Here, tie-dye techniques put a creative spin on a timeless silhouette - creating an edgy layer that tops midi dresses, jumpsuits, and denim alike. |
The denim mavens at indie label MOTHER are known for an innovative approach to super-soft fabrics that offers wear-all-day comfort. Crafted in LA in a range of modern fits meant for all types of women, their irreverently named silhouettes - The Dropout, The Runaway, and The Looker, to name just a few - gained them a cult following and a reputation as cheeky industry darlings.
| | | |
| --- | --- | --- |
| | | |
| MOTHER The Roller Ultra High-Rise Sunburst Wide-Leg Jeans | MOTHER The Greaser Pleated Utility Pants | MOTHER The Tripper Denim Overalls |
| Featuring an embroidered sunburst across the back, this wide-leg pair boasts breezy, Art Deco-inspired charm. | Balance this pair's utilitarian details with a classic tee or your softest knit tank. | First worn decades ago as a workwear garment for men who spent their days in the fields or mines, overalls offer a utilitarian aesthetic. Starting in the 1960s, these iconic bibbed jeans were worn by just about everyone - and they have remained a well-loved, mainstream staple ever since. Even with their signature look, these one-piece wonders style with almost anything in your closet. |
Just two years after Diane von Furstenberg launched her eponymous line in 1972, the New-York-based designer introduced the iconic wrap dress - a sartorial symbol of power for women that still holds true today. Celebrated for its bold, creative approach to color and print, Diane von Furstenberg's cruelty-free collection of ready-to-wear and accessories offers a fearlessly feminine spirit to any wardrobe.
Go to:
Add American-Luxury to your favorites