Easy Weekend Wear
Easy weekend wear for relaxed and chic dressing options. Effortless pieces that expand your wardrobe and change your look instantly. Go to: Tiny, AGOLDE, Canape, BB Dakota, Eri & Ali, Sanctuary, Letluv Graphic Tees
| | | |
| --- | --- | --- |
| | | |
| Ashlee Floral V-Neck Top | Celine Lace Top | Ismelda Tunic Dress |
| A floral-printed blouse is a wonderful way to incorporate a feminine touch into comfortable, versatile styling - no matter the season. | Add a dash of romantic threadwork to your day with this dainty lace top. | With an artful print and a swingy silhouette, this tunic is a staple for the free spirit - just add beaded bracelets and flats for a sweetly elevated touch. |
| | | |
| --- | --- | --- |
| | | |
| Evalyn Patchwork Blouse | Odetta Mini Dress | Postcard Buttondown |
| This easygoing blouse features a patchwork of dreamy motifs, infusing everyday looks with a dash of femininity. | With a vintage-inspired print, this mini dress is an easy-to-style essential. | Offered in an array of postcard-inspired vistas, this buttondown invites colorful cheer into your warm-weather wardrobe. |
| | | |
| --- | --- | --- |
| | | |
| Niemh Textured Buttondown | Rosemary Tunic Dress | Jodie Tie-Front Tee |
| This buttondown features pintucked details and a touch of texture for a sweetly romantic finish. | From work-at-home days to strolls in the park, this tunic is fit for all your summer adventures - just add sandals and a tote. | We love styling this top with cropped wide-legs and sandals for a look that's laidback and polished at once. |
| | | |
| --- | --- | --- |
| | | |
| Annmarie Mini Dress | Becca Beaded Top | Carita Tunic Dress |
| This dress features a draped, laidback fit and an enchanting abstract motif for unparalleled summer style. | Beaded sleeve embellishments lend this tee a dash of dazzle and shine. | Adorned with a striking abstract print, this tunic dress is an elegant staple for the season |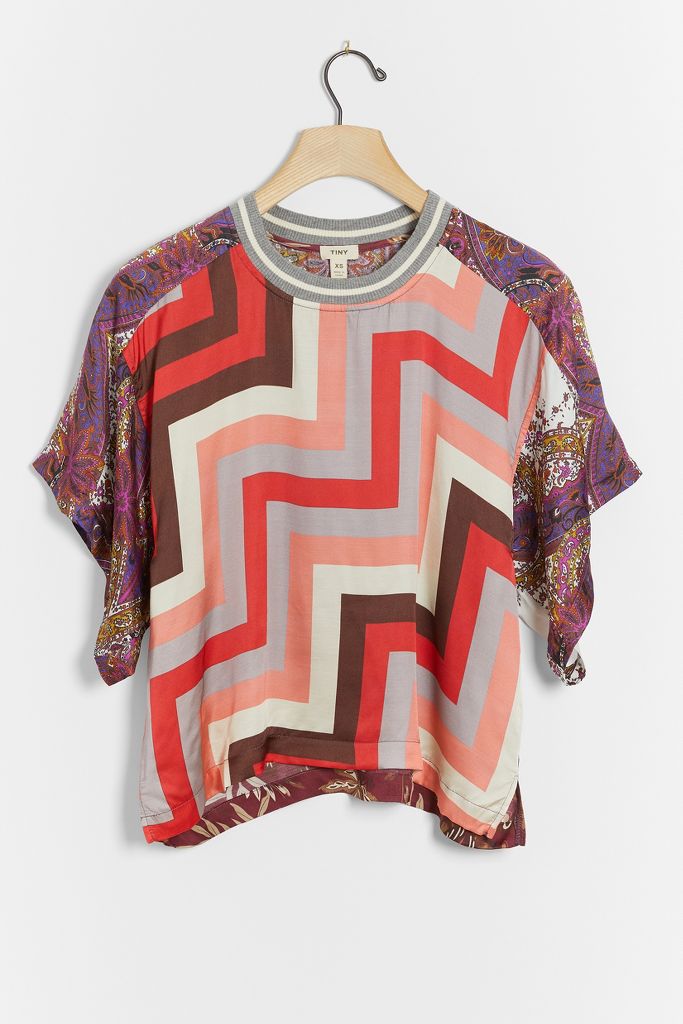 Emile Abstract Blouse
Featuring a lively abstract motif, this blouse is a chic complement to pencil skirts or high-rise denim.
Originally founded in 1989 by Jerome Dahan, AGOLDE was known for its comfortable, super-soft, premium denim. Re-launched in 2014, the revived brand revisits its favorite silhouettes, which with the passing of time, have adopted a vintage aesthetic. Manufactured exclusively in Los Angeles, AGOLDE designs with the same dedication to sustainability, flattering cuts, and expertly aged denim as it did decades ago.
| | | |
| --- | --- | --- |
| | | |
| AGOLDE Linda Tee | AGOLDE Tatum Denim Jumpsuit | AGOLDE Ren Ultra High-Rise Cropped Wide-Leg Jeans |
| With a boxy, fashion-forward cut, this tee is sure to be a layering favorite. | It doesn't get any cooler - or any more timeless - than a denim jumpsuit. The collared neck and pocket details on this all-in-one outfit give it a utilitarian feel that you'll love, now and forever. | With a retro-inspired high rise, these cropped wide-legs are the perfect match for buttondowns and breezy peasant blouses. |
| | | |
| --- | --- | --- |
| | | |
| Leonor Tie-Dye Pullover | Angelica Tasseled Tunic Dress | Sydney Lace Blouse |
| This tie-dyed pullover refreshes any wardrobe with a hint of playfulness. | Tasseled embellishments infuse this tunic with whimsical, carefree flair - just add a sun hat and sneakers for a summer look you'll love. | Delicate lace balances the structured silhouette of this exquisitely detailed top. |
Contemporary yet timeless, Sanctuary embodies carefree California style and edgy East Coast fashion equally. This bi-coastal aesthetic produces a line of versatile cool-girl silhouettes that go from day to night with ease.
| | | |
| --- | --- | --- |
| | | |
| Sanctuary Dayna Knotted Tee | Sanctuary Errand Gloves, Set of 2 | Sanctuary Peace Pants |
| Cotton, rayon | These versatile non-medical gloves are a wonderful companion for running errands. Designed for touchscreen compatibility, they feature an antibacterial coating designed to last through multiple washes. Best of all? With a matching storage pouch included, you'll always have a pair at the ready. | With a comfortable fit and pockets to spare, these easygoing pants are a closet staple. |
| | | |
| --- | --- | --- |
| | | |
| Ramones Graphic Tee | Elton John Graphic Tee | Rolling Stones Cropped Graphic Pullover |
| Versatile and chic, this graphic tee pairs effortlessly with easygoing denim and boots. | The graphic tee is a quintessential layering option for any closet. Pair it with denim, wear it under a blazer, or even tuck it into your favorite midi skirt - it looks effortlessly cool no matter how you style it. | A laidback tribute to rock and roll icons, this pullover brings endless comfort to your everyday looks. |
| | | |
| --- | --- | --- |
| | | |
| Def Leppard Graphic Tee | Rolling Stones Graphic Tee | Peace & Rock'N'Roll Graphic Tank |
| Share your love for vintage rock'n'roll with this laidback graphic tee - it pairs perfectly with slim denim and silky bias skirts alike. | A charming homage to rock and roll icons, this graphic tee pairs perfectly with denim shorts and bias skirts alike. | This graphic tee lends everyday ensembles an edgy, rock-inspired touch. |
| | | |
| --- | --- | --- |
| | | |
| Def Leppard Graphic Tee | Janis Joplin Graphic Tank | Cheetah Bolt Graphic Tee |
| Versatile and chic, this graphic tee pairs effortlessly with easygoing denim and sandals. | This graphic tank pays homage to rock and roll icon Janis Joplin - just add denim and sandals for a chic, easygoing finish. | Comfy and chic, this graphic tee pairs with just about anything in your closet - from distressed denim and sneakers to a bias skirt and your favorite flats. |
| | |
| --- | --- |
| | |
| Zoey Tie-Dye Sweatshirt | Bob Marley One Love Graphic Tank |
| With a playfully tie-dyed finish, this sweatshirt is an easy-to-style staple. | This graphic tank pays homage to a musical icon - and spreads love and positivity. Pair it with denim and sandals for a chic, easygoing finish. |
Go to:
Add American-Luxury to your favorites