Buffet and Casual Entertaining Serveware
Entertaining options have never been so beautiful. Whether you decide on a dressy luncheon buffet or a sit down dinner for 2 to 20, the right serveware will make the occasion memorable--and relaxed. Go to: Farmhouse Pottery. You may also want to visit seasonal entertaining serveware
Creative Casual Entertaining
| | | |
| --- | --- | --- |
| | | |
| Chevron Marble Round Cheese Board | Edith Cheese Knives, Set of 3 | Hawthorne Platter |
| Crafted of marble and chevron-patterned wood, this cheese board is an elegant perch for charcuterie, hors d'oeuvres, and more. Best of all? It's sure to surprise and delight the hard-to-please hostess. | This thoughtfully crafted set makes a statement on any cheese board or charcuterie spread. | A subtly tinted finish distinguishes this timeless serveware from the rest. Stoneware. Dishwasher and microwave safe. Portugal |
| | | |
| --- | --- | --- |
| | | |
| Old Havana Serveware, Blush | Dalila Bowl | Old Havana Serveware, Mint |
| Crafted in Portugal, this beautifully detailed stoneware is replete with a rich crackle glaze. Stoneware. Dishwasher safe | With a pastel ombré finish, this earthenware bowl refreshes your palette (and palate!) in more ways than one. | Crafted in Portugal, this beautifully detailed stoneware is replete with a rich crackle glaze. Stoneware. Dishwasher safe |
| | | |
| --- | --- | --- |
| | | |
| Amber Lewis for Anthropologie Jayme Serving Bowl | Amber Lewis for Anthropologie Sawyer Serving Set | Amber Lewis for Anthropologie Jayme Pitcher |
| Designed by Amber Lewis in collaboration with Anthropologie, this porcelain collection exudes organic charm thanks to its careful, artisanal play between raw and glazed finishes. Easygoing and elegant at once, its muted, earthen-inspired hues will transform even the simplest suppers into something to savor. | Designed by Amber Lewis in collaboration with Anthropologie, this beautifully handcrafted set lends a natural touch to serving salads, pastas, and home cooked entrees. | Designed by Amber Lewis in collaboration with Anthropologie, this porcelain collection exudes organic charm thanks to its careful, artisanal play between raw and glazed finishes. Easygoing and elegant at once, its muted, earthen-inspired hues will transform even the simplest suppers into something to savor. |
| | | |
| --- | --- | --- |
| | | |
| Aster Serving Set | Matte Latte Bowls, Set of 6 | Matte Latte Bowls, Set of 4 |
| Featuring hand carved marble handles, this serving set adds an elegant touch to your tablescape. Includes one fork and one spoon. Hand carved marble, stainless steel | A versatile classic for the kitchen, now in a cupboard's worth of colors. Set of six. Earthenware. Dishwasher and microwave safe | A versatile classic for the kitchen, now in a cupboard's worth of colors. Earthenware. Dishwasher and microwave safe |
| | | |
| --- | --- | --- |
| | | |
| Amber Lewis for Anthropologie Magdalena Glassware | Renee Pitcher, Platter | Amber Lewis for Anthropologie Wynn Wicker Tray |
| Designed by Amber Lewis in collaboration with Anthropologie, this set of recycled stemless wine glasses lends an eclectic, artisanal touch to your table. | Artfully expressive birds and blooms unfurl across this ceramic collection, lending bouquets of elegance to your table. Decaled stoneware. Dishwasher and microwave safe | Designed by Amber Lewis in collaboration with Anthropologie, this hand-woven basket features leather accents for a subtly elegant touch. Whether used on a console to style decorative accessories, or as a table centerpiece, its a versatile addition to your decor that you'll cherish for years to come |
| | | |
| --- | --- | --- |
| | | |
| Roma Taco Holder | Roma Salad Bowl | Roma Serving Platter |
| Line up your perfectly assembled tacos on this ceramic holder. Featuring a zigzagging design with three slots for your tacos of choice. | Crafted from panels of wood showcasing a rich, swirling grain, this salad bowl lends a modern-boho feel to your tablescape. Features integrated cutout side handles wrapped with striped raffia. | Intricate floral motifs scroll across this ceramic serving platter, perfect for presenting your next beautiful meal. Round platter is topped with curving side handles. Please note, this special item is painted by hand and may highlight some variation from what's pictured here for a truly unique piece you'll love. |
| | | |
| --- | --- | --- |
| | | |
| Tortilla Warmer Sleeve | Roma Wrapped Utensil Set | Woven Trim Mango Wood Serving Bowl |
| Round cotton sleeve designed for keeping your tortillas cozy before serving up tasty tacos. Printed design is topped with whipstitched binding | Duo set of serving utensils crafted from acacia wood topped with raffia binding at the handles. Comes with a spoon and spork for dishing out with boho-cool style. | Boho details add free-spirited dimension to this mango wood serving bowl, accented with roping trim. |
| | | |
| --- | --- | --- |
| | | |
| Painted Mango Wood Serving Bowl | Bamboozle Snack Board | Mari Serving Bowl |
| Minimalist mango wood serving bowl, given an opaque painted finish decorating the sleek shaping. Featuring thick edges and a pedestal base. | A suitable piece for munching in-between meals, the snack board features a detachable cutting platform to prevent scratching the bamboo fiber material. This also allows easy placement in the dishwasher once all those tasty treats are gone. Main serving piece made from biodegradable bamboo fiber. The cutting platform is made from compacted bamboo scraps. Main serving piece is dishwasher safe, do not put cutting platform in dishwasher. | Modern-boho ceramic serving bowl featuring a colorful, swirling glaze topping a ridged outside and smooth interior. Perfect for showing off colorful fruits and more culinary creations. |
| | | |
| --- | --- | --- |
| | | |
| Glenna Cake Stand | Beatrice Platter | Sabine Etched Ceramic Carafe |
| Crafted in Italy and exclusively ours, a rustic, lightly weathered finish distinguishes this timeless serveware. | Crafted from stoneware, this platter lends a rustic, farmhouse aesthetic to serving sides, main dishes, and more. Glazed stoneware. Dishwasher and microwave safe. | Ceramic carafe featuring a narrow neck that blooms into a wider basin, topped with patterned detailing and a curvy side handle for an easy pour. Topped with a special glazed finish, each pitcher is unique and will vary slightly in shape, hue and pattern from what's pictured here. |
| | | |
| --- | --- | --- |
| | | |
| Ivy Nesting Bowl Set | Abi Terracotta Tray | Whitney Cake Stand |
| Display fruits, veggies and snacks in this set of 3 textural nesting bowls. Ceramic designs nestle into each other for easy storage when not in use and feature unique etchings, all with a speckled finish. Food safe, dishwasher safe, microwave safe, oven safe. | Terracotta | Distinguished by an artful motif and gleaming gold-finished edge, this cake stand offers an elegant way to showcase your home-baked creations. Decaled stoneware. Hand wash |
| | | |
| --- | --- | --- |
| | | |
| Hand-carved Soapstone Mug | Noella Bamboo Nesting Bowl Set | Daisy Cheese Board |
| Handcarved from soapstone that's sourced from a fair-trade environment in the Tabaka Hills of Kenya, this mug is completely unique with its marbled blush tones and structured lines. Hand wash | Prep, stir and mix it all up with this set of seven nesting bowls made from a bamboo fiber blend in assorted colors with rich saturation to bring bold hues to every recipe. | Add charming whimsy to your next picnic with this daisy-shaped cheese board, available exclusively at Urban Outfitters. Crafted from acacia wood with a ridged edge. |
| | | |
| --- | --- | --- |
| | | |
| Saturn Bowl | Godinger Nero D'Oro Cheese Servers, Set of 3 | Carole Akins Furry Friends Platter |
| Whether used to display citrus fruit on your kitchen counter or serve guests at a dining table, this commanding centerpiece showcases the raw beauty of snowy porcelain contrasted against a glazed interior. | Includes soft cheese knife, cheese cutter knife and cheese plane | Designed by Carole Akins in collaboration with Anthropologie, this platter makes a thoughtful housewarming gift for any animal lover. |
| | | |
| --- | --- | --- |
| | | |
| Lenox Sprig & Vine Serving Bowl | Lenox Sprig & Vine Two Tiered Server | Lenox Sprig & Vine Hors D'oeuvre Tray |
| Bold color combines with botanicals and butterflies to bring a garden aesthetic to your table Gold-tone decals. Dimensions: 4.5"H x 11" diameter Capacity: 4 quarts. Porcelain. Dishwasher and microwave safe | Bold color combines with botanicals and figural accents to bring a garden aesthetic to entertaining. Gold-tone decals and hardware. Dimensions: 9"H; bottom tier 10.75" diameter; top tier 9.25" diameter | Bold color combines with botanicals and butterflies to bring a garden aesthetic to entertaining. Gold-tone decals. Dimensions: 16.25"L. Porcelain. Dishwasher and microwave safe |
| | | |
| --- | --- | --- |
| | | |
| Hendrix Serving Utensils, Set of 3 | The Cheese Wizard Slicer | Hendrix Serving Set |
| Crafted from gleaming metal, this set adds an elegant touch to serving main dishes and sides at your table. | Made from food-grade stainless steel wire and support railing for a sturdy and effortless slicing process. Large wooden handles for easy gripping when making your slices. Two Cutting/Serving boards fit within the handles of The Cheese Wizard, making storage compact and efficient. | Crafted from gleaming metal, this serving set adds an elegant touch to your tablescape. |
| | | |
| --- | --- | --- |
| | | |
| Villeroy & Boch Verona Bowl | Lenox Sprig & Vine Tidbit Plates, Set of 4 | Villeroy & Boch New Wave Eye-Catcher Chip & Dip Server |
| Textured surface recalls the look and feel of linen. Dimensions: 8.5" DIAM. x 1.25"H. Made in Italy | Set includes: two navy tidbit plates and two turquoise tidbit plates. Bold colors combine with butterflies and botanicals to bring a garden aesthetic to the table. Coupe shape. Flora and fauna decals. Dimensions: 6" diameter. Porcelain. Dishwasher and microwave safe | Combining the time-honored quality and tradition of Villeroy & Boch with a fluid, super-sleek design, this innovative chip & dip server is perfect for entertaining small groups and large. 19.25"L x 10.5"W |
Embracing American craftsmanship in an age of mechanization, Farmhouse Pottery thoughtfully creates farm-to-table pottery using traditional tools and techniques in their Vermont studio. Their collection reflects a strong commitment to heritage, quality, and beauty, as well as dedication to a more sustainable lifestyle.
| | | |
| --- | --- | --- |
| | | |
| Farmhouse Pottery Grey Wooden Bowl | Farmhouse Pottery Live Edge Walnut Boards | Farmhouse Pottery Salad Servers |
| Decorate your kitchen or serve a fresh salad in this unique, down-to-earth bowl. Each piece is hand-carved from hearty New England Ash and finished in Farmhouse Pottery's Vermont workshop. | Organic and modern, this elegant piece is useful for cutting and serving. Designed for beautiful presentation, each board has its own unique wood grain and live edge. | Toss and serve a refreshing harvest salad with these beautifully handcrafted salad servers. Turned from New England ash, this set brings a refined, organic feel to any table. |
| | | |
| --- | --- | --- |
| | | |
| Farmhouse Pottery Spattered Platter | Farmhouse Pottery Windrow Bowl | Farmhouse Pottery Bread Bow & Board Set |
| Serve cheese and crackers or your favorite appetizer on this unique platter – individually hand-painted by artisans, each is one-of-a-kind and lends a distinctly personal touch | Designed with a flowing rim and an organic shape, this beautifully handcrafted bowl adds visual and textural interest to any kitchen or table. | Inspired by old world European kitchens, we've reimagined the ancient tradition of breaking bread with our American made Pantry Bread Bows. To use bread bow, saw back and forth without any downward pressure. Keep bow level and it will produce even slices every time. |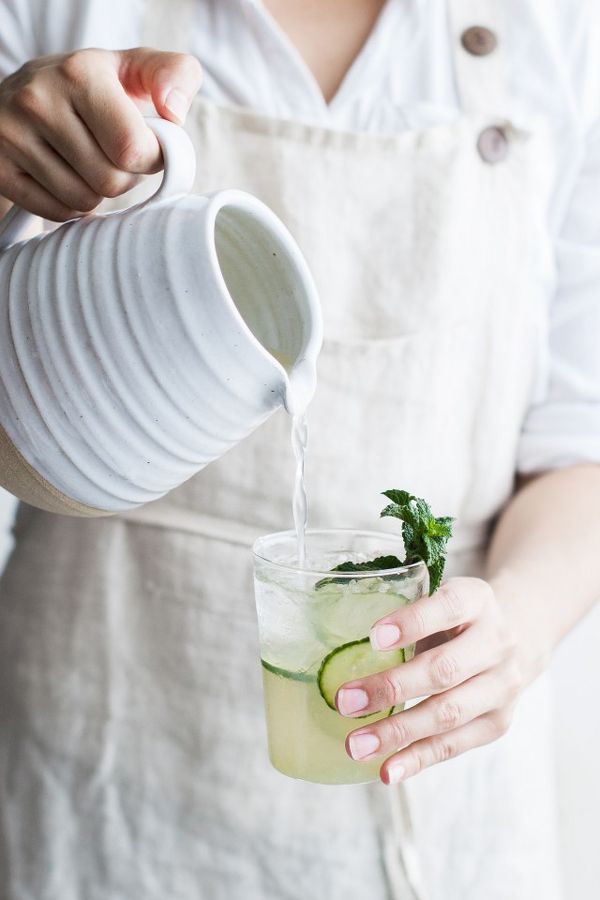 Farmhouse Pottery Farmer's Pitcher
A staple for any farmhouse table, this pitcher's elegant shape makes it a charming way to display a bouquet of colorful flowers. With a hand-formed spout and sturdy handle, it's designed for easy pouring, making it a perfect vessel for iced tea, lemonade, and more.
Go to:
Add American-Luxury to your favorites