Designer Bedding with Luxury Details
Designer bedding to create a master suite oasis. American designer bedding creates fantasies of color and texture that allow you to transform your rooms to any mood and for any season. Whichever you choose, it has never been easier to surround your personal space with the most luxurious fabrics and set a mood uniquely your own. Luxury bedding for the ultimate sanctuary. Most collections have matching bath towels and accessories to complete the master suite. Choose from long time favorites Calvin Klein bedding and Ralph Lauren, or go to: Designers Guild, Jane Wilner Designs, Michael Aram, Ann Gish, Donna Karan Bedding, Laundry by Shelli Segal, Vera Wang Bedding
| | | |
| --- | --- | --- |
| | | |
| Michael Aram Willow Bedding Collection | Michael Aram Palm Collection | Michael Aram Wisteria Bedding Collection |
| In a relaxed muted tones, this luxurious, silk blend sham from the Michael Aram Willow Collection is a true testament to sophisticated style. An intricate embroidery of willow flowers flows over the soft pieces adding delicate detail. | Duvet in palm pattern. Sham with palm embroidery. Decorative pillows | A muted jacquard pattern of beautiful flowers defines Michael Aram's Wisteria Collection. This luxuriously welcoming set will instantly enhance your space to fast become the most coveted room in the house. |
| | | |
| --- | --- | --- |
| | | |
| Michael Aram Lily Pad Bedding Collection | Michael Aram Orchid Collection | Michael Aram Branch Collection |
| The jacquard duvet cover and shams of Michael Aram's Lily Pad bedding collection creates a serene feel with woven linen lily pads outlined in metallic thread, creating an organic form that mirrors much of Michael's lily pad metal work. A satin champagne canvas creates a luminous sheen and with a touch of light for an upscale, elegant aesthetic. | Michael Aram summons the simple sensuality of the orchid and interprets it artfully into each textured and embroidered piece of this luxurious collection. | Duvet cover and shams featuring silhouetted branch design on one side (solid-color reverse). Striated Band Sheets made of 400-thread count cotton. Decorative pillows |
New York-based Ann Gish — a former interior designer who has lived in Southern California, France, England, and Barbados — introduced her signature line of bed linens in 1992. The Ann Gish bedding collection is known for exquisite detailing and construction along with luxurious fabrics such as silk
| | | |
| --- | --- | --- |
| | | |
| Donna Karan Luna Bedding Collection | Donna Karan Home Ocean Collection | Donna Karan Home Aura Bedding Collection |
| A tonal luminescence adorns the Donna Karan Luna Duvet and Shams, taking this woven jacquard to a luxury level of style. Like the gleam of moon light in the nights sky, the repeating pattern of celestial inspiration will have you stargazing all night. Layered embroidery on sheer transcends the Donna Karan Platinum European Sham into the cosmos. The polished sham illuminates this celestial collection with its sheer overlay and beautiful embroidery, adding finesse to the collection. Decorative pillows | Multicolored duvet. Solid sham. Decorative pillows | Shimmer jacquard duvet and shams. Box-quilted silk charmeuse quilt with subtle tufted border. Textured sham. Decorative pillows and shams |
| | | |
| --- | --- | --- |
| | | |
| Donna Karan Home Black Onyx Collection | Donna Karan Home Exhale Taupe Collection | Donna Karan Home Moonscape Collection |
| The Donna Karan Black Onyx Collection is the sumptuous answer to bedtime. Featuring a jacquard pattern and a black and gold metallic color scheme, your bedtime routine will become instantly refined. Box-quilted silk charmeuse with subtle tufted border. Decorative pillows and shams | Duvet cover and sham feature a geometric pattern of woven dashes. Polyester/cotton face. 300-thread-count cotton sateen reverse. Channel-Stitch Velvet Quilt. Cotton/rayon face; cotton reverse; polyester fill. Donna Karan Home's 510TC Supima® cotton sateen sheet. Satin-like softness, sheen, and drape. Finished with a triple-pleat hem. Decorative pillows and shams | Textured duvet and shams. Decorative pillows |
| | | |
| --- | --- | --- |
| | | |
| Donna Karan Home Rhythm Bedding | Donna Karan Alloy Bedding Collection | Donna Karan Current Bedding Collection |
| Duvet cover is made of polyester. Backed with 300-thread-count cotton sateen. Velvet quilt has cotton/rayon front. Cotton reverse; polyester batting. Shams and decorative pillows | Inspired by the artistic elements of metalwork, the Donna Karan Alloy Bedding Collection offers a fashionable layering of textures, elevated neutral tones and metallic accents. | This richly woven duvet from Donna Karan's coveted Current Collection is the ultra-refined update for your bedroom. Its diagonal jacquard motif with metallic accents adds a luxurious feel to any décor. |
| | | |
| --- | --- | --- |
| | | |
| Vera Wang Ghost Floral Percale Bedding Collection | Vera Wang Marble Shibori Bedding Collection | Vera Wang Linear Tucks Bedding Collection |
| The blurred, dream-like quality of this subtle watercolor floral design helps set the mood of elegant ease conveyed by this luxurious ensemble. Digitally printed on cotton percale in delicate greyed shades of Blue Lavender, the duvet and standard shams reflect the modern femininity characteristic of Vera Wang's designs. Tailored stitch detailing on whisper pale European shams and accent pillows adds modern structure and reflects the effortlessly layered look that is the designer's signature. | Vera Wang brings her unique understanding of modern minimalism to this luxurious duvet ensemble inspired by the patterns and textures of Japanese textiles. A subtle linear pattern in cool tones of Silver Blue and white on the luxurious cotton percale duvet and standard shams is digitally printed, allowing a range of variation that perfectly captures the artisan look of the original shibori inspiration. Texture pleated European shams and a knitted cotton decorative pillow in Silver Blue bring out the color accent in the print and a pristine white accent pillow with a pleated wave texture is the perfect complement to complete the ensemble. | The intrinsic purity of white is the perfect vehicle for creating an atmosphere of complete calm and tranquility, conducive to a restful night's sleep. Create a pristine personal retreat with this dreamy white-on-white tailored ensemble from Vera Wang. |
| | | |
| --- | --- | --- |
| | | |
| Vera Wang Ink Botanical Sateen Bedding Collection | Vera Wang Blurr Bedding Collection | Vera Wang Shadow Stripe Bedding Collection |
| Masterful brushstrokes create a dynamic ink wash floral in the style of classic Japanese sumi-e brush painting. Digitally printed on luxurious 300-thread count cotton sateen, precise placement on the duvet and shams makes your bedding seem like an artist's canvas. A high contrast palette of Onyx and white creates a dramatic statement of modern simplicity and clarity, softened by a slub woven gray accent pillow and channel stitched grey European shams. | Digitally printed to capture color nuances and shade variations, the Blurr bedding collection features a stunning palette of grotto blue tones, orange accents and pristine white touches. | Digitally printed, this bedding collection features a beautiful interplay of stripes and shadows with artistic brushstroke design. |
| | | |
| --- | --- | --- |
| | | |
| Vera Wang Degrade Woven Bedding Collection | Vera Wang Layered Geometric Bedding Collection | Vera Wang Mélange Gauze Bedding Collection |
| A sophisticated colorblock design in calming hues lends a sense of tranquility to this soft cotton jacquard bedding collection by Vera Wang. | Layered grid patterns create a sophisticated geometric print for this luxurious bedding collection made with breathable fabric for year-round comfort. | Rendered in a calming midnight blue, the duvet cover and shams in the Vera Wang Mélange Gauze collection feature a delicately soft texture for a sophisticated look. Decorative pillows in contrasting fabrics add a luxurious touch. |
Zig Zag Queen Comforter Set
Zig Zag King Comforter Set
Vera Wang Tuille Floral Grey Duvet Set, King
Vera Wang Tuille Floral Grey Comforter Set, Queen
Vera Wang Shibori Grid White Duvet Cover Set, Queen
Vera Wang Shibori Grid White Duvet Cover Set, King
This ensemble is a 21st century classic with a luxury hotel sensibility, a minimal modern aesthetic and maximum style. The purity of silky soft, white cotton sateen becomes a blank canvas for the tailored geometry of black embroidered lines and edges.
A dreamlike design inspired by fabric flowers and ruffles, this beautifully detailed romantic print reflects the new face of modern femininity. The soft, all cotton print is a whisper of platinum gray tones on pristine white and is complemented by white linen/cotton European shams with a sheer gray voile overlay and picot edging.
Inspired by Japanese shibori dyed textiles, the soft geometric print in indigo and white is a modern interpretation of this classic technique. Printed on silky cotton sateen, the grid design beautifully captures the artistic irregularities of a handmade textile while maintaining an updated graphic rhythm.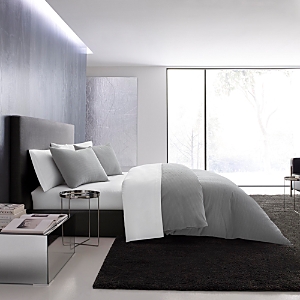 Waffle Pique Duvet Cover Sets
Woven in the softest cotton for a luxurious feel, Vera Wang's Waffle Pique duvet cover set is a simple, yet stylish addition to any bedroom.
Go to:
Add American-Luxury to your favorites