Designer Bedding with Luxury Details
Designer bedding to create a master suite oasis. American designer bedding creates fantasies of color and texture that allow you to transform your rooms to any mood and for any season. Whichever you choose, it has never been easier to surround your personal space with the most luxurious fabrics and set a mood uniquely your own. Luxury bedding for the ultimate sanctuary. Most collections have matching bath towels and accessories to complete the master suite. Choose from long time favorites Calvin Klein bedding and Ralph Lauren, or go to: Michael Aram, Donna Karan Bedding, Now House by Jonathan Adler

| | | |
| --- | --- | --- |
| | | |
| Metamorphosis Bedding Collection | Michael Aram Willow Bedding Collection | Michael Aram Metallic Textured Bedding Collection |
| The process of transformation. Eluding to an awakening moment, the Michael Aram Metamorphosis sham presents an artistry of digitally printed colors to change the way you unwind. The 100% cotton construction makes this set as comfortable as it is sophisticated. | In a relaxed muted tones, this luxurious, silk blend sham from the Michael Aram Willow Collection is a true testament to sophisticated style. An intricate embroidery of willow flowers flows over the soft pieces adding delicate detail. | Make your bedroom's style shine with the sparkling gold-tone accents illuminating this sophisticated textured bedding collection from Michael Aram. |
| | | |
| --- | --- | --- |
| | | |
| Branch Collection | Palm Collection | Orchid Collection |
| Michael Aram captures the magic of branch silhouettes against the evening sky with this collection, featuring graceful embroidery, softly textured stripes and lustrous cotton sateen. | Inspired by the unmistakable beauty of fallen and windswept fronds, this exclusive-to-Bloomingdales collection by Michael Aram highlights metallic embroidered palm leaves, luminous cotton sateen and luxe, silken fabric. | Michael Aram summons the simple sensuality of the orchid and interprets it artfully into each textured and embroidered piece of this luxurious collection. |
| | | |
| --- | --- | --- |
| | | |
| Iris Bedding Collection | After the Storm Collection | Wisteria Bedding Collection |
| Bring your bedroom's look to life with the beautiful floral embroidery and rich textures featured in this Iris bedding collection from Michael Aram. | Michael Aram's After the Storm collection—boasting tranquil watercolor prints and staccato textured stripes—is inspired by that one intangible moment...when the sky clears and the breeze blows softly to herald a new beginning. | A muted jacquard pattern of beautiful flowers defines Michael Aram's Wisteria Collection. This luxuriously welcoming set will instantly enhance your space to fast become the most coveted room in the house. |
| | | |
| --- | --- | --- |
| | | |
| Wave Bedding Collection | Orchid Bedding Collection | Ombré Bedding Collection |
| Michael Aram's Wave Duvet Set presents a sophisticated woven jacquard that resembles cascading waves. Offered in a beautiful shade of grey the serene duvet and shams will complement any décor and bring a simple yet chic look to your room | Michael Aram's Orchid Duvet Set combines elegance and beauty. The subtle jacquard floral design on the face of this linen colored duvet and shams creates a serene sensuality to any environment. | The beautiful Michael Aram Ombré Duvet Set lends style and comfort to your sleep space. The intricate duvet and shams features an ombré design that goes from light grey to peacock creating a calming atmosphere in your space. |
| | |
| --- | --- |
| | |
| Lily Pad Bedding Collection | Quilt Collection |
| The jacquard duvet cover and shams of Michael Aram's Lily Pad bedding collection creates a serene feel with woven linen lily pads outlined in metallic thread, creating an organic form that mirrors much of Michael's lily pad metal work. A satin champagne canvas creates a luminous sheen and with a touch of light for an upscale, elegant aesthetic. | Michael Aram presents this luxurious collection of silk-faced quilts featuring a digital, watercolor print that reverses to solid cotton. |
| | | |
| --- | --- | --- |
| | | |
| Donna Karan Collection Seduction Bedding Collection | Donna Karan Alloy Bedding Collection | Donna Karan Current Bedding Collection |
| Delicate metallic threads are woven through a luxe jacquard pattern, bringing the allure of high standards to the Donna Karan Seduction Bedding Collection. The soft ivory color entices you to relaxing sleep. | Inspired by the artistic elements of metalwork, the Donna Karan Alloy Bedding Collection offers a fashionable layering of textures, elevated neutral tones and metallic accents. | This richly woven duvet from Donna Karan's coveted Current Collection is the ultra-refined update for your bedroom. Its diagonal jacquard motif with metallic accents adds a luxurious feel to any décor. |
| | | |
| --- | --- | --- |
| | | |
| Donna Karan Silk Indulgence Duvet Cover Set | Donna Karan Silk Indulgence Duvet Cover Set | Donna Karan Silk Indulgence Duvet Cover Set |
| Airy and breathable, silk is known to keep you warm in winter and cool in summer, while its amino acids help promote a glowing complexion and smooth and shiny hair. Blended with the easy-care comfort of cotton, Donna Karan's Silk Indulgence collection offers the best of both worlds. | Airy and breathable, silk is known to keep you warm in winter and cool in summer, while its amino acids help promote a glowing complexion and smooth and shiny hair. Blended with the easy-care comfort of cotton, Donna Karan's Silk Indulgence collection offers the best of both worlds. | Adorn your bed with the Donna Karan Silk Indulgence duvet set that will add an elegant touch to your bedroom. Combined with the easy- care comfort of cotton, this duvet set is a dream off and on the bed. |
| | |
| --- | --- |
| | |
| Donna Karan Silk Indulgence Duvet Cover Set | Donna Karan Silk Indulgence Duvet Cover Set |
| Airy and breathable, silk is known to keep you warm in winter and cool in summer, while its amino acids help promote a glowing complexion and smooth and shiny hair. Blended with the easy-care comfort of cotton, Donna Karan's Silk Indulgence collection offers the best of both worlds. | Airy and breathable, silk is known to keep you warm in winter and cool in summer, while its amino acids help promote a glowing complexion and smooth and shiny hair. Blended with the easy-care comfort of cotton, Donna Karan's Silk Indulgence collection offers the best of both worlds. |
| | | |
| --- | --- | --- |
| | | |
| Moonscape Collection | Luna Bedding Collection | Black Onyx Bedding Collection |
| Donna Karan's Moonscape Collection brings decorative drama to your bedroom. An intricate jacquard pattern shimmers in a rich champagne hue for a look that is pure luxe. | The textural pattern of the intricately woven jacquard Luna bedding collection takes inspiration from the enigmatic landscape of the moon. The intricate decorative pillow details of bead work, sequins, and pleats, perfects the Donna Karan aesthetic and the mixture of textures on the euro pillows illuminates the collection. | The Donna Karan Black Onyx Duvet is a striking and sumptuous answer to bedtime. Featuring a jacquard pattern and metallic color scheme, this unique collection is statement-making. |
Reflection Bedding Collection
Home Reflection Silver Collection
Donna Karan Home Gilded Full/Queen Duvet Set
Gilded King Duvet Set
This luxurious bedding collection by Donna Karan in a silk jacquard features a windy striped texture reflective of soft ripples on water. Pair with a lustrous silk quilt and quilted shams for an elegant and glamorous look.
Sweet serenity! Donna Karan Home's Reflection Silver Collection evokes tranquility with subtle jacquard pleating that's reminiscent of a river's rippling water. Quilted components feature classic box stitching that's sumptuous in texture, while an alluring blend of fabrics offer an irresistible feel. Decorative pillows with embroidered, pleated & sequin accents complete the look.
Ornate details and rich color cloak the Donna Karan Gilded Duvet. A woven jacquard pattern evokes a golden shimmer bestowing vivid imagery of a golden landscape.
| | | |
| --- | --- | --- |
| | | |
| Radiance Quilted Bedding Collection | Silk Quilt Collection | Flokati Fur Decorative Pillows, 11" x 22" |
| A modern interpretation on traditional quilting, the Donna Karan Radiance Quilted Bedding Collection has a contemporary feel with isolated stitched squares, ribbed texture, velvet border details and metallic threading adding a stylish sheen. | Sumptuously soft, the silk charmeuse quilt and shams in this collection by Donna Karan feature grid quilting and a lustrous sheen. | Soft and fluffy, the Flokati fur pillow collection from Donna Karan adds a luxurious touch to any room. |
Marco Full/Queen Duvet Cover Set
Now House by Jonathan Adler Otto Queen Duvet Cover Sheet Bonus Set
Otto King Duvet Cover Sheet Bonus Set
Philippe King Duvet Cover Set
Bring gorgeous modern style to your bedding ensemble with the Marco Duvet Cover Set from Jonathan Adler. A whole new angle on drama in the boudoir, this chic ensemble features boldly scaled geometrics in subdued blue tones.
This gorgeous bonus set brings new neutrals pale blue, grey or white with a soft slept-in feel. With Otto, you can make a single-color statement, mix shades for a color-block effect, or layer in with our printed bedding for a unique modern look.
Bring new life to your bedding ensemble with the Jonathan Adler Phillippe Bedding collection. This reversible ensemble features a grey and white graphic on one side and solid grey on the other-the perfect twist for any bedroom that feels too tame.
Vally King Duvet Cover Set
Marcel Full/Queen Quilt Set
King Marcel Quilt Set
Paintbox Full/Queen Duvet Cover Set
Paintbox King Duvet Cover Set
Subtle and sophisticated, the Vally Duvet Cover Set by Jonathan Adler is minimal in terms of color but monumental in terms of style. A monochromatic palette of light tones on white creates a chic modern statement that is easy to live with.
Constructed with 100% cotton, this super soft quilt features a yarn dye slub face with a plain-woven geometric grid reverse. The dimensional stitching on the face of the quilt creates a detailed textural pattern of interconnected squares.
The fully reversible Paintbox Ensemble by Jonathan Adler features a black and white grid brushed with offset blocks of pastel color on one side and solid grey on the other. This set is constructed with high-quality cotton for the ultimate comfort.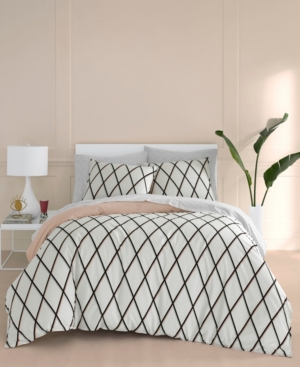 Martine Full/Queen Duvet Cover Set
Update your bedroom décor with the Martine Duvet Cover Set from Jonathan Adler. Featuring a reversible duvet cover for two looks in one- black and white diamond lattice with blush pink and grey shadows on one side and a solid blush pink on the other.
Go to:
Add American-Luxury to your favorites