Professional Quality American Cookware with Stylish Good Looks
Cookware sets and cutlery that form the foundation of a modern kitchen. Cookware that performs in style. Go to: Creative Cookware and Bakeware, Viking, Cuisinart, Calphalon, All Clad, Anolon
| | | |
| --- | --- | --- |
| | | |
| Moon Phase Mini Pie Dish | Callisto Omelet Cooker | Callisto Egg Cooker |
| Serve up your own little cup-pies with this miniature dish, perfect for single-serve desserts. Decorated around the rim with stamped moon phases for a touch of the cosmos. | No fuss needed to cook up an omelet with this ingenious ceramic design that pops right in the microwave. Cut round with raised edges and a spoke in the middle. | Make eggs easier than ever with this microwavable ceramic vessel that's so cute. Ceramic egg cooker features a lid with a bear face, perfect for pulling out when you want a cozy morning. |
| | | |
| --- | --- | --- |
| | | |
| Mini Cookie Cutter And Rolling Pin Set | Briony Floral Dish Towel | Copper-Plated Stackable Cooling Rack |
| Bake the cutest little cookies with this mini set, including three little cookie cutters in assorted shapes and a tiny rolling pin to match! | Featuring delightful dancing florals, this dish towel brightens up any kitchen. | A necessity for the home baker, this non-stick rack lets you cool two tiers of baked goods at once - think cupcakes, cookies, muffins, and more. Best of all? With a stackable design, it easily snaps together or apart to save counter space. |
| | | |
| --- | --- | --- |
| | | |
| Hand-painted Florie Measuring Spoons, Set of 4 | Orion Dish Towels, Set of 2 | Moon Oven Mitt |
| Featuring vibrant floral designs, this set of measuring spoons makes a charming gift for a hostess to be cherished for years to come. | A handy addition to any kitchen, dish towels are perfect for drying plates, surfaces, and your hands. Even better? With a lunar design, this set doubles as a whimsical decor accent, too. | Inspired by folky motifs and textures, this oven mitt features a crescent moon-shaped pocket with mixed prints, quilted construction and whip stitched binding. |
| | | |
| --- | --- | --- |
| | | |
| Frieling Pot Strainer Lid | Calhoun & Co. Los Angeles Dish Towel | Danielle Kroll Making Spirits Bright Bake-and-Take Carrier |
| Crafted from stainless steel with easy-to-grip handles, this convenient strainer fits to the top of your cooking pots, allowing you to strain hot water with ease. Best of all? Its compact design cuts down on clean-up time. | The perfect stocking stuffer for the Los Angelite or lifelong Californian, this dish towel honors the city of angels in a charming design. | Designed by Danielle Kroll in collaboration with Anthropologie, this carrier lets you transport or send-off your homemade creations to family and friends with ease. |
| | | |
| --- | --- | --- |
| | | |
| Ayesha Curry 12-Qt. Enamel Stockpot & Lid | Gibson Home Cast Iron Grill Pan | Knife And Cutting Board Stand |
| From a hearty winter soup to fresh-picked summer corn, this Ayesha Curry stock pot gives you the generous 12-quart capacity you need when company's coming. | Sizzle up something good with this cast iron grill pan by Gibson Home. 11 inch square pan is topped with a sturdy, integrated handle. | Keep cooking essentials right on hand with this sleek stand, featuring a compartment for your knives supported by a wooden dowel and a slot for your go-to cutting board. |
| | | |
| --- | --- | --- |
| | | |
| Chicago Cutlery Insignia 18-Pc. Cutlery Block Set | Chicago Cutlery Insignia 13-Pc. Cutlery Block Set | Chicago Insignia 2 18 Piece Cutlery Set |
| Forged designs, full tangs and high-carbon stainless steel blades are the hallmarks of the professional-style Insignia 18-piece block set from Chicago Cutlery. | Chop, slice, and dice like a pro with the Chicago Cutlery Insignia 13-piece set. Pieces feature forged designs, full tangs and high-carbon stainless steel blades and store safely in the natural wood block. | Quality controlled. Put your best prep forward with this full-featured cutlery set, which features handsome full-tang knives, professional-quality stainless steel blades & a promise to take on each & every job in the kitchen. |
| | | |
| --- | --- | --- |
| | | |
| Pine Forest Bundt Pan | Rachael Ray Cucina 6-Pc. Japanese Stainless Steel Knife Block Set | Harvest Leaves Bundt Pan |
| Transform an ordinary cake into a magnificent creation with this Bundt pan, which features a pine tree forest design that's perfect for the winter season. | From peeling an apple to dicing onions, prep work for all your favorite dishes is a breeze with this Cucina 6-pc. knife set from Rachael Ray. The blades are made from durable Japanese stainless steel blades and honed for sharpness. | Inspired by leafy vines and colorful foliage, this Bundt pan creates a cake that's beautiful in any season. |
| | |
| --- | --- |
| | |
| Martha Stewart Collection Enameled Cast Iron Round 6-Qt. Dutch Oven | Martha Stewart Collection Enameled Cast Iron Round 6-Qt. Dutch Oven |
| Ideal for baking casseroles, browning meats or slow-cooking your favorite dishes, this 6-quart Round Dutch Oven from Martha Stewart Collection moves easily from oven to table while providing lasting beauty with your choice of colored exteriors. Heavy enamel-on-cast iron construction distributes heat evenly while locking in moisture. | Ideal for baking casseroles, browning meats or slow-cooking your favorite dishes, this 6-quart Round Dutch Oven from Martha Stewart Collection moves easily from oven to table while providing lasting beauty with your choice of colored exteriors. Heavy enamel-on-cast iron construction distributes heat evenly while locking in moisture. |
| | | |
| --- | --- | --- |
| | | |
| Anolon Accolade Hard-Anodized Precision Forge Cookware Set, 10-Piece, Moonstone | Anolon SureGrip 6-Pc. Utensil Set | Anolon Allure Hard-Anodized Nonstick 5-Qt. Dutch Oven |
| Set includes 1.75-qt. saucepan and lid, 2.5-qt. saucepan and lid, 3-qt. sauté pan with helper handle and lid, 7.5-qt stockpot and lid, 8" skillet, 10" skillet. Hard-anodized aluminum. Dishwasher safe | Prepare with ease and serve with style with this SureGrip utensil set from Anolon. The six pieces are uniquely designed to hit every cranny of the cooking pan, and they're safe for non-stick cookware. | For high-quality, one-pot meal performance and the everyday convenience of Infinity Slide nonstick, reach for the Anolon® Allure 5-Qt. Hard-Anodized Nonstick Dutch Oven. |
| | |
| --- | --- |
| | |
| Anolon Nouvelle Copper Stainless Steel 4 Qt. Covered Casserole | Anolon Advanced 5 Piece Bakeware Set |
| From braising stews to simmering soup, the wide and shallow design of this elegant piece makes it an oven-to-table favorite. Delivering expert-grade results with layer upon layer of premium cooking material, the covered casserole features ultra-reactive copper encapsulated by two layers of aluminum and finished with an impact-bonded stainless steel cap for unrivaled heat distribution and incredible cooking control. | Everything you need for the basics of baking in one heavyweight carbon steel set with a nonstick surface that eliminates the need to grease up pans before use, making clean up a cinch. Limited lifetime warranty. |
| | |
| --- | --- |
| | |
| Viking 3-Ply Hammered Copper Clad 10-Pc. Cookware Set | Viking Acacia Board and 3 Pc. Carving Set |
| Viking takes cookware to a new level with the beautiful textured copper finish and superior performance of this 10-piece cookware set. Due to copper's highly conductive nature, the set's hammered exteriors do not require high heat to cook. 18/8 stainless steel cooking surfaces won't react with foods, even acidic sauces. Vented glass lids prevent boil-overs while allowing you to easily monitor cooking progress. | Set includes 21.81" x 14.5" x 1.2" board, 11.47" x 0.9" x 0.72" meat fork, 13.25" x 1.18" x 0.62" carving knife and 15.13"x 1.26" x 0.95" sharpener steel. Water- and bacteria-resistant board |
| | |
| --- | --- |
| | |
| Viking 3-Ply Stainless Steel Roasting Pan with Rack & Bonus Carving Set | Viking Professional 7 Pc. Cutlery Set |
| Designed with the home cook in mind, this stainless steel roasting pan and rack lets you perfectly prepare roasted meats, turkey and vegetables. The nonstick rack's angled design promotes even cooking by slightly elevating foods to improve air flow underneath. Use the bonus carving knife and fork to carve and serve the delicious results. | Set includes 3.5" paring knife, 4.5" utility knife, 8" chef knife, 8" bread knife, scissors, sharpening steel, wood block. Exceptional balance between the blade and handle for uncompromising performance. Fully forged knives are constructed with an integrated tang and riveted POM handle |
| | | |
| --- | --- | --- |
| | | |
| Viking 3-Ply Stainless Steel Roasting Pan with Nonstick Rack | Viking 3-Ply Stainless Steel Roasting Pan with Rack & Bonus Carving Set | Viking Metal Induction-Safe 8.5-Qt. Oval 3-in-1 Roaster with Lid & Rack |
| Designed with the home cook in mind, this professional-style stainless steel roasting pan lets you perfectly prepare delicious roasted meats and vegetables. The nonstick rack's angled design promotes even cooking by slightly elevating foods to improve air flow underneath. | Designed with the home cook in mind, this stainless steel roasting pan and rack lets you perfectly prepare roasted meats, turkey and vegetables. The nonstick rack's angled design promotes even cooking by slightly elevating foods to improve air flow underneath. Use the bonus carving knife and fork to carve and serve the delicious results. | Viking brings professional quality to the kitchen and professional results to your table with this versatile 3-in-1 roaster with rack. Use it as a conventional 8.5-quart open roaster for poultry, meats or vegetables. Add the lid to convert it into a 9-quart (to rim) covered roaster, Dutch oven or stockpot. |
| | | |
| --- | --- | --- |
| | | |
| Cuisinart Chef's Classic Stainless Steel 7 Piece Cookware Set | Cuisinart Hard-Anodized 11-Pc. Cookware Set | Cuisinart Multiclad Pro Tri-Ply Stainless Steel 12 Piece Cookware Set |
| Premium cookware with classic style but modern technology. Pieces have brilliant mirror-finished 18/4 stainless steel construction that won't react with food and aluminum-encapsulated bases for fast, even heat distribution | Excellence and convenience collide in a superior collection of pots, pans and all of the pieces you need for a professional kitchen. Using superior technology, this set combines hard-anodized exteriors with a dishwasher-safe long-lasting nonstick finish to deliver expertly-cooked masterpiece meals and hassle-free clean-ups. Lifetime warranty. | A shining example of kitchen competence, this set includes everything you need for great cooking. The special multiclad construction bonds brilliantly polished stainless steel to a core of pure aluminum for the fastest, most even heat distribution. Professional stainless covers with drip-free rims seal in flavors and nutrients, while the generously sized cool-grip handles provide handling safety. |
| | | |
| --- | --- | --- |
| | | |
| Cuisinart Chef's Classic Stainless Stainless Steel 14" Skillet | Cuisinart Mica Shine Stainless 8-Piece Cookware Set | Cuisinart Chef's Classic Stainless Steel 9" Skillet |
| Classically constructed in 18/4 mirror-finish stainless steel, this versatile pan is sure to demand a repeat performance meal after meal. Whether you're frying or sautéing, the aluminum-encapsulated base spreads heat quickly and evenly, leaving no hot spots to burn your food. | Set includes: 2.5 qt. saucepan with cover, 4 qt. sauté pan with cover, 6 qt. stockpot with cover, 8" skillet, 10" skillet. Premium stainless steel offers optimal cooking performance. Aluminum encapsulated base heats quickly and spreads heat evenly, eliminating hot spots. Stainless steel stick handles stay cool on the stovetop, riveted for strength and durability. Easy-to-read cup and liter measurement markings. Lids fit tight to lock in flavor, texture and moisture. Tapered rim for clean and easy pouring | Designed for professional-style performance, the Cuisinart Chef's Classic 9" stainless steel skillet is ideal for frying, sautéing or browning. The aluminum-encapsulated base spreads heat quickly and evenly, leaving no hot spots to burn your food. |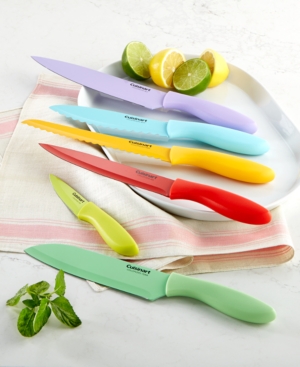 Cuisinart 6-Pc. Ceramic Cutlery Set
A pretty as they are practical, this 6-knife collection from Cuisinart includes the prep work essentials you turn to most, all with a ceramic non-stick coating that helps the stainless steel blades slide through foods. The set includes protective sheaths to shield the blades and your fingers.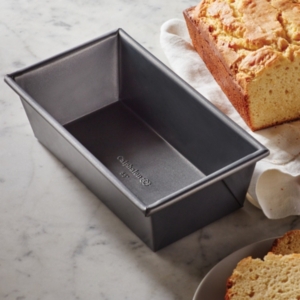 Calphalon Nonstick 5" x 10" Large Loaf Pan
Get your fill with this large, 2-lb. loaf pan that makes it easy to whip up a double-sized meatloaf, banana bread or whatever your tastebuds desire! Crafted with a heavy-gauge steel core for even heating, this pan features two interlocking layers of professional nonstick, so your favorite loaf always looks flawless and tastes amazing. Lifetime warranty.
| | | |
| --- | --- | --- |
| | | |
| All-Clad Mixed Materials 12-Pc. Cookware Set | All-Clad Stainless Steel Set of 2 Oval Bakers | All-Clad Stainless Steel 3 Qt. Covered Saucepan |
| The All-Clad Multi Material 12-Piece Set includes an HA1 10 inch fry pan and a 4 quart sauté pan with lid made with premium nonstick for effortless browning, sautéing, and pan frying with easy cleanup. A classic durable D3 stainless 12 inch fry pan is ideal for pan frying and searing to seal in juicy flavors and dishes that finish in the oven, and a D3 sauce pan with lid is perfect for sauces, grains and reheating. A versatile 6.5 quart nonstick cast aluminum cocotte is designed for cooking and serving braised meats, soups, and stews. An 8 quart stainless steel multi-pot features both a steamer and colander for steaming vegetables and seafood, straining pasta, and preparing soups and stocks. The multi material set offers dishwasher-safe convenience, induction compatibility and it is oven safe | These bakers take your dishes from oven to tabletop with ease and style. Stainless steel with cast stainless steel handles. Set of two. Each baker is 7". | All-Clad's high-performance saucepan is constructed with a durable stainless steel interior, a pure aluminum core and a hand-polished mirror-finished exterior. An essential piece for simmering sauces, boiling noodles, warming leftovers and more. |
Go to:
Add American-Luxury to your favorites