Contemporary American Fashion
American fashion when you're most yourself. Great pieces that work together to build or update your wardrobe for easy dressing options. Unscripted. Relaxed. Time for yourself. Time with friends. Go to: BB Dakota, Diane von Furstenberg, Vineet Bahl, Cloth and Stone, Daniel Rainn, T.La

Wraps
| | | |
| --- | --- | --- |
| | | |
| Holden Plaid Cape | Petra Plaid Wrap | Lydia Vest |
| Style this refined cape with slim-fit trousers and tall boots for a perfectly polished - and timeless - seasonal ensemble. | Rendered in a seasonal plaid, this luxe wrap elevates your everyday ensembles. | This wrap-like vest keeps you warm, toasty, and fashionable as the weather cools. Throw it on over a layered look in the morning, and you'll be ready to take on the day. |
| | | |
| --- | --- | --- |
| | | |
| Classic Cashmere Poncho | Zinnia Floral Wrap | Barefoot Dreams Malibu Striped Wrap |
| As the weather cools, swap your go-to cardigan for this sumptuous cashmere poncho - it elevates your ensemble and finishes it with luxe, timeless style. | In muted hues, this floral motif adds a dose of sartorial sunshine to greyer days. | This fringed wrap keeps you warm, toasty, and fashionable as the weather cools |
| | | |
| --- | --- | --- |
| | | |
| Artemis Wrap | Mollie Cape Scarf | Louise Leopard Wrap |
| From relaxed weekends to on-the-go weekdays, this soft layer tops your look with seasonal style. | Rendered in seasonal plaid, this cozy scarf is wearable as a wrap for added style and warmth. | This cozy wrap features our favorite spotted print. Surprisingly versatile, a leopard print pairs with workwear, graphic tees, and your favorite pair of denim with ease. |
| | | |
| --- | --- | --- |
| | | |
| Vera Fringed Poncho | Camille Cashmere Poncho | Sedona Cozy Knit Wrap |
| With a turtleneck silhouette and textured fringe, this oversized poncho is a luxuriously warm layer. | Whether layered over jeans, leggings, or maxi dresses, this oh-so-soft cashmere poncho brings comfort and style to any ensemble. | Keep cozy on cool nights and relaxed mornings in this ultra-soft wrap, which outfits beautifully with leggings and your favorite tunic. |
| | | |
| --- | --- | --- |
| | | |
| Emory Wrap | Annie Capelet | Gable Eyelash Kimono |
| Roomy pockets, a generous collar, and unexpected short sleeves make this cozy wrap our go-to for cool mornings, breezy afternoons, and casual evenings alike. | Chilly morning got you down? Toss this plaid capelet over a pair of lived-in denim and a buttondown blouse for a look that's ready for any season - and temperature change. | Rendered in a snake motif, this textured wrap elevates any ensemble with a surprisingly versatile print. |
| | | |
| --- | --- | --- |
| | | |
| Josie Faux Fur Vest | Malaga Sueded Jacket | Martina Utility Jacket |
| An unsung hero of transitional dressing, the vest adds a layer of interest to pretty much anything - and this faux fur version will earn plenty of compliments | Crafted from premium faux suede, this jacket lends effortless flair to any cool-weather ensemble. | Form, meet function: This utility-style jacket offers feminine flair and pockets to spare. |
Just two years after Diane von Furstenberg launched her eponymous line in 1972, the New-York-based designer introduced the iconic wrap dress - a sartorial symbol of power for women that still holds true today. Celebrated for its bold, creative approach to color and print, Diane von Furstenberg's cruelty-free collection of ready-to-wear and accessories offers a fearlessly feminine spirit to any wardrobe.
Free from defined structures or industry-based trends, Vineet Bahl designs are unconventionally beautiful. Woven by hand - never out of a mold - each design has been artfully crafted with the closest attention to style and detail. Embellished with textural elements, each garment and accessory celebrates an evolved sense of style with a fluid, easy construction.
| | | |
| --- | --- | --- |
| | | |
| Josselyn Embroidered Blouse | Sheryl Floral Crochet Blouse | Jessamine Floral Blouse |
| Striped trim lends a sporty balance to this blouse's oh-so-feminine floral print - it's an ideal styling option for anything from errand-running to apple-picking. | A crocheted neckline with playful tassels and embroidery turns this floral blouse into a statement piece for any season. | With a statement neckline and bell sleeves, this flowy blouse features blooms that function in any season. |
| | | |
| --- | --- | --- |
| | | |
| Margaret Ruffled Blouse | Angeline Embroidered Blouse | Uma Peasant Blouse |
| Viscose, cotton, polyester | Eye-catching metallic embroidery makes this peasant-style blouse a seasonal showstopper - pair its flowy fit with skinny denim or a pencil skirt for a striking, easy-to-style ensemble. | With a billowy silhouette and eye-catching abstract prints, this peasant blouse is sure to make heads turn. Pair it with your favorite skinny jeans for a timeless, wear-anywhere ensemble. |
| | | |
| --- | --- | --- |
| | | |
| Lehigh Lace Peasant Blouse | Mareike Peasant Blouse | Lilija Lace Blouse |
| Fun and feminine at once, this peasant-style blouse features dramatic bell sleeves and ladder lace detail for a retro '70s feel. | The '70s-inspired peasant top remains a favorite for its blouson sleeves, which lend a soft, breezy quality and laidback air to any outfit. Balance its loose fit by tucking it into denim shorts or a high-waisted pair of pants. | Rayon |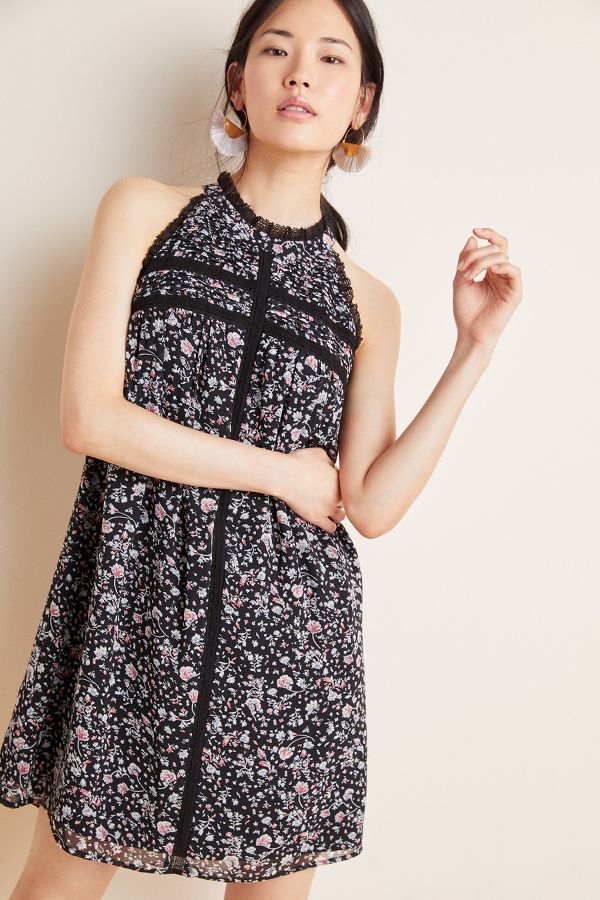 Estelle Tunic Dress
Reminiscent of the '60s, this tunic dress features a ditsy floral print that is both charming and timeless.
Easy to wear, easy to love is the motto of the line Cloth & Stone. Each denim or chambray piece begins with an effortless silhouette, before being imbued with personal touches such as specialty washes, rich textures and seasonal hues.
| | | |
| --- | --- | --- |
| | | |
| Cloth & Stone Abstract Camo Buttondown | Cloth & Stone Landry Buttondown | Cloth & Stone Ruffled Buttondown |
| Whether paired with relaxed denim or a neutral skirt and sandals, this versatile buttondown elevates any outfit. | A versatile buttondown is our favorite type of top. Featuring ladder lace details, this chambray version is perfect for workweeks and weekends alike. | A super-soft buttondown is our favorite type of top - try it long and loose, tucked into a pencil skirt, or knotted at the waist and paired with figure-flattering, high-rise jeans. |
| | | |
| --- | --- | --- |
| | | |
| Cloth & Stone Victoria Buttondown | Cloth & Stone Mallory Top | Cloth & Stone Gwen Knit Blouse |
| Nothing is more essential than a classic white buttondown. Whether you tuck it into a pleated skirt or keep things casual with a pair of high-waisted jeans, it's a wardrobe staple you'll wear for years to come. | The frayed hem of this plaid blouse incorporates just a touch of edge into this versatile, wear-everyday top. Tuck into cropped denim for a casual look, or outfit with trousers and a blazer for menswear-inspired ensemble. | This lightweight blouse offers the relaxed comfort of your favorite tee. |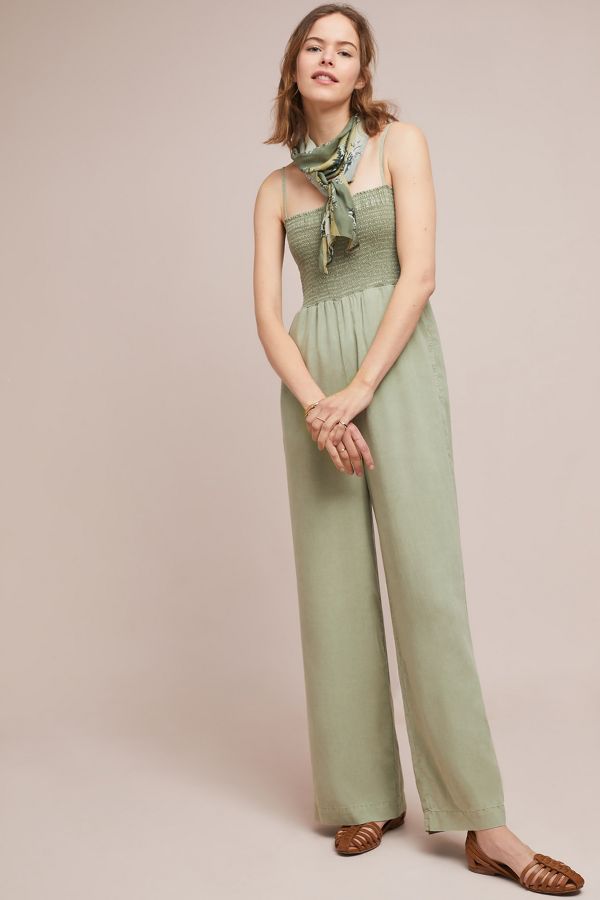 Cloth & Stone Wailea Jumpsuit
A lightweight jumpsuit is an all-in-one packing wonder - it frees up your carry-on and saves time spent outfitting.
Dyed, cut and sewn in the Los Angeles fashion district, each T.La knit is inspired by the laidback aesthetic of LA. With comfy, weekend-ready versatility serving as the inspiration for each style, T.La adds of-the-moment flourishes and fits, ensuring that these basics are anything but.
| | | |
| --- | --- | --- |
| | | |
| Vicky Waffle Tunic | Melissa Drop-Waist Dress | Wilder Tunic |
| Solid, Camo, Striped: Polyester, cotton. Heather Grey: Polyester, cotton, rayon | Designed for maximum comfort, this versatile dress is ideal for the commuter closet. Its bicycle-friendly hem and compatibility with your favorite pair of sneakers will eliminate the need for rushed morning outfit changes. | Outfit this versatile tunic with leggings, ankle boots, and a long cardigan for a look that offers all-day comfort and seasonal style. |
| | | |
| --- | --- | --- |
| | | |
| Theia Ruffled Top | Cassia Cowl-Neck Knit Top | Holden V-Neck Tee |
| Featuring a subtly ruffled mock neck, this versatile top lends to endless outfitting - pair it with your favorite denim, skirts, wide-legs, shorts, and more for wear-everywhere style. | Cozy and voluminous, this cowl-neck top is an endlessly versatile layer. | Cotton, modal |
| | | |
| --- | --- | --- |
| | | |
| Tara Smocked Tank | Ani Relaxed Top | Riley Asymmetrical Pocket Tee |
| Tucked into formal shorts or worn with well-loved denim, this smocked tank is a wardrobe basic you'll return to time and time and again. | Rendered in a versatile silhouette, this oh-so-soft top creates endless outfitting options for year-round style. | T.La knit is inspired by the laidback aesthetic of LA |
| | | |
| --- | --- | --- |
| | | |
| Isadora Tee | Wayfaring Tee | Alissa Layering Tank |
| Easy to sleep in and even easier to wear out, this tee promises to keep you comfortable wherever your dreams - or days - take you. | 50% cotton, 50% modal | Black: cotton, modal |
| | |
| --- | --- |
| | |
| Hayley Babydoll Tank | Classic V-Neck Tee |
| Cotton, polyester, rayon | A classic tee is an essential for versatility; it complements your coziest weekend denim and looks lovely under a work week blazer. |
Go to:
Add American-Luxury to your favorites