All American Bedding for Children
All American bedding for children that will spur active imaginations. Bedroom themes for girls and boys that will grow with them. Whether your style is modern with clean lines and colorful finishes, or traditional with all the frills, you will find the perfect room that will easily grow through the teen years. Keep it simple, or layer pieces for a look all your own. Go directly to: Poppy & Fritz, Dena Home, Eddie Bauer Bedding Collections, Eddie Bauer Comforter Sets, Eddie Bauer Duvet Cover Sets, Eddie Bauer Quilt Sets, Urban Dreams
Juicy Couture
| | | |
| --- | --- | --- |
| | | |
| Juicy Juicy Juicy Comforter Set 6 Piece | Hyper Leopard Reversible Comforter Set, 6 Piece | Cabana Stripe Reversible Comforter Set, 6 Piece |
| Juicy Couture's Juicy Juicy 6-Piece Reversible set is for the sporty, yet glamorous. Juicy Juicy features fresh white and bold navy stripes on super-soft microfiber that makes this as comfortable as it is stylish. | Bring effortless luxury into your bedroom with the Juicy Couture Hyper Leopard reversible bedding set. This 6-piece set features a reversible super-soft microfiber comforter that makes this as comfortable as it is stylish. | Bring effortless luxury into your bedroom with the Juicy Couture Cabana Stripe Reversible bedding set. This 6-piece set features bold black and white stripes with a distressed pink reversible print on super-soft microfiber that makes this as comfortable as it is stylish. |
| | | |
| --- | --- | --- |
| | | |
| Beach Sky Reversible Comforter Set, 6 Piece | Cabana Stripe Reversible Comforter Set, 6 Piece | Haute Mess Reversible Comforter Set, 6 Piece |
| Transform your bedroom with the laidback glam of Juicy Couture beddings sets. The Beach Sky Reversible set is highlighted by soft stripes in hues of pink, blue and white, while the reversible print is a pop of fun with multicolored flowers on navy. | Bring effortless luxury into your bedroom with the Juicy Couture Cabana Stripe Reversible bedding set. This 6-piece set features bold black and white stripes with a distressed pink reversible print on super-soft microfiber that makes this as comfortable as it is stylish. | The Juicy Couture Haute Mess Reversible set is for the bold and fun. This 6-piece set features a repeating "Juicy Couture" and "Juicy Love Glam" print on eye-catching pink microfiber that makes this as soft and comfortable as it is stylish. |
| | | |
| --- | --- | --- |
| | | |
| Ombré Leopard Reversible Comforter Set, 6 Piece | Words Reversible Comforter Set, 6 Piece | Blair Stripe Reversible Comforter Set, 6 Piece |
| Bring effortless luxury into your bedroom with the Juicy Couture Ombré Leopard reversible bedding set. This 6-piece set features a reversible super-soft microfiber comforter that makes this as comfortable as it is stylish. | Bring effortless luxury into your bedroom with the Juicy Couture Words reversible bedding set. This 6-piece set features a reversible super-soft microfiber comforter that makes this as comfortable as it is stylish. | Bring effortless style into your bedroom with the Juicy Couture Blair Stripe Reversible bedding set. This 6-piece set features bold blue, white and pink stripes with a repeating "Juicy" print. The reversible side highlights a navy and white abstract print. |
| | | |
| --- | --- | --- |
| | | |
| Park Queen Reversible Comforter Set, 6 Piece | Malibu Beach Floral Comforter Set 6 Piece | Hearts Stripe Reversible Comforter Set, 6 Piece |
| Bring effortless luxury into your bedroom with the Juicy Couture Park reversible bedding set. This 6-piece set features a reversible super-soft microfiber comforter that makes this as comfortable as it is stylish. | Bring femininity and fun into your bedroom with the Juicy Couture Malibu Beach Reversible bedding set. This 6-piece set features a floral print in varying rich tones of blue, accented with a fresh white and blue striped reversible print. | Bring effortless luxury into your bedroom with the Juicy Hearts Reversible bedding set. This 6-piece set features a reversible super-soft microfiber that makes this as comfortable as it is stylish. |
| | |
| --- | --- |
| | |
| Rainbow Reversible Comforter Set, 6 Piece | Cassandra Reversible Comforter Set, 6 Piece |
| Bring effortless luxury into your bedroom with the Juicy Rainbow reversible bedding set. This 6-piece set features a reversible super-soft microfiber comforter that makes this as comfortable as it is stylish. | Bring effortless luxury into your bedroom with the Juicy Couture Cassandra reversible bedding set. This 6-piece set features a reversible super-soft microfiber comforter that makes this as comfortable as it is stylish. |
Poppy & Fritz Alex Comforter Sham Set, Twin
Alice Embroidered Comforter Set
Brooke Comforter Sham Set, Full/Queen
Brooke Comforter Sham Set, King
Watercolor stripes in ocean colors ranging from indigo to turquoise make a modern, youthful statement with a seaside flavor. Play up the nautical theme by layering in the Poppy Fritz Anchor sheet set.
Add a fresh note to your bedroom with the youthful energy of the Poppy & Fritz Alice Embroidered Comforter Set. This solid ensemble is embossed with embroidered edges that will light up any room.
A freeform painterly paisley updates bohemian styling with a contemporary flair with a fresh palette of watery cobalt blues and turquoise on a crisp white ground. The coordinate wicker lattice print on the reverse lends an additional casual note.
| | | |
| --- | --- | --- |
| | | |
| Freya Full/Queen Comforter Set | Flamingo Duvet Cover Set | Max Blue Comforter Set |
| The fully reversible comforter set features a small scaled polka dot design that is white on grey on the face and grey on white on the reverse side. Exceptionally soft microfiber makes this set super comfortable and brings you year-round warmth. | Add some pizazz to your bedroom with the lively Poppy & Fritz Flamingo Duvet Cover Set. This vibrant duvet cover set reverses to a blue and white stripe design. | The poppy and fritz max comforter set feature a bold stripe pattern perfect for any bedroom. This comforter set is constructed of premium cotton, making it super soft and durable for every day use. Machine washable for easy care. |
| | | |
| --- | --- | --- |
| | | |
| Freya Twin Comforter Set | Charlie Quilt Sham Set, Full/Queen | Kelsey Solid Full/Queen Quilt Set |
| The fully reversible comforter set features a small scaled polka dot design that is white on grey on the face and grey on white on the reverse side. Exceptionally soft microfiber makes this set super comfortable and brings you year-round warmth. | Indulge your bohemian side with this energized new take on classic quilt. Horizontal bands of mini print patterns in a fresh palette of pink, orange, lime, and blue on white set a cheerful mood and the soft cotton fabric is pre-washed for added comfort. | Incredibly soft and inviting, the Kelsey Solid Quilt Set is perfect for layering or using on it's own. |
| | |
| --- | --- |
| | |
| Bohemian Breeze Cotton Quilt Set | Sonnet 3-Piece Quilt Set |
| Bohemian breeze is an updated version of Dena's best selling breeze collection with a boho twist! Featuring hand-painted watercolor bohemian medallions mixed with geometric coordinates in soft aqua's and blues, transform your room into a serene oasis. | Inspired by what's right outside Dena's studio window the sweet sound of songbirds in a peaceful sunny garden. The sonnet collection brings a little piece of that sunny garden into your bedroom for a happy place to dream. |
| | |
| --- | --- |
| | |
| Preston Bedding Collection | Timbers Plaid Bedding Collection |
| Nothing Is More Inviting On Cold Winter Nights Than A Soft Flannel Bed Set To Snuggle Into. Eddie Bauer's Classic Windowpane Plaid In Cinder Gray And White Is A Simple And Stylish Way To Ward Off The Chill. Slip This Duvet Cover Onto Your Bed For A Quick Update To Your Fall And Winter Bedroom Décor. | A boldly scaled plaid in shades of forest green and pale khaki on white creates a warm and welcoming atmosphere as soon as you walk into the room. |
| | |
| --- | --- |
| | |
| Woodland Tartan Green Bedding Collection | Alder Plaid Bedding Collection |
| For a change of pace, add the Eddie Bauer Woodland Tartan bedding ensemble to your room. Reminiscent of your favorite weekend wear, this handsome plaid set will help you unwind after a long day as you get comfortable in its soft cotton embrace. | Classic Plaids Are A Signature Look For Eddie Bauer And This One Gets A Modern Update With Bold Scale And A Sophisticated Neutral Palette Of Charcoal Grays On White With A Warm Red Accent. The Printed Duvet Reverses To A Stag Head Foulard On A Cinder Gray Textured Background, Adding A Subtle Outdoor Reference That Is The Hallmark Of The Brand. The All Cotton Duvet And Shams Have An Extra Soft Finish For Increased Comfort And Top Stitched Edge Detailing For A Crisp, Tailored Finish. |
Lakehouse Plaid Comforter Set
Mountain Plaid Comforter Set, King
Mountain Plaid Duvet Cover Set, Full/Queen
Rugged Plaid Multi Comforter Set
Eddie Bauer's lakehouse plaid comforter set is a handsome ensemble for any bedroom. Featuring an updated take on a classic plaid pattern, this set brings rugged charm to your sleeping oasis.
Eddie Bauer Takes Inspiration From A Classic Buffalo Check To Create A Bold, Tailored Look For Your Bedroom. This Iconic Plaid In White And Black Will Bring Peaceful Dreams Of The Outdoors Inside While You Sleep In Comfort.
Eddie Bauer Rugged Plaid Comforter Set Combines Great Style With Performance. The Comforter Face Features A Navy Plaid Design With A Large Box Stitch. The Face Uses A Polyester Micro Suede Material While The Reverse Uses A Soft Finish Microfiber.
| | | |
| --- | --- | --- |
| | | |
| Coal Creek Plaid Comforter Set, Full/Queen | Navigation Plaid Comforter Sets | Shasta Lake Navy Comforter Set |
| An iconic plaid makes a bold statement in black and white with grey accents, perfect for a modern cabin in the woods or an urban retreat in the city. Textural effects in the print create the look of a weave and soften the high contrast palette. | A relaxing blend of rich red and khaki make up this classic plaid design. Quality materials and printing will maintain over time. | Give your bed a classic look with the Eddie Bauer Shasta Lake bedding ensemble. The handsome bedding features a bold plaid design and is reversible for a versatile look. |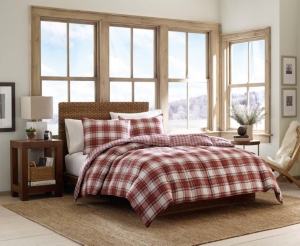 Edgewood Duvet Cover Set
Eddie Bauer Edgewood Red Duvet Set Sports An Inviting Plaid Print. The Large Plaid Face Is Complimented Nicely By The Smaller Plaid Reverse. 100% Soft Cotton Materials Are Sure To Ease You Into A Restful Night Of Sleep. Add A New Eddie Bauer Sheet Set To Complete The Look.
| | |
| --- | --- |
| | |
| Yakima Valley Quilt Set | Troutdale Quilt Set |
| A Bold, Graphic Blanket Stripe In Warm Red And Espresso With Neutral Khaki And Oyster Shades, The Yakima Valley All Cotton Quilt Set Makes A Striking Statement In Any Bedroom. The Hexagonal Quilt Stitch Adds Textural Interest To The Ensemble Which Reverses To An Allover Chevron Pattern In The Neutral Tones. | Perfect for your cabin retreat, the Eddie Bauer troutdale quilt set features a trout stitch design with a khaki plaid reverse. The all-cotton set is pre-washed for extra softness and its lightweight comfort offers year-round versatility. |
| | | |
| --- | --- | --- |
| | | |
| Lakehouse Plaid 3-Piece Quilt Set | Swiftwater Quilt Set | North Cove Navy Quilt Set |
| Upgrade your bedding with the Eddie Bauer Lakehouse Plaid Quilt Collection. A modern check that is as timeless as is it handsome, the quilt is available in blue or grey on a white ground. The quilt reverses to a solid with contrasting stitch in white for a fully versatile look. | Asymmetric pattern blocks of tonal stripes and textures create an updated modern look with a sportswear pedigree. A monochromatic palette of toned greys softens the graphic components of the design, creating an understated and serene atmosphere. | Drift off to sleep with the cozy, pre-washed cotton quilt set from Eddie Bauer. The North Cove quilt features a navy geometric print, reversing to a solid navy for a change of pace. |
| | | |
| --- | --- | --- |
| | | |
| Fairview Quilt Sets | Coal Creek Plaid White Reversible 3-Piece Full/Queen Quilt Set | Eastmont Quilt Sets |
| Eddie Bauer Fairview Quilt Set Features A Gray Stripe Design. Gray And Ivory Colors Combine Beautifully In This New Eddie Bauer Quilt Set. Two Quilted Shams Matching The Quilt Are Included With The Set. Quilt Features A Plaid Bound Edge And Plaid Reverse. | An iconic plaid makes a bold statement in black and white with grey accents. Perfect for a modern cabin in the woods or an urban retreat in the city, textural effects create the look of a weave and soften the high contrast palette. The quilt reverses to a handsome shirting stripe in grey and white. | Eddie Bauer Eastmont Quilt Set Features A Navy Plaid Design. Navy, Blue, And Ivory Colors Combine Effortlessly Within The Quilt Design. Two Quilted Shams Matching The Quilt Are Included With The Set. Quilt Features A Striped Bound Edge And Stripe Reverse. This Quilt Is Ultra Soft And Machine Washable. |
| | | |
| --- | --- | --- |
| | | |
| Lana Comforter Set | Unicorn Reversible Quilt Set | Brooke Reversible Comforter Set |
| Make any child's bed look more lovely with this Lana comforter set, featuring a cozy comforter with embossed hearts and a soft sheet set printed with beautiful blooms. The inspirational embroidered decorative pillow puts the finishing touch on this stylish ensemble. | Bring a magical look and feel to any child's bedtime with the whimsical unicorns and hearts featured on this cozy quilt set. | Cheer up any child's space with this fully reversible Brooke comforter set, featuring a soft sheet set printed with pretty pink bows, a heart-shaped decorative pillow and a cozy comforter and sham with classic hotel borders. |
| | |
| --- | --- |
| | |
| Shark Reversible Quilt Set Bedding | Norah Comforter Set |
| Bring new life to any child's bedroom with the fun sharks and waves featured on this cool reversible quilt set. | Give any child's bedroom a magical makeover with the unicorn-printed sheets and fun ruffled comforter included in this Norah bedding set. |
Go to:
Add American-Luxury to your favorites