Luxury Blankets, Quilts and Throws
Luxury bedding, sheet sets and blankets. Go directly to: Coyuchi Organic Coverlets, Blankets and Throws, Fabulous Furs, Throws, Luxury Blankets, Coverlets, Quilts and Shams
Throws add a comforting accent to any room.
| | | |
| --- | --- | --- |
| | | |
| Pine Cone Hill Pompom Throw Blanket | Designers Guild Vincennes Alchemilla Throw | Designers Guild Santafiora Throws |
| Delectably soft and light, this woolen-blend throw comes in lovely pale hues. 50" x 70". Acrylic/wool/nylon. | A linear throw with bold stripes of grey, white and black, brought to life with pops of alchemilla. This textural waffle throw is woven in a luxurious lambs wool-blend and is finished with a white fringed edge. | Wrap yourself in these luxurious brushed mohair-blend throws with wide bands of color in rich shades. Throws are finished with a fringed edge. |
Coyuchi Pebbled Handstitched Organic Quilt
Coyuchi Pebbled Handstitched Organic Euro Sham
Coyuchi Color Block Organic Quilt
Coyuchi Color Block Organic Euro Sham
Coyuchi Twilight Organic Quilt
Coyuchi Twilight Organic Sham
Crafted of soft, breathable organic cotton inside and out, this quilt is ideal for year-round use – perfect on its own in the warm months and easy to layer with a blanket or duvet for wintry nights. Matching sham reverses to solid cotton and closes with coconut shell buttons. Both are finished with a simple, straight edge.
Large, rectangular panels of organic cotton cambric are sewn together and hand-quilted. With a relaxed, soft and comforting feel, this lightweight quilt is perfect for layering year round or using on its own in warmer weather.
Crafted from organic cotton sateen, Coyuchi's quilt's gathered starbursts are plumped with organic cotton batting, so it's cloud soft, comfy and pure, inside and out. Lofty yet warm, it can layer over a blanket or replace a duvet, offering year-round versatility. The quilt and matching sham reverse to a diamond stitch and are finished with a simple knife-edge.
Coyuchi Miramar Organic Waffle Blanket
Coyuchi Miramar Organic Waffle Euro Sham
Coyuchi Mojave Linen Blanket
Coyuchi Pismo Organic Blanket
Coyuchi Pismo Organic Euro Sham
Miramar's stonewashed waffle weave is spongy and incredibly soft. Loomed from dyed and undyed organic cotton, it lends textural, sophisticated color to the bed. The tiny pockets of the waffle weave trap air allowing lightweight warmth making it an excellent for year-round use alone or layered with a duvet.
Inspired by a vintage Peruvian blanket, the pattern of yarn-dyed stripes moves between cool, warm, and neutral colors, with gray warp fibers that add nuanced tonality. Garment washed for a lived in feel and a relaxed look, linen is best when it's been aged with multiple seasons in your home.
Woven of organic cotton fibers, the fabric is stone-washed for softness and a more delicate texture. An allover pattern of triangles and polygons comes together in a light- to mid-weight blanket that's ideal for layering or using solo in warmer weather.
| | | |
| --- | --- | --- |
| | | |
| Coyuchi Honeycomb Organic Cotton Blankets | Coyuchi Topanga Organic Matelasse Blanket | Coyuchi Organic Cotton Cozy Blanket |
| A natural for layering and neatly bound in dyed-to-match percale, Coyuchi's organic cotton Honeycomb blankets are rendered in a chunky jacquard weave for allover texture and just the right amount of weighty warmth. | Matelassé woven from pure organic cotton. Drapey and lightweight with slim stripes on one side and ombré ripples of color on the other, so you can change the look of the bed with a quick flip. Secured by a nearly invisible stay stitch with eyelash fringe edges all four sides. Yarn dyed and garment washed for soft color. | Layer on plush comfort with Coyuchi's textural washed cotton-chenille blanket |
| | |
| --- | --- |
| | |
| Coyuchi Organic Cotton Cozy Throw | Coyuchi Organic Cotton Comforters |
| Coyuchi's plush chenille-cotton throw adds an extra layer of warmth-and a pop of color-to the bed or sofa | Crafted entirely in organic cotton, this comforter by Coyuchi is a lightweight down alternative that's breathable and hypoallergenic. The box-stitched design keeps the fill evenly distributed. |
| | | |
| --- | --- | --- |
| | | |
| Ivory Faux-Mink Throw | Fabulous Furs Couture Collection Throw | Fabulous Furs Limited Edition Throw |
| Throw made of acrylic "fur." Lined with velvet. Machine wash; fluff dry. 60" x 75". Made in the USA of imported materials. | Keep for yourself or give as a gift. This faux-fur throw will keep your couch or bed looking, and feeling, fabulous. Couture Collection Throw. | Keep for yourself or give as a gift. This faux-fur throw will keep your couch or bed looking, and feeling, fabulous. |
| | | |
| --- | --- | --- |
| | | |
| Matouk Costa Collection | Matouk Jasper Collection | Matouk Pearl Coverlet, Shams |
| Gauzy, stone-washed matelassé cotton completes the Costa Collection by Matouk for a gorgeous addition to your bedroom decor. | This hand-crafted textured matelassé bedding collection in lightweight cotton lends a rustic yet luxurious feel to classic bedding, perfect for summer weather or layered with coordinating pieces in the winter. | Featuring an all-over stitched pearl design, this luxurious Matouk collection is crafted in the finest quality matelassé made from soft Egyptian cotton. |
| | | |
| --- | --- | --- |
| | | |
| Matouk Castella Coverlet and Sham Collection | Matouk Alba Quilt Collection | Matouk Gemma Quilt Collection |
| Lightweight yet cozy, this luxurious cotton bedding collection from Matouk features a woven chevron design | With its delicate, small-scale pattern, the Alba collection adds textural appeal to any bed. Quilted on nocturne sateen, Alba's allover pattern is subtle, yet smart. Chic accent shams of cotton sateen are designed with an elegant flanged finish. | Featuring a simple diamond pattern finished with self-piping, the Gemma quilt from Matouk is a quintessential bedding classic for those who prefer crisp cotton percale over the sheen of sateen. |
| | | |
| --- | --- | --- |
| | | |
| Matouk Elliot Coverlet | Matouk Nadia Bedding Collection | Matouk Jasper Coverlets and Shams |
| A contemporary, luxurious statement in solid hues with a simple flange, the Matouk Elliot coverlet features a soft, pique texture. | Simple and elegant, Matouk's Nadia collection features soft cotton matelasse with a subtle iridescent sheen, woven to create a contrast-stitch effect in diamonds. Pairs perfectly with fresh pillows and shams. | This hand-crafted textured matelassé bedding collection in lightweight cotton lends a rustic yet luxurious feel to classic bedding, perfect for summer weather or layered with coordinating pieces in the winter. |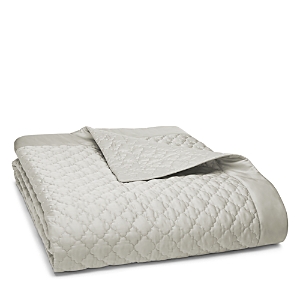 Matouk Ava Quilt Collection
Crafted in ultra-soft 600-thread count cotton sateen, this luxurious lofty Matouk bedding collection boasts quatrefoil stitching. Layer the quilt and shams with solid or printed sheets for a unique look with global flair
| | | |
| --- | --- | --- |
| | | |
| Matouk Modal Blanket | Matouk Sintra Blanket | Matouk Chatham Blanket |
| Ultra-soft and cozy in a blend of modal and Supima cotton, this casual blanket by Matouk offers a casual look with an indulgent feel. | Crafted from brushed Egyptian cotton, this ultra-soft and luxurious blanket by Matouk is warm and cozy on its own or layered beneath a duvet. | Crafted in soft, cozy cotton, this luxurious waffle-weave blanket by Matouk layers perfectly with a duvet for extra warmth. |
| | | |
| --- | --- | --- |
| | | |
| Peacock Alley Newport Blanket | Peacock Alley Alta Blanket | Peacock Alley Riviera Blanket |
| The all-new Newport is a 100% cotton textural woven blanket with a solid border for a tailored look. This lightweight blanket is great for warm climates or for those who sleep warm year round regardless of climate. | Alta is a reversible blanket with a crafted whip-stitch, and is luxuriously soft with a combed finish. Having this blanket is like having two looks in one. Choose from our White blanket which reverses to a Linen-color or our Pearl Blanket that reverses to a Flint color. | Developed with maximum comfort in mind, the Riviera blanket infuses old world charm with classic European hospitality. |
Go to:
Add American-Luxury to your favorites