Luxury Sheets and Sheet Sets
Luxury bedding and sheet sets. Go directly to: Matouk Sheets, Pine Cone Hill, Luxury Sheet Sets, AQ Textiles Sheet Sets
| | | |
| --- | --- | --- |
| | | |
| Matouk Marcus Collection 600TC Solid Percale Sheet Set | Matouk 600TC Lorelei Sheets | Matouk Toulon Sheet Set |
| Refresh your linens pattern with our Marcus Collection sheet sets. Solid percale sheets are woven of silky-smooth, long-staple cotton and finished with double-pleat percale trim. 600-thread-count. | All of 600-thread-count Egyptian cotton woven in Italy. White percale Lorelei shams are hand appliquéd with sateen scallops; optional 1- or 3-initial monogram will match trim color. 600-thread-count white percale Lorelei sheets are also hand appliquéd with sateen scallops; solid white fitted sheet | 520-thread-count white cotton percale sheets with trim in your choice of colors. Set includes flat and fitted sheets and two pillowcases. Machine wash. |
| | | |
| --- | --- | --- |
| | | |
| Matouk No-Iron 200TC Sheet Set | Matouk 600TC Lowell Sheets | Matouk Charleston 350TC Sheets |
| White, easy-care, no-iron sheet set embellished with two lines of embroidery in your choice of colors. 200-thread-count percale is a 50/50 blend of Egyptian cotton and polyester in a tight, uniform weave for a smooth, crisp feel and matte look. Set includes flat sheet, 17"D fitted sheet, and two standard pillowcases. Machine wash. Made in the USA of fabric from Italy. | Lowell sheet woven in Italy of 600-thread-count, Egyptian cotton percale. Percale has a tight, uniform weave that results in a smooth, crisp feel and matte look. 1" tape detail in your choice of colors. Machine wash. | Sheet made of 350-thread-count cotton percale. Machine wash. Made in the USA of imported materials. |
| | | |
| --- | --- | --- |
| | | |
| Matouk Liana 520TC Sheets | Matouk King 350TC Marlowe Sheet Set | Lulu Dk for Matouk Poppy Azure Sheets |
| 520-thread-count cotton percale sheets. Three-layer honeycomb-band embroidery. Machine wash. Made in the USA of imported fabric. | 350-thread-count cotton percale has a tight, uniform weave that results in a smooth, crisp feel and matte look. Flat sheet and pillowcases are accented with tape detail in your choice of colors. Machine wash. Made in the USA of Portuguese fabric. | Featuring a whimsical, abstract dotted print in cool blue tones, these luxurious sheets by Lulu DK for Matouk are crafted in 500-thread count cotton |
| | | |
| --- | --- | --- |
| | | |
| Matouk Classic Chain Sheets | Matouk Gordian Knot Percale Sheets | Matouk Meridian Sheets |
| Elegant, Greek-inspired chain embroidery adorns the cuff of the flat sheet and pillowcases in this luxurious cotton collection by Matouk. | Clean, classic bedding featuring graceful embroidered knots on crisp, white 500-thread count Egyptian cotton percale. Duvet covers have embroidery running head to foot for a simple yet striking touch. | Classic and crisp white cotton is accented with three rows of vibrant, contrasting ribbon on the cuff of the flat sheet and pillowcases in this collection. |
| | | |
| --- | --- | --- |
| | | |
| Matouk Butterfield Sheets | Matouk Oberlin Sheets | Matouk Nocturne Sheets |
| Crafted in crisp cotton percale, the Butterfield collection sheets feature sweet scalloped trim with tailored contrast satin stitching on the cuff of the flat sheet and pillowcases. | Finished with a contrasting cuff, these crisp 350-thread count cotton percale sheets by Matouk are a quintessential bedding must-have. | Crafted from fine Egyptian cotton, Matouk's Nocturne sheets complete an opulent or traditional space, with its classic colors and luminous sheen, accented with a tonal ribbon border. |
| | | |
| --- | --- | --- |
| | | |
| Matouk Ansonia Percale Sheets and Collection | Matouk Essex Bedding | Matouk Mirasol Sheets |
| Understated and classic, the Ansonia Collection features white percale made from 500-thread count Egyptian cotton and finished with two sleek rows of satin stitching. | Crafted in crisp 350-thread count cotton, these luxurious sheets from Matouk feature an elegant double satin stitch border in tonal hues | The Mirasol collection by Matouk is inspired by the unique arch trim of shop awnings on Worth Avenue in Palm Beach. A contrasting double ribbon appliqué border trims each flat sheet and pillowcase crafted in crisp white, luxurious Egyptian cotton percale |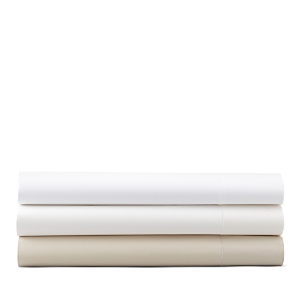 Matouk Luca Percale Sheets
Elegant and super-soft percale sheets with a delicate hemstitch crafted from 500-thread count Egyptian cotton woven in Italy
Luxury sheets next to your skin for a peaceful nights rest.
| | | |
| --- | --- | --- |
| | | |
| Trina Turk Trellis Block Embroidered Sheet Sets | AERIN 500TC Sheets with Scallop Trim | Donna Karan Home Sheet Collection |
| Crafted from 230-thread count cotton sateen, the Trina Turk Trellis Block sheet sets add subtle intrigue to your bedding ensemble with a white ground accented by vibrant geometric embroidery | 500-thread-count white cotton percale with appliquéd scallop trim. Machine wash. Made in Italy. | Add a layer of luxury to your bed with the Donna Karan Home sheet collection. Made from 510-thread count Supima cotton sateen, these soft sheets will be a fashionable and stylish addition to your bed. |
| | | |
| --- | --- | --- |
| | | |
| Vera Wang Simplicity Sheets | Anita Embroidered Sheet Set | Barbara Barry Modern Dot Sheet Set |
| Classically elegant sheets by Vera Wang in soft, 300-thread count cotton sateen in an array of subtle hues. Flat sheet and pillowcases feature a triple pleated hem and single row of hemstitch detail. | Embroidered cotton. 200 thread count | A pattern of woven dots shimmers across these sumptuously soft 600-thread count cotton sateen sheets by Barbara Barry. |
| | |
| --- | --- |
| | |
| Coyuchi Linen Sheet Set | Coyuchi Organic Cotton Sateen Sheet Set |
| Crafted from European linen that's garment-washed for softness, the coordinating sheets lend subtle texture to this eco-friendly bedding collection. | Lustrous on one side, slightly matte on the other, Coyuchi's organic cotton sateen is loomed to a 300-thread count in a buttery sateen weave that resists wrinkling. An elegant 7 attached hem finishes the flat sheet and pillowcases for timeless appeal. |
| | | |
| --- | --- | --- |
| | | |
| Brookstone CoolMax 350 Thread Count Sheet Sets | PB ORGANIC 400-THREAD-COUNT SHEET SET | MORGAN BANDED 400-THREAD-COUNT SHEET SET |
| Providing a clean, classic look updated with modern design, these Brookstone 350 thread count sheet sets feature CoolMax moisture-wicking material to help keep you cool, dry and comfortable as you sleep | Our PB Organic Bedding is made of 100% organic cotton that's grown in the USA and then woven to a supremely soft 400-thread-count percale. | Our 400-thread-count Morgan sheet set has an exceptionally crisp, smooth hand. A thick band of piping lets it coordinate perfectly with our Morgan Duvet Cover. |
| | | |
| --- | --- | --- |
| | | |
| TENCEL® SHEET SET | 700-THREAD-COUNT SHEET SET | 500-THREAD-COUNT COTTON SHEET SET |
| A luxuriously soft satin weave makes this sheeting a smart choice for a comfy and stylish bed. In a selection of solid shades, it lets you update the look of the bed instantly. | Sateen woven of cotton to an unrivaled 700-thread count, our sheet set brings unparalleled softness and comfort to the bed. A double pin-tuck hem borders the pillowcases and flat sheet. | Woven from long-fiber cotton, which produces a thin, strong thread, these sheets have a lasting smoothness and light touch that resists pilling. We finished them with a stitching detail for a truly luxurious look. |
| | | |
| --- | --- | --- |
| | | |
| Tommy Hilfiger Novelty Print Sheet Sets | Tommy Hilfiger Solid Core Sheet Sets | Tommy Hilfiger Novelty Print Sheet Sets |
| Layer on nautical style with the Tommy Hilfiger Novelty Print sheet sets. Choose from prints that evoke the charm of a seaside retreat with nautical themes and preppy patterns. | Signature style. Tommy Hilfiger's Solid Core sheet sets are crafted with cotton percale fabric and come in your choice of color to pair perfectly with your bedding ensemble. | Sleep patterns! Rest comfortably on a Tommy Hilfiger novelty print sheet set, available in an assortment of laid-back & bold styles |
Selecting Sheets
No matter how beautiful, if the sheets next to your skin don't comfort you, you won't be happy. Here are a few terms to help guide your choice:
Sateen finish. Depending on the brand, it may wrinkle, but this weaving technique gives cotton a smooth, silky, soft feel almost like satin.
Percale. Usually 100% cotton, it has a crisp feel.
Thread count. The number of threads horizontal and vertical in 1 square inch of fabric. The higher the count, the less space between so it feels softer, but the material is critical.
Types of cotton. Egyptian, grown in the Nile River Valley, is best because of the long, strong fibers. Pima or supima is from the American Southwest, has fibers almost as long so you may not be able to tell the difference.
Color. Sheets come in a wider choice of colors than ever before, but if you share a bed, be sure you discuss color. Many prefer white and cream because of the crisp, clean look. A little embroidery on the top sheet can add an extra touch of luxury.
Organic cotton. Cotton grown without the use of chemical fertilizers and pesticides.
Go to:
Add American-Luxury to your favorites