Luxury Bedding
Luxury bedding that lets you choose the look and feel you want. Complete bedding collections for the luxurious, custom bedroom of your dreams. Duvet covers, pillow shams, bed skirts, sheets, cases and coverlets for a beautifully coordinated design statement. All in the best fabrics available, of course! Go directly to: Peacock Alley, Matouk Bedding, Matouk Schumacher, DKNY Bedding
When Mary Ella Gabler founded Peacock Alley in 1973, she was one of the first in the industry to envision the bedroom as not just a place for sleeping, but also a peaceful, multi-purpose space for living and relaxing. With this in mind, each set of Peacock Alley bedding exudes a sense of calm and a classic personality, making the brand one of the most respected names in luxury linens for over 40 years
| | | |
| --- | --- | --- |
| | | |
| Peacock Alley Kate Duvet, Shams | Peacock Alley Chloe Duvet, Shams | Peacock Alley Cadence Bedding Collection |
| Our Kate Sateen Duvet Cover and shams are understated in their beauty. A three-row detail of refined lace is inset into cotton sateen on the top of the duvet cover. Pure and simple luxury. | You can almost smell the spring air with Chloe's enchanting wildflower print design. The 100% long staple cotton percale duvet cover has an overlock stitch detail in platinum thread. | The Cadence collection is our classic take on vintage. We love the lattice lace detail of Cadence the spotlight of this cotton sateen duvet that makes it so collectible. It's vintage in the making! |
| | | |
| --- | --- | --- |
| | | |
| Peacock Alley Alena Duvet, Shams | Peacock Alley Avalon Bedding Collection | Peacock Alley Mandalay Cuff Bedding Collection |
| Alena has a French medallion printed design with overlock embroidery detail. Duvet has a 1.5" flange on 3 sides with overlock embroidery detail on the edge of the flange with a hidden button closure on the back of the duvet | Avalon is part of the livable luxury lifestyle constructed in a garment-washed cotton/linen blend fabric with an unstructured floral design | Introduce new elements of color and texture into your bedroom space with the Mandalay Cuff collection by Peacock Alley. Crafted from smooth long-staple cotton percale and accented with pure linen, each offering proves to be both versatile and beautiful. |
| | | |
| --- | --- | --- |
| | | |
| Avery Bedding Collection | La Jolla Bedding Collection | Prescott Bedding Collection |
| Inspired by an original watercolor painting, Peacock Ally's Avery bedding collection soothes your senses (and your surroundings) with botanical elegance. | La Jolla provides that livable luxury aesthetic to a calming bedroom. Get ready to hit that snooze button because you won't want to get out of this cozy bed. The garment-washed, 100% cotton gives La Jolla its extra softness. | Clean lines and neutral hues define the Prescott Bedding Collection by Peacock Alley. Expertly crafted in Italy, mélange yarn provides a luminous sheen and silky finish. |
| | | |
| --- | --- | --- |
| | | |
| Bella Bedding Collection | Harper Bedding Collection | Paulo Bedding Collection |
| Hints of icy blue shine through the silvery damask weave of this traditionally elegant Bella bedding collection from Peacock Alley. Deconstructed classic damask design | A serene cotton seersucker, the Peacock Alley Harper bedding collection provides plenty of texture to a crisp white, monochromatic look. | The ideal combination of comfort and classic, the Paulo bedding collection offers an extra-cozy feel. |
| | | |
| --- | --- | --- |
| | | |
| Peacock Alley Newport Blanket | Peacock Alley Riviera Blanket | Peacock Alley Alta Blanket |
| The all-new Newport is a 100% cotton textural woven blanket with a solid border for a tailored look. This lightweight blanket is great for warm climates or for those who sleep warm year round regardless of climate. | Developed with maximum comfort in mind, the Riviera blanket infuses old world charm with classic European hospitality. | Alta is a reversible blanket with a crafted whip-stitch, and is luxuriously soft with a combed finish. Having this blanket is like having two looks in one. Choose from our White blanket which reverses to a Linen-color or our Pearl Blanket that reverses to a Flint color. |
| | | |
| --- | --- | --- |
| | | |
| Schumacher Pomegranate Bedding Collection | Schumacher Pomegranate Bedding Collection | Schumacher Pomegranate Bedding Collection |
| A vibrant expression of artistry and craftsmanship, this exquisite Pomegranate collection of Matouk bedding features an 18th-century botanical print from Schumacher's archive. 500-thread count | A vibrant expression of artistry and craftsmanship, this exquisite Pomegranate collection of Matouk bedding features an 18th-century botanical print from Schumacher's archive. | A vibrant expression of artistry and craftsmanship, this exquisite Pomegranate collection of Matouk bedding features an 18th-century botanical print from Schumacher's archive. 500-thread count |
| | | |
| --- | --- | --- |
| | | |
| Schumacher Cora Bedding Collection | Schumacher Serengeti Bedding | Schumacher Prado Bedding Collection |
| An organic Schumacher print is the inspiration behind our unique Cora coverlet and shams. Woven in Italy with a soft, lightweight drape, Cora is offered in three solid colors, emphasizing its topographic appearance, or in three two-tone styles that bring out a bolder animal pattern. | An abstract Schumacher print is expressed in luxe Italian jacquard for Matouk's perfectly tailored Serengeti bedding collection. | Prado creatively combines a chic Schumacher design and a classic Matouk construction, with breathtaking results. The finished product has a crisp, tailored look with a delicious pop of colorful decoration. |
Matouk Schumacher Bedding Collection
A versatile pattern that works with most any decorating scheme, Matouk's Burnett Collection features painterly brushed strokes printed on Luca percale. The subtle striped effect extends to a delicate piped edge. Based on one of Schumacher's most versatile styles. 500-thread count. 100% Egyptian cotton
| | | |
| --- | --- | --- |
| | | |
| Matouk Matteo Bedding Collection | Matouk Gordian Knot Collection | Allegro Collection |
| Fun and bright, the Matteo collection from Matouk layers beautifully while adding a lightness to any bedroom. Perfect for that spare room that needs a makeover, this seersucker is never out-of-style. | Clean, classic bedding featuring graceful embroidered knots on crisp, white 500-thread count Egyptian cotton percale. Duvet covers have embroidery running head to foot for a simple yet striking touch. | Woven from the finest Egyptian cotton, this bedding collection is adorned with three elegantly crafted rows of appliqué ribbon, an accent that perfectly contrasts with the crisp white percale ground. The duvet is framed with the triple appliqué and a single row of ribbon along the hem |
| | | |
| --- | --- | --- |
| | | |
| Matouk Aziza Bedding Collection | Matouk Thea Bedding Collection | Matouk Mirasol Collection |
| Time-honored Moroccan tiles inspired the zig-zag appliqué that defines Matouk's Aziza collection. True to the meaning of Aziza, "beloved", this bedding--made from 600-thread count Egyptian cotton percale--will be a cherished addition to any master bedroom. | Stonewashed to ensure its heavenly feel, Matouk's Thea collection of linens add a comfortable, casual look to any bedroom. | The Mirasol collection by Matouk is inspired by the unique arch trim of shop awnings on Worth Avenue in Palm Beach. A contrasting double ribbon appliqué border trims the duvet, shams and sheets crafted in crisp white, luxurious Egyptian cotton percale |
| | | |
| --- | --- | --- |
| | | |
| Matouk Marlowe Collection | Matouk Oberlin Collection | Matouk Lowell Collection |
| A modern take on crisp percale bedding, this tailored collection by Matouk is woven in an easy-care mix of cotton and polyester and finished with a double contrasting border in a variety of hues. The sophisticated design is a quintessential bedding must-have. | Accented with contrast borders and trim, the cotton percale Oberlin Collection from Matouk adds a tailored-meets-timeless mood to your bedroom décor. | A classic bedding collection in crisp, white 600-thread count Egyptian cotton percale with a tape border in muted hues. A coordinating coverlet features an all over pearl matelassé design. |
| | | |
| --- | --- | --- |
| | | |
| Matouk Jackson Bedding Collection | Matouk Greyson Collection | Matouk Luca Collection |
| A classic double stripe appliqué brings elegant style to this inviting bedding from Matouk. | Crafted in smooth 300-thread count Egyptian cotton sateen, Matouk's luxurious Greyson collection features subtle tonal striations in the fabric for a contemporary look. The mélange of tones add interest while allowing the bedding to easily mix and match with other collections. | Finely woven of 500-thread count Egyptian cotton percale for a smooth touch and adorned with a delicate hemstitch detail, Matouk's luxurious Luca bedding truly embodies incomparable sophistication |
| | |
| --- | --- |
| | |
| Ansonia Collection | Ansonia Collection |
| Understated and classic, the Ansonia Collection features white percale made from 500-thread count Egyptian cotton and finished with two sleek rows of satin stitching. | Understated and classic, the Ansonia Collection features white percale made from 500-thread count Egyptian cotton and finished with two sleek rows of satin stitching. |
| | |
| --- | --- |
| | |
| Matouk Luca Satin Stitch Bedding Collection | Nadia Bedding Collection |
| Matouk's Luca collection is elegant in its simplicity and luxuriously soft, crafted from 500-thread count Egyptian cotton percale. | Simple and elegant, Matouk's Nadia collection features soft cotton matelassé with a subtle iridescent sheen, woven to create a contrast-stitch effect in diamonds. Pairs perfectly with fresh pillows and shams. |
| | | |
| --- | --- | --- |
| | | |
| Matouk Classic Chain Collection | Matouk Martinique Collection | Matouk Essex Bedding Collection |
| Elegant, Greek-inspired chain embroidery adorns the duvet, shams and sheets in this luxurious cotton collection by Matouk. | An oversized floral pattern completes this artfully-crafted bedding ensemble from Matouk. The Martinique Collection highlights Egyptian cotton voile, woven and printed in Italy, that leaves your room feeling breezy and utterly amazing. | Crafted in crisp 350-thread count cotton, this luxurious bedding collection from Matouk features an elegant double satin stitch border in tonal hues |
| | | |
| --- | --- | --- |
| | | |
| Sierra Hemstitch Bedding Collection | Matouk Cosmo Bedding Collection | Matouk Meridian Collection |
| Crafted in crisp 350-thread count cotton percale with hemstitch detail, this luxurious Matouk bedding collection evokes classic elegance. | The Cosmo bedding collection features two-toned embroidery and an exuberant floral pattern sketched by Matouk's creative director Cindy | Classic and crisp white cotton is accented with three rows of vibrant, contrasting ribbon at the border of the duvet, shams and sheets in this collection. |
| | | |
| --- | --- | --- |
| | | |
| Matouk Liana Collection | Matouk Butterfield Collection | Matouk Atoll Collection |
| Crafted in luxurious, 520-thread count cotton percale, this bedding collection by Matouk features geometric embroidery framing the duvet and shams. | Sweet scalloped trim with tailored contrast satin stitching on crisp white percale imbues the Butterfield collection with femininity and charm. | Inspired by the feathery coral found beneath the Pacific Ocean waters, Matouk's Atoll collection is rendered in smooth 520-thread count cotton percale and finished with elegant embroidery and satin stitching. |
| | | |
| --- | --- | --- |
| | | |
| Matouk Virginia Bedding Collection | Matouk Soraya Collection | Matouk India Bedding Collection |
| Matouk's Virginia Bedding Collection will put all of your senses in a dream-like state with 1000-thread count Egyptian cotton percale and hand-cut Swiss lace details—an heirloom-worthy collection that all will be vying for. | Matouk's Soraya Collection is a timeless statement of bedding couture, utilizing the finest silver and gold embroidery within intricate scalloped borders. This refined bedding collection is constructed with 600-thread count Egyptian cotton, making the ultimate statement of opulence. | Crafted in luxurious 350-thread count cotton percale, two parallel lines of embroidery in complementary tones run along a scalloped flange, giving the duvet cover and shams of the Matouk India bedding collection its playful elegance. |
| | | |
| --- | --- | --- |
| | | |
| Pearl Quilted Collection | River Bedding Collection | Gatsby Collection |
| Featuring an all-over stitched pearl design, this luxurious Matouk collection is crafted in the finest quality matelassé made from soft Egyptian cotton. | Crisp Egyptian cotton percale is elevated with contrasting double-tape borders and a subtle scalloped edge for the elite and exclusive River bedding collection by Matouk. | Matouk's Gatsby Collection is made of ultra-luxe, 1000-thread count Egyptian cotton percale that feels surreal and soft against the skin. With a handsome, streamlined look and exquisite hand, it's no wonder sleeping in them is beyond dreamy. |
| | | |
| --- | --- | --- |
| | | |
| Matouk Grace Bedding Collection | Talita Bedding Collection | Matouk Carolina Bedding Collection |
| A delicate, double Swiss lace border accents the duvet cover and shams of the Matouk Grace collection, crafted in luxurious Giza Egyptian cotton. Paired with sumptuous 615-thread count Talita sheets, the ensemble lends a soft, feminine touch to your bedroom décor | Crafted from rare, luxurious Egyptian Giza cotton sateen and finished with a classic satin stitch, Matouk's Talita bedding collection is lightweight, breathable, and the epitome of sublime simplicity. | Crafted in sumptuous 615-thread count Giza Egyptian cotton sateen, the incredibly luxurious Matouk Carolina bedding collection features a contrasting border and a scallop appliqué frame. The design adds a playful feel to an elegant, classic collection. |
| | |
| --- | --- |
| | |
| Matouk Margot Bedding Collection | Matouk Tangier Collection |
| A dappled leaves print in soft, pastel hues adorn the Margot bedding collection by Matouk. Crafted in crisp, luxurious 500-thread count cotton percale, the duvet cover and shams are finished with a trimmed scallop edge. | The Tangier Collection by Matouk reveals a new embroidery along with classic European detailing for a fresh and modern update to your bedroom decor. |
| | |
| --- | --- |
| | |
| Panama Bedding Collection | Nocturne Collection |
| Crisp white cotton bedding adopts a modern twist in the Panama collection by Matouk, featuring alternating bands of seersucker and basketweave across the duvet cover and shams. | Crafted from fine Egyptian cotton, Nocturne bedding completes an opulent or traditional space, with its 600-thread count sheets in classic colors with a luminous sheen and tonal ribbon border. |
| | | |
| --- | --- | --- |
| | | |
| Step Up Comforter Mini Set | PURE Fringe Stripe Duvet Cover Sets | Pure Clipped Squared Bedding Collection |
| Step up your cozy game with the DKNY Step Up Comforter Set. This zig zag cut jacquard fringe design in a white and gray pattern for ultimate plush comfort and a great night's sleep. This comforter set includes one comforter and two coordinating shams. | Add a touch of texture and contemporary style to any bedroom with the sophisticated jacquard stripes and fringe trim of the PURE duvet cover sets from DKNY. | DKNY dresses your bedroom in relaxed softness with the unique striped clipped jacquard of its Pure Clipped Squared Bedding Collection. A blend of horizontal and vertical gray and white stripes clash to bring forth style and dimension to your space while eyelash detail adds fluttering texture to the collection. |
| | | |
| --- | --- | --- |
| | | |
| Pure Woven Stripe Bedding Collection | Chenille Stripe Bedding Collection | DKNY PURE Crinkle Bedding Collection |
| Bring essential comfort and simplicity to your bedroom with DKNY Pure's Woven Stripe Collection. Sleek lines of black stitching add detail and texture to the pieces, which reverse to crisp, cool percale. | A horizontal white chenille stripe across the soft grey ground of the comforter gives a crisp presentation to the DKNY Chenille Stripe modern bedding collection, rendered in soft cotton twill and percale. The coordinating shams tie the ensemble together with their opposite vertical stripes. | Add a layer of texture to your bed with the DKNY PURE Crinkle bedding collection. This light and airy 100% woven cotton duvet is perfect for those who desire a clean modern look. The crinkle texture looks good made up or undone, adding a refreshing detail to your bed. |
DKNY PURE Cotton Marled Stripe Duvet Cover Sets
Dkny Avenue Stripe Comforter Mini Set
Dkny Avenue Stripe Duvet Set
DKNY PURE Stripe Bedding Collection
Refresh your space with the stylish space-dyed stripes and soothing tones of these PURE cotton duvet cover sets from DNY.
Made of 100% cotton and ready to be snuggled up in, this comforter set brings ultimate coziness to your bedroom. The olive-green color is an updated neutral base for styling your bed with natural colored throws and decorative pillows. The striped waffle surface gives this bedding a relaxed look.
Transform your bedroom into a relaxing retreat with the DKNY PURE Stripe bedding collection. Embellished with subtle stripes in soft, soothing shades, the alluring collection brings a cool, contemporary look to any room's decor.
| | | |
| --- | --- | --- |
| | | |
| PURE Texture Collection | Pure Flannel Bedding Collection | Pure Voile Bedding Collection |
| Comfortably constructed in a cotton slub fabric the DKNY Pure Texture Collection is woven with a heathered textural detail. Available in grey, blush and white, the relaxed duvet puts comfort first and presents a clean minimal design. | A combination of classic construction and modern style, DKNY's Pure Flannel Bedding Collection features the ultra-soft feel of brushed cotton flannel reversed with the smooth, crisp feel of cool percale. | Radiate style and comfort with the DKNY Pure Voile Bedding Collection. Ultra-soft gray crinkle voile is backed with crisp percale for a comfortable night's sleep. |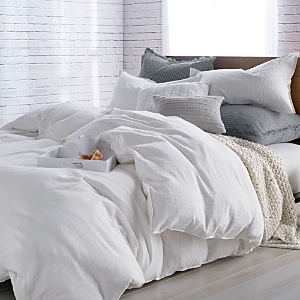 PURE Comfy Bedding Collection
Envelop yourself in sublime comfort with the irresistibly soft and plush DKNY PURE Comfy bedding collection. The gauzy cotton bedding boasts subtle stripes in calming, natural hues that will transform your bedroom into a haven of relaxation and tranquility.
Go to:
Add American-Luxury to your favorites