Bedding Basics
Luxury bedding basics in down and down alternatives. Go directly to: Matouk, Pacific Coast Feather, Hotel Collection, Ralph Lauren, Eddie Bauer
| | | |
| --- | --- | --- |
| | | |
| Montreux Down Pillow | Montreux Down Comforter | Matouk Chalet Down Comforters |
| Filled with premium European duck down for superlative comfort and support, these luxurious Matouk pillows boast 600-fill power, covered in crisp cotton percale. 280-thread count 100% cotton percale shell | Filled with premium European duck down, these luxurious Matouk comforters boast 600-fill power, covered in crisp cotton percale. Baffle box construction keeps down evenly distributed for cozy comfort. The heavy weight comforter is best for the winter season and colder temperatures. 600 fill power. 280-thread count 100% cotton percale shell | Sink into sublime warmth and comfort with this luxurious Matouk comforter, filled with premium, lofty European goose down. A Swiss cotton batiste shell and baffle box construction keeps down evenly distributed for an ultimate sleep experience. The lightweight comforter is best for the summer season and warmer temperatures. |
| | | |
| --- | --- | --- |
| | | |
| Valletto Down Comforter | Matouk Valletto Down Pillow | Matouk Libero Pillow Inserts |
| Handcrafted using deluxe European goose down, these lofty and luxurious Matouk comforters are covered in smooth cotton sateen. Baffle box construction keeps down evenly distributed for cozy comfort. 650-fill power. 400-thread count 100% cotton percale shell | Handcrafted using deluxe European goose down for superlative comfort and support, these luxurious Matouk pillows boast 650-fill power. Covered in smooth cotton percale, Valletto delivers excellent loft for a truly elegant bed. | Luxurious, hypoallergenic and down-free, these plush Matouk pillows feature a fill that is thinner and stronger than silk and equal to down in softness and warmth. Libero pillows are encased in crisp cotton percale. |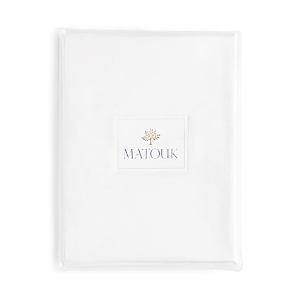 Cotton Sateen Pillow Protector
Matouk's cotton sateen pillow protectors extend the life of your luxury pillows by safeguarding them against dirt and oil that can collect over time. A concealed zipper closure makes them effortless to remove and clean.
| | | |
| --- | --- | --- |
| | | |
| SuperLoft Mattress Toppers | Deluxe Lumbar Feather Bed Mattress Toppers | Down on Top Feather Bed Mattress Toppers |
| Our Pacific Coast SuperLoft® feather bed mattress topper will entice you into supreme luxury with its cloud of soft, billowing Resilia® feathers. Meticulous pleating in each corner of our baffle box design create a feather bed so poufy you'll want to jump in and curl up well before bedtime. | The Pacific Coast Lumbar Feather Bed has specially designed chambers in the lower back area that deliver targeted relief while the baffle design keeps the RESILIA® feather fill exactly where you need it. A 100% cotton cover is completed with a 2" supportive gusset for a night of relaxing sleep. | Experience our fluffy Hyperclean® feather bed with an extra layer of super soft down with the Pacific Coast Down on Top Feather Bed Mattress Topper. The two-chamber design features a 3" gusset or fabric wall, ensuring maximum loft so your entire bed is nothing short of heavenly. |
| | |
| --- | --- |
| | |
| Baffle Box Feather Beds | Quilt Top Feather Beds |
| Sink into the comfort of the Feather Bed by Pacific Coast Feather. Covered in soft, 230-thread count cotton, this extra layer offers fluffy, resilient feathers for full body support that cushions and cradles pressure points for your most comfortable night's sleep. A baffle box design allows the feathers to fully loft while minimizing shifting. | Sink into the comfort of the Quilt Top Feather Bed by Pacific Coast Feather. Covered in soft, 230-thread count cotton, this extra layer tops fluffy, resilient feathers for full body support that cushions and cradles pressure points for your most comfortable night's sleep. |
TRIA All Down Pillows
Premium Down Pillow, Standard/Queen
Premium Down Pillow, King
The Pacific Coast Tria® Pillow features three internal down filled pillows that run top to bottom holding the fill in place inside an outer pillow of down. The design eliminates side to side shifting for comfort as you reposition during the night. Cover is 100% cotton sateen with a silky soft feel.
Get your best night's sleep with the Pacific Coast Premium Down Pillow. The 300-thread count, 100% premium cotton twill cover for a smooth surface that has been generously filled with 550-fill power Hyperclean white duck down.
| | | |
| --- | --- | --- |
| | | |
| Batiste Cotton Luxury Down Pillow, Firm | Double DOWNAROUND Soft Pillows | TOUCH OF DOWN Pillows |
| This Pacific Coast Batiste® Down Pillow has been made with a 370-thread count, 100% Batiste cotton for a smooth surface with a gorgeous sheen and has been generously filled with 550-fill power white duck down. The amount of down provides the perfect amount of comfort for a great night's sleep. | Bask in the soft support and double the down of our best-selling, pillow-in-a-pillow design with the Pacific Coast Double DownAround® Pillow. An increased amount of fluffy down surrounds a feather inner pillow giving you plush cushioning and incredible comfort. Great for stomach/back sleepers. | Enhance your bed with the same comfort found in fine hotels with the Pacific Coast Hotel TOUCH OF DOWN® Pillow. The Down Surround® pillow design has an inner pillow of springy RESILIA® feathers and is enveloped by Hyperclean® down. The cover is 100% cotton and perfect for all sleep positions. |
| | | |
| --- | --- | --- |
| | | |
| FEATHER BEST Pillows | Restful Nights Down Alternative Pillows | Gusset Pillow Protectors |
| The Pacific Coast FEATHER BEST® pillow is filled with RESILIA® feathers for extra fluffiness and resilient support. The super soft 230 thread count 100% brushed cotton cover is designed to be super huggable while our special barrier design provides quill-free comfort. | Look no further than the Restful Nights® Down Alternative Pillow for ultimate comfort. The 370-thread count, 100% cotton Batiste cover is incredibly soft and offers a gorgeous sheen, while the TRILLIUM® polyester fiberfill performs like a true down pillow for adjustable support and endless loft. | The Pacific Coast Gusset Pillow Protector extends the life of your pillow while keeping it fresh night after night. The 300-thread count, 100% cotton cover is silky soft and lustrous and can be machine washed for easy care. Includes a hidden zipper closure for easy removal. |
| | | |
| --- | --- | --- |
| | | |
| Feather Core Down Surround Chamber Pillow Collection | Winston Pillows | Classic 26" Square European Down Alternative Pillow, Luxloft Fill |
| Experience the ultimate in down & feather with the Lauren Ralph Lauren Down Surround® Pillows. The unique Trilogy® construction offers a resilient feather core surrounded with all-natural soft down with an added gusset for a combination of comfort & support. | Whatever your sleep style is, the Winston collection from Lauren Ralph Lauren offers a pillow with the perfect amount of firmness to help give you the comfort and support you need for peaceful slumber. | Perfectly plush, this classic European pillow adds dimension to any bed with down alternative LuxLoft™ fill. Finished with the embroidered Lauren Ralph Lauren logo. |
| | |
| --- | --- |
| | |
| Graphton Reversible Yarn-Dyed Stripe 2 Pack Standard Pillows | Logo Pillows, Down Alternative |
| A classic look gets a modern update with the timeless yarn-dyed stripes and cool contemporary color palette of this luxe Graphton pair of standard pillows from Lauren Ralph Lauren. | Rest easy with these Logo pillows from Lauren Ralph Lauren. Crafted of soft cotton and filled with cozy polyester fiber fill, these pillows feature the Ralph Lauren logo and your choice of three densities for different sleep types. |
| | | |
| --- | --- | --- |
| | | |
| Hotel Collection Fiberbed | Luxe Down Alternative Twin Comforter, Hypoallergenic, 450 Thread Count 100% Cotton Cover | 500-Thread Count Queen European Goose Down Blankets |
| Sink into Hotel Collection luxury. Featuring a quilted cotton cover and a lofty layer of down-alternative fill, this fiberbed boots your bed to a new level of comfort. Featuring a skirt that fits to your mattress to keep the fiberbed in place. | The luxury hotel is an oasis in the modern world. With the Hotel Collection, that warmth and ambiance comes through in every inviting detail. Textures and touches that sooth and restore. A design sense that embodies sophisticated simplicity. Hotel is the place to stay. | Put a warm, resort-quality finish on your bedding ensemble with the crisp geometric jacquard and sumptuous European goose down fill of this luxe blanket from Hotel Collection. |
| | | |
| --- | --- | --- |
| | | |
| European White Goose Down Pillows | Primaloft 450-Thread Count Pillow Collection | Primaloft Cool Medium Pillows |
| Featuring luxurious European White Goose Down fill and a range of support perfect for all sleep styles, these pillows from Hotel Collection provide exceptional comfort for peaceful sleep night after night. | Bring warmth and ambience into your home with the Primaloft pillow collection from Hotel Collection, featuring a cotton shell and a luxuriously soft hypoallergenic down alternative fill. | Improve your sleep with the Primaloft Cool pillow from Hotel Collection, featuring a hypoallergenic fiberfill for reduced irritants associated with allergens and greater heat dissipation. |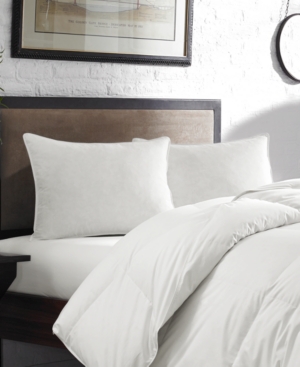 Eddie Bauer Down and Feather Standard Pillow
Sleep soundly with this luxurious Eddie Bauer pillow filled with a hypoallergenic blend of 10% grey goose down and 90% grey goose feather. Wrapped in a silky soft 300 thread count cotton sateen shell. Proudly assembled in the Usa, this pillow is machine washable and dryable making it easy to care for. Medium density makes it perfect for side and back sleepers. Available in Standard Size only.
Go to:
Add American-Luxury to your favorites