Decorator Bedding
Decorator bedding that lets you choose the look and feel you want. Complete bedding collections for the stylish, custom bedroom of your dreams. Duvet covers, pillow shams, bed skirts, sheets, cases and coverlets for a beautifully coordinated design statement. All in the best fabrics available, of course! Go to: Vera Wang Bedding, Highline, Charisma, Lulu Dk for Matouk, Kenneth Cole New York, HiEnd Accents
| | | |
| --- | --- | --- |
| | | |
| Ghost Floral Percale Bedding Collection | Shadow Stripe Bedding Collection | Pucker Grid Bedding Collection |
| The blurred, dream-like quality of this subtle watercolor floral design helps set the mood of elegant ease conveyed by this luxurious ensemble. Digitally printed on cotton percale in delicate greyed shades of Blue Lavender, the duvet and standard shams reflect the modern femininity characteristic of Vera Wang's designs. Tailored stitch detailing on whisper pale European shams and accent pillows adds modern structure and reflects the effortlessly layered look that is the designer's signature. | Digitally printed, this bedding collection features a beautiful interplay of stripes and shadows with artistic brushstroke design. | Vera Wang's dynamic Pucker Grid bedding collection is soft and inviting in pure cotton sateen with exquisite belts of linear embroidery. |
| | | |
| --- | --- | --- |
| | | |
| Impressions Queen Duvet Cover Set | Waffle Stripe Bedding Collection | Silver Birch Bedding Collection |
| The everyday luxury of pure cotton percale makes the Impressions Duvet set the perfect choice for an elegant bedroom. Featuring a graphic silhouette floral print in tones of fog grey, it embodies the modern femininity that is this designer's signature. | Instantly transform any bedroom into a tranquil modern retreat with serene textured styling of this luxe Waffle Stripe bedding collection from Vera Wang. | Transform any bedroom into a serene space with the elegant styling of this Silver Birch bedding collection from Vera Wang. |
| | | |
| --- | --- | --- |
| | | |
| Zig Zag Bedding Collection | Layered Geometric Bedding Collection | Marbled Bedding Collection |
| Bring contemporary resort-quality style and comfort to your bedroom with the minimal modern styling and luxuriously soft feel of this Zig Zag being collection from Vera Wang. | Layered grid patterns create a sophisticated geometric print for this luxurious bedding collection made with breathable fabric for year-round comfort. | Gray-toned digital printing imparts impressive nuance and definition to the crisp cotton percale of this stunning Marbled bedding collection by Vera Wang. |
| | | |
| --- | --- | --- |
| | | |
| Verge Bedding Collection | Bamboo Leaves Bedding Collection | Grisaille Weave Bedding Collection |
| For bedroom style that's both refined and feminine, choose the luxuriously soft feel and soothing pastel hues of this Verge bedding collection from Vera Wang. | Add a touch of nature to your bedroom's décor with the stylized bamboo leaves and neutral tones featured on this luxe bedding collection from Vera Wang. 200-thread count cotton percale | The Grisaille Weave Bedding Collection from Vera Wang is sure to bring subtle tranquility into any bedroom. The delicate ripple effect throughout the face of the duvet cover is yarn dye woven for a unique look. |
| | | |
| --- | --- | --- |
| | | |
| Degrade Woven Bedding Collection | Shibori Grid Bedding Collection | Blurr Bedding Collection |
| A sophisticated colorblock design in calming hues lends a sense of tranquility to this soft cotton jacquard bedding collection by Vera Wang. | Inspired by Japanese shibori dyed textiles, the soft geometric print in indigo and white of the Vera Wang Shibori Grid collection is a modern interpretation of this classic technique. Printed on silky cotton sateen, the grid design beautifully captures the artistic irregularities of a handmade textile while maintaining an updated graphic rhythm. W | Digitally printed to capture color nuances and shade variations, the Blurr bedding collection features a stunning palette of grotto blue tones, orange accents and pristine white touches. |
| | | |
| --- | --- | --- |
| | | |
| Waffle Pique Pewter Duvet Set, Queen | Waffle Pique Midnight Blue Duvet Set, Queen | Velvet Quilted Collection |
| Woven in the softest cotton for a luxurious feel, Vera Wang's Waffle Pique Duvet Set is a simple addition to any bedroom. The solid waffle pique pattern, available in three colorways, is the perfect solution for any room that needs a fresh new update | Woven in the softest cotton for a luxurious feel, Vera Wang's Waffle Pique Duvet Set is a simple addition to any bedroom. The solid waffle pique pattern, available in three colorways, is the perfect solution for any room that needs a fresh new update. | Complete your bedroom with a new look from the Vera Wang velvet quilted collection featuring sateen binding finishes and soft accents. |
Diamond Velvet King Quilt Sham Set
Diamond Velvet Queen Quilt Sham Set
Herringbone Stitch Quilts
Vera Wang Luster Quilt, Shams
The modern simplicity of a diamond quilt stitch takes on a luxurious elegance when executed in soft velvet, perfectly reflecting the refined minimalist aesthetic of Vera Wang. The quilted diamond shapes enhance the fill loft, creating dimensional interest.
Bring sophistication and style to your bedroom decor with the Herringbone Quilt Set by Vera Wang. Made of cotton sateen for superior comfort and style, these woven quilts are the perfect addition to any bedroom.
Crafted in soft, 300-thread count cotton sateen with a subtle sheen, this quilted collection by Vera Wang can be paired with a printed bedding ensemble.
Habit Collection by Highline Bedding Co, is an all-natural fiber collection with relaxed styling for the bedroom featuring the same nature-inspired, luxurious quality and detail you've come to expect from Highline Bedding Co.
| | | |
| --- | --- | --- |
| | | |
| Adelais Bedding Collection | Highline Bedding Co. Madrid Bedding Collection | Pyla Bedding Collection |
| Highline Bedding Co. presents a serene collection accented with complementary shams for a complete look. The allover washed, floral design offers a cocoon-like feel where casual comfort meets long-lasting sophistication. | An abstract stripe in neutral hues adorns the duvet cover, comforter and shams of the Madrid bedding collection by Highline Bedding Co. Decorative pillows add texture and shine with beading, pleats and faux fur. | The Pyla Bedding Collection by Highline Bedding Co. is the perfect complement to the modern bedroom. Soft oatmeal color viscose and linen fibers are woven together in a windowpane pattern for a look that echoes traditional style and which is matched by luxe comfort. |
| | | |
| --- | --- | --- |
| | | |
| Habit Collection by Highline Bedding Co. Sequoia Bedding Collection | Highline Bedding Co Driftwood Bedding Collection | Acacia Bedding Collection |
| Transform any room into a cool, contemporary space with the superior style and comfort of the Habit Collection by Highline Sequoia bedding from Highline Bedding Co., crafted in a buttery-soft striped cotton matelassé. | Featuring a subtle woven jacquard texture in a calming sand color, the Highline Bedding Co. Driftwood bedding collection offers easy living with polished flair. The duvet cover, comforter and shams reverse to solid cotton. | Instantly refresh your bedroom with the Acacia Bedding Collection by Highline Bedding Co. An abstract, brushstroke print on each piece in a neutral palette combines shades of ivory and sand with a pop of apricot set atop a woven diamond texture ground to offer a look that is subtly bold and excitingly fresh. |
| | | |
| --- | --- | --- |
| | | |
| Belaire Bedding Collection | Fairfield Bedding Collection | Tristano Bedding Collection |
| Soft moss green shows at the flange and through the embroidered eyelet scrolls of this wonderfully fine Belaire bedding set from Charisma. 300-thread count | Silky soft white 300 thread count, sateen cloth is the base for the botanical document style print in soft blue and gray shades. | Classically luxurious in a jacquard weave of soft warm whites, this inviting Tristano bedding collection from Charisma infuses a modern aesthetic with overscaled medallion texture and crisp geometric pillow accents. |
| | | |
| --- | --- | --- |
| | | |
| Settee Cotton Bedding Collection | Riva Bedding Collection | Mélange Bedding Collection |
| Embroidery and texture define the decorative pillows and shams, refining and re-framing the all-over medallion print of this soft blue Settee bedding collection by Charisma. | Breathe new life into any bedroom with the beautiful blooms, stylish textures and calming tones of the Riva bedding collection from Charisma. | A sensory delight, this bedding collection from Charisma offers a wealth of texture in soft rosy hues. Velvet is the key to the Mélange design, and it is embroidered, crushed and layered to lovely effect. |
| | | |
| --- | --- | --- |
| | | |
| Bedford 3 Piece Comforter Set | Celini Bedding Collection | Medici Bedding Collection |
| Luxury cotton and woven texture dominated by the white jacquard woven face fabric, however, on closer review you see the geometric pattern also contains a subtle, ethereal green shade that give an air of natural comfort. | Geometric flower forms and intricate tile motifs inspire the embroidered details of this soothing white and steely blue bedding collection from Charisma's Celini collection. Embroidered details | Our sophisticated Medici bedding collection is tonal masterpiece with beautifully textured pillows and a duvet cover displaying an archival Charisma print with a Swiss dot detail. |
| | | |
| --- | --- | --- |
| | | |
| Villa Comforter Set, Queen | 400TC Percale Bedding Collection | Charisma Luxe Cotton Linen Bedding Collection |
| 200-thread count. Pillow: 2" double-sided flange, concealed zipper closure. Allover scrolled pattern and contrast piping | Fine long-staple cotton confers splendid density and durability to this impeccable percale bedding collection from Charisma. These sumptuous bedlinens are provided in a handful of elegant pastels that both stand on their own or complement one another in a mix. | Known for quality craftsmanship with an understated elegance, the Charisma bedding collection features an assortment of duvet and comforter sets, fine sheeting and decorative pillows crafted from a luxuriously soft blend of fine cotton and linen. |
| | | |
| --- | --- | --- |
| | | |
| Lulu Dk for Matouk Poppy Azure Collection | Lulu DK for Matouk Charlotte Collection | Lulu Dk for Matouk Nikita Collection |
| Crafted in crisp, luxurious 500-thread count cotton percale, this bedding collection by Lulu DK for Matouk features a whimsical, abstract dotted print in cool blue tones | Allium flowers in soft pastel shades are dappled across the scalloped duvet and shams of this charming collection by Lulu DK for Matouk, crafted in luxurious 500-thread count Egyptian cotton percale. | Crafted in soft, luxurious Egyptian cotton, the Nikita bedding collection by Lulu DK for Matouk features a small, abstract spotted print in bright aqua or coral hues. Each piece is finished with a classic flange |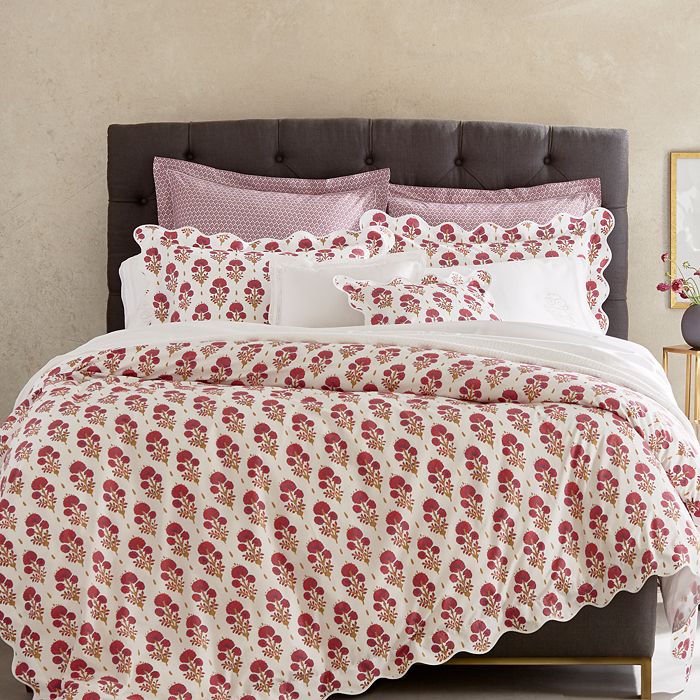 Lulu DK for Joplin Bedding Collection
Enjoy a luxurious night's rest with Matouk's Joplin bedding collection. Crafted from superior 500-thread count Egyptian cotton percale, each staple adds a vivid, energetic touch to your bedroom space.
Lawrence Beige King Duvet Cover Set
Lawrence Beige Full/Queen Duvet Cover Set
Holden Grid Duvet Cover Set
Kagan King Quilt
Following the contemporary lifestyle trend, the Kenneth Cole New York Lawrence duvet cover set is sure to make a bold statement. Featuring an embossed tiger stripe design, this beige on beige print is subtle, yet bold.
This all-cotton set features a classic white grid pattern across the face of the duvet cover and coordinating shams. The washed twill fabric of this ensemble is stretched while drying creating a peached fabric finish.
Update your bedroom in easy elegance with the Kenneth Cole New York Kagan Quilt. Finished with a crisp bound edge, this sheen polyester satin quilt features an embroidered dot stitch that helps add dimension to the solid quilt.
| | | |
| --- | --- | --- |
| | | |
| Sedona Bedding Collection | San Angelo Comforter Set, Red | Liberty Quilt Set |
| Created from geometric diamonds in sand and indigo blue, this sham adds a finishing touch to your Sedona bedroom. | The San Angelo collection mixes paisley print with fun pops of leopard chenille, red faux leather, and teal velvet for a designer collection with western flair. This set includes a red faux leather bedskirt. | This red, white and blue patriotic or nautical themed bedding is perfect for any room. Accent it to your needs with our wonderful lake or ocean motif pillows for a nautical theme. |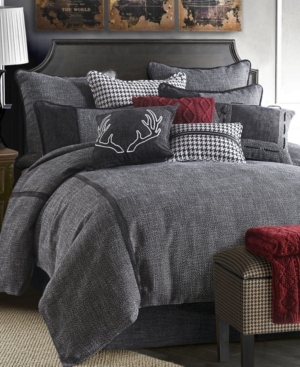 Hamilton Bedding Set
The Hamilton black and white woven collection: a classic look of luxury with simple, clean lines, and rope and zipper detailing. Add a splash of color for fun with a red pillow or throw. Comforter has soft chenille accents, and shams have chenille piping.
Go to:
Add American-Luxury to your favorites