Luxury Bath Rugs
Luxury bath rugs to complete your home spa. Bathroom rugs add an extra layer of luxury to your private space. Many are made with a special non-slip backing for extra safety on wood and tile floors. A wide assortment of fashion colors to match any decor. Plush and indulgent. Go to Matouk, Ralph Lauren Bath Rugs, Designer Bath Rugs, Classic Bath Rugs and Tub Mats
| | |
| --- | --- |
| | |
| Matouk Gordian Knot Bath Rug | Matouk Milagro Tubmat |
| Knot embroidery accents signature Reverie square design. Cotton. Machine wash. Made in USA | Rendered from the finest cotton, this Matouk tub mat is comprised of zero-twist yarns to wrap you in miracle of softness and absorbency. |
| | | |
| --- | --- | --- |
| | | |
| Matouk Maya Bath Rug | Lulu Dk for Matouk Nikita Bath Rug | Lulu Dk for Matouk Nikita Bath Rug |
| 24"L x 36"W. Hatchcross pattern. Cotton | Featuring an eye-catching dotted motif inspired by the reflection of shimmering sunlight on water, these luxurious Matouk bath towels are rendered in plush, absorbent cotton. | Featuring an eye-catching dotted motif inspired by the reflection of shimmering sunlight on water, these luxurious Matouk bath towels are rendered in plush, absorbent cotton. |
| | | |
| --- | --- | --- |
| | | |
| Sanders Cotton Bath Rug | Wilton Bath Rug Collection | Payton Bath Rug Collection |
| Add fine style and luxurious comfort to your daily routine with the Sanders bath rug from Lauren Ralph Lauren, featuring the soft touch of cotton pile, detailed border runs and folded hems. The Sanders bath rug also contains antimicrobial properties to help reduce the presence of impurities and odors. | This collection of premium bath rugs by Ralph Lauren are designed from long-staple Turkish cotton and specially treated for added softness, absorbency and durability. | Bring plush comfort and rich color to your bath with Ralph Lauren's Payton rug collection, offering spa-like luxury in soft cotton for a delightful feel underfoot. |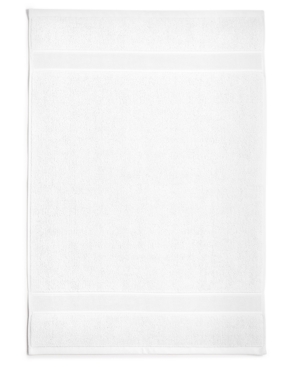 Lauren Ralph Lauren Sanders Antimicrobial Solid Tub Mat
The Sanders collection features classic towels and bath accessories that work perfectly in every home. Loomed from premium cotton fibers, Sanders mats are engineered to last with antimicrobial properties that keep linens free of impurities and odors.
| | | |
| --- | --- | --- |
| | | |
| Charisma Luxe Cotton Handcrafted Cotton Bath Rug | Coyuchi Sycamore Organic Rug | Coyuchi Air Weight Organic Bath Mat |
| Step on to luxury after every shower or bath with these soft bath rugs. Hand woven with cotton yarns producing a bath rug like no other and coordinates back to the Charisma towels. | Multicolored yarns of varying thickness are handwoven into variegated stripes to create an organic blend of hues and textures. At home in any room of the house, Sycamore's versatile design takes inspiration from the homespun comfort of traditional rag rugs. | Durable, exceptionally thirsty, and quick-drying, Air Weight offers heirloom quality in a brilliant range of colors that brighten any bathroom. |
Coyuchi Mosaic Canyon Organic Bath Rug
Coyuchi Temescal Organic Ribbed Bath Mat
Coyuchi Mosaic Canyon Organic Bath Runner
blomus Piana Cotton Bath Mat
Woven by hand from organic cotton, our accent rug's pattern is defined by pebbled texture and nature-inspired color. Its soft, dense, absorbent pile is perfect beside the tub and equally welcome in front of a door or beside the bed—anywhere you want a cozy, cushioned layer between bare feet and hard floors.
Our softest towel yet, Temescal Organic Towels are deliciously soft, light, and fluffy, yet still extremely absorbent and quick to dry.
blomus PIANA Cotton Bath Mat - 22 x 22 inch is durable and functional. Both sides of the mat feature very dense, tight loop. Soft, smooth luxury for your feet.
| | |
| --- | --- |
| | |
| Southwest Geo Bath Mat | Southwest Geo Runner Bath Mat |
| Made from a plush cotton terry shag, this bath mat features Southwestern-inspired geometrics rendered in raised tufting complete with a bordered edge. | Made from a plush cotton terry shag, this bath mat features Southwestern-inspired geometrics rendered in raised tufting complete with a central orientation. |
| | | |
| --- | --- | --- |
| | | |
| Castile Rose Bath Mat | Maeve Runner Bath Mat, Olive | Maeve Runner Bath Mat, Black |
| A single blossom was borrowed from a classic damask pattern, then looped and tufted to create a plush mat of deep-pile petals. | Inspired by tiled motifs, this runner bath mat features an extended silhouette with geometric tufting raised along the cotton shag construction. | Inspired by tiled motifs, this runner bath mat features an extended silhouette with geometric tufting raised along the cotton shag construction. |
| | | |
| --- | --- | --- |
| | | |
| Geraldine Bath Mat | Lucia Bath Mat, Mint | Lucia Bath Mat, Ochre |
| Tufted cotton. Machine wash | This bath mat offers an elegant focal point for your home spa - and a plush spot for your feet to land after baths. Handcrafted viscose, cotton. Small: 34" x 21"; Large: 58" x 21" | This bath mat offers an elegant focal point for your home spa - and a plush spot for your feet to land after baths. Handcrafted viscose, cotton. Small: 34" x 21"; Large: 58" x 21" |
| | | |
| --- | --- | --- |
| | | |
| Hand-Tufted Cemil Bath Mat | Amphora Bath Mat | Priscilla Bath Mat |
| With the look and feel of a Persian rug, this hand-tufted bath mat adds warmth and bohemian-inflected charm to your home spa. | With the look and feel of a Turkish rug, this bathmat adds warmth and bohemian-inflected charm to your home spa. | Woven polyester |
| | | |
| --- | --- | --- |
| | | |
| Florian Runner Bath Mat, Neutral | Florian Runner Bath Mat, Black | Geo Runner Bath Mat, Multi |
| Boho-inspired bath mat featuring a textural cotton shag accented with geometrics running down the length, culminating with fringed trim at side edges. | Boho-inspired bath mat featuring a textural cotton shag accented with geometrics running down the length, culminating with fringed trim at side edges. | Express your bohemian aesthetic in every corner of your space, including right outside of your shower, with this geo-patterned bath mat we love. Cut long for a statement piece, in a fluffy, piled cotton that absorbs water and feels so soft when you're walking around barefoot. |
| | | |
| --- | --- | --- |
| | | |
| Southwest Runner Bath Mat | Southwest Runner Bath Mat | Southwest Runner Bath Mat |
| Plush, geo-patterned bath mat in an extended, runner silhouette and tufted weave. Finished with braided fringe trim along edges. | Plush, geo-patterned bath mat in an extended, runner silhouette and tufted weave. Finished with braided fringe trim along edges. | Plush, geo-patterned bath mat in an extended, runner silhouette and tufted weave. Finished with braided fringe trim along edges. |
| | | |
| --- | --- | --- |
| | | |
| Zigzag Tassel Runner Bath Mat | Molly Folk Floral Runner Bath Mat, Orange | Molly Folk Floral Runner Bath Mat, Gold |
| Boho-inspired runner bath mat, cut long with tassel trim and a zigzag motif all over the tufted shag construction. | Bring fresh boho-femme vibes to your getting-ready space with this runner bath mat. Features a central, bordered folk floral with raised tufting for depth of texture. | Bring fresh boho-femme vibes to your getting-ready space with this runner bath mat. Features a central, bordered folk floral with raised tufting for depth of texture. |
| | |
| --- | --- |
| | |
| Misona Bath Mat | Turkish Cotton Bath Rugs |
| Stonewashed cotton. Machine wash. Portugal | Once you step onto this ultra-plush bath rug, you'll see why it's called Luxury. The Luxury Turkish Cotton bath rug is made with the finest long-staple Turkish fibers to be soft on your toes and durable for the whole family. |
| | | |
| --- | --- | --- |
| | | |
| Dkny Circle Logo Bath Rug, Black/white | Dkny Circle Logo Bath Rug, Grey | Dkny Manhole Cover Bath Rug |
| Find your flair with this reversible bath rug. One side flaunts the iconic DKNY logo. Flip it over for a bold display of the classic DKNY token logo. Step into style with 100% cotton for daily comfort. Bath rug dimensions: 20" L x 30" W. Reversible. Logo on both sides. 100% Cotton | Find your flair with this reversible bath rug. One side flaunts the iconic DKNY logo. Flip it over for a bold display of the classic DKNY token logo. Step into style with 100% cotton for daily comfort. Bath rug dimensions: 20" L x 30" W. Reversible. Logo on both sides. 100% Cotton | The playful resemblance of a city manhole will add an urban touch to your space. The tufted detailing offers texture to this not so ordinary bath rug. The signature DKNY logo blends seamlessly into the geometric design. Made with cotton and a skid- proof latex backing. Bath rug dimensions: 20" L x 30" W. Skid proof. Geometric design. 100% Cotton |
| | | |
| --- | --- | --- |
| | | |
| Kenneth Cole Reaction Greyson Bath Rug, Set of 2 | Vera Wang Pure Serenity Bath Rug, Set of 2 | Vera Wang Tufted Diamond Reversible Bath Rug, Set of 2 |
| Give your bathroom a modern makeover with the minimalist but ultra plush Greyson Bath Rug Set. With a racetrack design, this set is the perfect complement to any bathroom. Medium bath rug dimensions- 20" L x 30" W. Small bath rug dimensions- 17" L x 24" W | Bring elegance and luxury to your bathroom decor with the Vera Wang Pure Serenity Organic Cotton 2 Piece Bath Rug Set. These gorgeous, versatile and reversible bath rugs bring designer style and comfort to any bathroom. Bath rug dimensions- 21" L x 34" W (Medium). Bath rug dimensions- 17" L x 24" W (Small) | Bring elegance and luxury to your bathroom décor with the Vera Wang Tufted Diamond 2 Piece Bath Rug Set. These gorgeous, versatile and reversible bath rugs bring designer style and comfort to any bathroom. Bath rug dimensions- 21" L x 34" W (Medium). Bath rug dimensions- 17" L x 24" W (Small) |
Go to:
Add American-Luxury to your favorites